London Fashion Week SS2014: innovation and pure creativity
As New York Fashion Week draws to a close, we move to London where, from 13th to 17th September, London Fashion Week, took centre stage, with some of the most famous British designers presenting their latest fashion innovations for spring-summer 2014.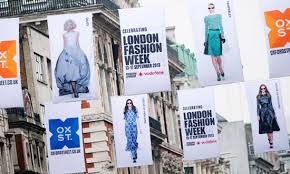 This fashion event has always been known for its originality and expression of new trends. Many important designers of the British fashion world took part, such as Burberry, Vivienne Westwood, Mulberry and Tom Ford, offering their innovative and captivating ideas for summer 2014, an explosion of colour and pure creativity.
The main theme characterising the London fashion collections was the use of strong and fresh shades, combined or just used for embroidered details, but always enhancing the woman's look and giving her brightness and a refined sensuality.
Comfortable and very natural styles were created with luxurious fabrics, such as silk, shiny satin and lace, to create a really gorgeous look that will always attract attention and admiration.
Besides the classic fabrics, we observe the introduction of new materials, that are masterpieces of pure creativity, such as the mosaic fabric conceived by Tom Ford which brought extra life to much of his collection, created with many sparkling glazed tiles embedded into refined black lace.
Accessories, such as belts and handbags, weren't shown as an essential element of the women's look for spring-summer 2014, by most British designers, but, where used, they are completely elegant and refined and not at all bulky.
But let's now look in more detail at the proposals of the more famous designers presenting their collections for summer 2014 at London Fashion Week!
Burberry Prorsum created a line of dresses that focused on essential lines combined with elaborate fabrics, for a really seductive spring-summer 2014 collection, where the woman has a starring role.
Pastel colours were used on lace, mixed with perspex, while gold inserts were used to create precious embroideries on evening dresses.
The style proposed by Burberry Prorsum envisages a dreaming woman who nevertheless knows exactly who she is and where she is going, a real woman who wears her classic pencil skirt and shirt to the office but who wears a more sensual look in the evening, with sheer and seductive elements.
Elegant clutches are worn with simple, linear day dresses while sandals are high-heeled.
Vivienne Westwood for the Red Label brand, sees the spring-summer season 2014 as an explosion of flowered fabrics in colourful and fresh full gothic style, adapted to the slender forms of models looking like zombies or porcelain dolls.
The collection (which was warmly received and aroused curiosity among buyers and fashion critics), opened with an interpretative performance by Lily Cole, an British actress and model, who moved down the catwalk dancing and circling, in her vaporous white dress.
The meaning of this performance was soon revealed: the British fashion house perceived the dance as an expression of concern about climate change and deforestation. This label is renowned for its commitment to supporting the environment.
T-Shirts and hats with the slogan "Climate revolution" are worn by models on the catwalk and, sometimes the words are overlaid on gorgeous silk dresses.
Floral print overalls alternate with cream knee-length trousers worn with blue shirts and  floral print jackets.
The Mulberry fashion show is elegant and composed, in perfect British style, simpler than past collections and mainly characterized by white.
Dark grey and white are the main colours of the next spring-summer 2014, according to Mulberry designers, for skirts, jackets and stretchy dresses, even combined in original prints and juxtapositions.
Evening dresses are enriched by sheer sections with floral decoration or by romantic lace creating a special and intriguing visual effect.
Some satin dresses are further enlightened by dark blue and orange brushstrokes while others are totally white (elected by Mulberry as the essential colour of the next summer season), decorated with floral patterns.
Leather and mosaic fabrics are the main elements characterizing Tom Ford's 2014 spring-summer collection, a collection devoted to grabbing the attention and making women feel like  sensual stars of the fashion scene.
The Tom Ford woman is totally enveloped in leather, like a second skin. Mini dresses, leggings, trousers, overalls…everything is made of shiny leather, sometimes enriched by sheer sections revealing the legs or with lace inserts, adding luxury and allure.
Precious fabrics such as satin, voile and lace are adopted for the evening look, also combined with leather or enriched by leather embroideries.
However, the most interesting and innovative proposal from Tom Ford is the mosaic dress, looking as if composed of many different glazed tiles, sparkling and glowing, set in refined webs of black lace.
But Tom Ford's collection is not just about innovation and creativity; there is also respect for classic tradition. This is why, next to original structured dresses, we also find more classic proposals, such as the high-waisted trousers worn with sheer red shirts or soft fur jackets.
Among the most predominant colours shown by Tom Ford in his new spring-summer 2014 collection, an important role is played by dark colours, such as wood green, brown, pearl grey, black and white.
Handbags are not present in Tom Ford's collection, while shoes absolutely must be high-heeled.
Are you ready to discover the latest trends proposed by our Italian designers at the Milan Fashion week?
Then, don't miss our next article!