London fashion week: strong shades are a MUST for the spring/summer 2009 season?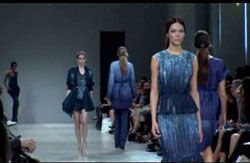 Last September some of the best known fashion houses in the world met at London fashion week to present their new creations for the spring/summer season 2009, focusing their attention on the dynamic and confidant role that women now play in society, no longer taking a minor supporting role but becoming the main protagonists, in charge of their own lives, histories and backgrounds. The 2009 woman is elegant and refined but original and youthful too, following the latest fashion trends with style and glamour. She takes great care of her style, paying attention to details and accessories, and she only chooses the best to enhance her look, so that she always looks seductive and extremely beautiful. Each color, even the most extravagant and boldest goes perfectly together to create a really stunning and original effect.
Strong shades are a MUST for the spring/summer 2009 season, according to what was shown by the British fashion designers: they are vibrant, dynamic and totally trendy. The colors featured are no different from those presented by Italian and French designers at the Milan and Paris fashion weeks but the London designers, unlike the Italian and French ones, put great emphasis on the color RED, considered the symbol of passion and seduction. In their opinion, in fact, this new woman loves to be noticed and admired for her refinement and beauty, for her charm and her luxury style and there is nothing better than red, to establish her firmly at the centre of the stage. Red is a strong color, a vivid tonality which certainly captures the attention of everybody and enhances the form and innate beauty of a woman. So, British designers designate Red as the most fashionable color of next year, relegating PURPLE to a lesser position, unlike the Italian, American and French fashion houses on the catwalks, who still have purple at the top of the list as the trendiest color of 2009. Only a few British designers feature purple dresses on the catwalk and they are often combined with brighter colors like YELLOW or PINK.
However, almost all the fashion houses agree with the re-birth of some strong tonalities like EMERALD GREEN and ELECTRIC BLUE which will be incredibly fashionable next year. Both emerald green and electric blue, despite their explosive color, are used by British designers for the creation of women's evening dresses, because summer is color and wearing bright-colored evening dress is fashionable. They are obviously worn with softer toned accessories such as light beige or light grey shoes and bags, for a more subtle and elegant air and jewels too are very glamorous.
FUCHSIA is the new color of the 2009 season according to what was shown at London fashion week and almost all the best fashion houses have adopted this shade in their collections. This color is considered the perfect shade to wear both during the day (at work, or when you go shopping) and at night, for a special occasion or an evening party, when you want to appear extremely elegant in your long dress, but fashionable and stylish too. Fuchsia is a very popular color among young women with its bright and striking femininity and its cheerful, luminous energy that makes you feel happy and positive. It is the ultimate summer color and so is also very popular for pretty fashion accessories like small handbags and clutches.
DARK BLUE and BLACK, despite the passing of the years and the many evolutions of fashion, remain very popular and appreciated next year too, almost always used for evening dresses, thanks to their eternal prestige and absolute refinement. A dark blue or a black dress is a MUST HAVE, the undisputed symbol of elegance and the perfect choice for a glamorous style.
Next to all these strong colors, subtler shades like light blue, light pink, grey and white continue earning appreciation and accolades. Mostly used for elegant tailleurs and evening dresses, these colors convey the image of an ethereal woman, a light romantic figure who perfectly embodies the harmony of spring with nature's rebirth and birds singing. Many designers have based their whole collections on these colors, because they symbolize the rebirth of a new woman, a more independent and self reliant creature, ready to take on a fundamental social role in society.