LONDON FASHION WEEK
LONDON FASHION WEEK: WHAT IS THE WOMEN'S LOOK FOR NEXT WINTER?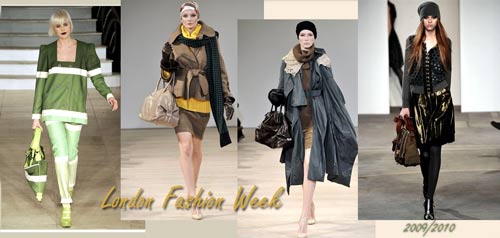 As soon as the lights went down on New York Fashion Week, journalists and fashion critics immediately flew to London for London Fashion Week, taking place in London from Friday 20th to Wednesday 25th February. Many different international designers took part in this event, showing their autumn-winter 2009/2010 women's collections and celebrating the 25th year of British Fashion, a very important moment for the country and for the entire fashion world.
London fashion week, this year, also saw the participation of many emerging, young designers, who had the opportunity of sending their models down the British catwalks alongside more famous fashion brands such as House of Holland and Luella.
What can we say about the styles presented at London fashion week?
It is evident that this show too was strongly influenced by the economic recession, as the designers' creations are simple and quite restrained without any extravagant accessories. We also noticed a decline in the use of accessories such as necklaces, bracelets or luxury hats. There are certainly some designers who have a more modern vision of woman's style and who reflect her personality in her look, putting together very unusual combinations of dresses and accessories, but,according to critics reporting on this fashion event, nothing is really glamorous or chic. Fabrics are simple, there is little innovation, and styles are sober and classic, as if celebrating a return to the past.
Next autumn-winter 2009-2010, women will wear restrained clothes with above the knee hemlines and very elegant shoes with very high heels, in order to set off a woman's body and make her more attractive. Dresses can be plain or patterned with many contrasting colors but they absolutely must be short or, at the most, knee length. Some designers also showed jumper dresses, revealing a lot of leg and full of sex-appeal.
Stretch leather trousers will be also very trendy next winter, especially if they are black and shiny, worn with gorgeous long metallic gold over-shirts. Jackets too will be in fashion but only worn with trousers. As for the classic coat, it will continue to be successful next year too, made of warm wool or leather in black or grey, two classic neutral colors which go with any look. However, if you like light shades, don't worry because some fashion houses also propose beige jackets or coats to go over a dark pair of trousers (or  skirt) and a dark or light shirt(according to your tastes).
But, what are the most fashionable colors for next autumn-winter, according to what was presented at London fashion week?
Black and grey are the in-colors of next year, used by almost all the fashion houses taking part in this event. Most of the women's dresses shown in London, above all the evening dresses, are black, the typical color of elegance and refinement but also the classic winter shade. Grey too is used in almost all its many shades (from the lightest tone of grey to the darkest one) for while dark grey could be considered a winter color, light grey, even if used in the winter season, could be seen as a herald of spring. It is an easy shade to wear and next winter will blossom in all its charm.
White is the other fashionable color for the autumn-winter collections; it is the color of purity, harmony and brings to mind winter gardens covered in snow. Like light grey, white too is a versatile color fitting well both in winter, when it gives us a sensation of peace and warmth, and in summer, when it brings freshness and light.
More eye-catching colors such as shocking red or dark blue are very noticeable in some of these fashion collections, in particular adopted by the younger emerging designers, who like to imbue their creations with a whirl of color and emotion whatever the season.
Gold is the revelation of next year, in all its many variations and shades. Vivid gold is often used for jumper dresses or for long shirts to wear over black stretch leather trousers, because, being a bright and eye-catching color, gold can lighten up a woman's look and guarantee that she'll get noticed It is the perfect color to wear if she is a dynamic woman who takes care of her body and loves to look fashionable and gorgeous every day. Many designers even  propose bright gold coats over elegant black evening dresses!
The "House of Holland" fashion house focuses its own collection on color, featuring many wonderful different shades aimed at banishing the greyness of the winter season with vivid colors in all their gradations. Each outfit is designed in bands of one color going from a dark to a light shade, bringing forcibly to mind a Pantone color chart, as it starts with the darkest shade at the shoulders and moves down through several bands of color, getting lighter all the time, even tights being divided mid-calf by a color change..
And, what about  bags? Are they still in fashion or are they out?
Click here to know more  details >>>

To summarize the most important fashion trends for next autumn-winter 2009-2010, according to what was shown by British designers, there is a return to the past, with mini-dresses and short skirts typical of the 80's and stretch leather trousers from the 70's. Fabrics too are typically a re-visitation of 80's styles, with checks and lamè tonalities.
Does this mean that the economic crisis has also had a negative effect on fashion ideas and creativity?
What do you think about this return to the past?
Leave your feed-back to let us know your personal point of view!!!