Qualities and prospects of a long lasting luxury item
Luxury products have always been considered prestigious but inaccessible items, belonging to a niche market and, for this reason, completely out of reach for the common man.

Till some years ago, luxury products were associated with the well-off nobility, who could afford to buy such expensive items to demonstrate their social status and differentiate themselves from the the crowd. Nowadays, luxury products continue to be expensive in price but more and more people are interested in buying at least one luxury accessory in their life, whether they can afford it or not.
Why does this happen?
The reason is very simple: nowadays, social judgment mainly focuses on physical appearance. People judge us by what we wear and how we appear. Our style and personal look have become the real visiting card, a sort of letter of introduction, and wearing a designer label luxury product is seen as a sign that we take ourselves seriously, certainly making a more favorable impression on others. Physical appearance allows us to find an accepted place within our society, so that we have more scope to then exercise our skills.
The sale of luxury goods is therefore experiencing a constant growth, gaining approximately 10% of the total market, due to the massive demand from people of all ages and social class, who spend most of their working day among people and invest in their own images and physical appearance to inspire their customers with confidence and to be successful in their careers.
However, while in years past, connoisseurs of luxury products were more oriented towards original designer label products, nowadays, as a result of the proliferation of counterfeit designer items, people seem to be focusing more on the quality of the product than on its brand name. There is a renewed interest in buying something really exclusive, a long lasting product that is the expression of fine craftsmanship, where even the smallest details are finely worked assuring a perfect luxury item, worthy of the name.
A luxury product should be the symbol of elegance, refinement, high quality, prestige and undisputed style; these are the main qualities that distinguish it from any other article, regardless of whether it comes from a designer collection or not.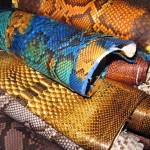 Gleni works very hard every day to ensure that all these qualities are present in each creation, starting from the selection of the leather: absolutely gorgeous exotic leather such as python, crocodile and ostrich, which is 100% certified and hand dyed by exclusive Italian tanneries in the full respect of the laws regulating trade in endangered species. Each skin is subject to CITES controls and certified by CITES bodies, guaranteeing that we only use the best to form every single luxury accessory.
We can even say that it is exactly the exotic leather itself that transforms every single product into gorgeous masterpieces of undisputed prestige and high quality.
Yes, the models and the styles of the numerous handbags and accessories are carefully created on paper and studied in each detail before being materially produced, but the ingredient that gives them that extra touch of glamour, elegance and prestige is precisely the exotic leather which characterizes our whole collection.
The softness and the wonderful colors of python skin or the luxury and the refinement assured by an ostrich or a genuine crocodile handbag, will never go unnoticed. It's the leather itself which gives prestige to the above mentioned creations, transforming them into special masterpieces to wear whatever the occasion, enhancing our figure and physical look.
Besides the high quality of the exotic leathers we use and the excellence of the hardware that completes and further embellishes each product, every single luxury item that deserves respect and appreciation is created thanks to the ability and mastery of skilled Italian artisans, and for this reason, it lasts a lifetime, always retaining its unchanged elegance and beauty despite the passing of years. Thus, we can obtain unique pieces just because they are entirely hand-crafted, whose precise details and finishing will be difficult to find in brand names, that may be produced in great quantities.
Of course, what really counts in an item to last a lifetime is the quality of the raw material and the attention in the production process, but it is also true that a luxury item, such as a product in exotic leather, needs a few attentions in the way it is used and treated, so to retain the same softness and beauty as the day you bought it.
Given our constant involvement in the field of exotic leather and luxury products, Gleni's staff thought is was useful to focus the attention upon this issue, with a few words to explain to you, dearest customers and readers, that when we speak of the resilience and long life of our creations, we are referring to the typical qualities of every single item only when it is correctly protected and cared for.
So, how can we preserve the beauty and the elegance of the luxury exotic products we decide to but? What rules should we follow if we want to be sure of luxury handbags and accessories having a long life?
Keep on reading us, since we will soon give you some easy and practical suggestions on the correct preservation and protection of genuine exotic leather items!