Men's bags: fashion brings back a classic from the 1970s
During the recent major trade fairs – such as Mipel in Milan and Linea Pelle in Bologna – the fashion world has displayed the latest news in trends, colors and materials, entertaining and informing both those in the business and those visiting just because they are huge fans of fashion and the leather world in every shape and form. It's obvious that, at this point, every woman has already found the perfect bag for her needs, both in terms of comfort and practicality, without leaving out the taste for elegance and refinement: from transformer bags to some prestigious re-editions, to the many novelties in the leather field, both for the processing and the dyeing phase, creating an item that changes, evolves and grows together with the woman that carries it!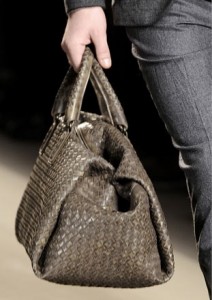 But, how will women react to the news that the handbag is no longer an exclusively feminine accessory? Impossible? It's true nevertheless, because, with all the things that they have to carry with them nowadays, men too are obliged to carry suitcases, briefcases, cross-body bags or purses, re-proposing, in a more updated version, the typical men's bag that was so much in vogue during the 1970s.
That's the mission: to find a substitute for the classic briefcase designed to cover the entire day. With that short handle the briefcase is no longer very practical, perhaps because it was created for managers and employees exclusively for work, while nowadays, most men need a bag to carry them over into their leisure time too. Jacket pockets are no longer sufficient to hold glasses and sunglasses, keys, wallet and other personal effects, and slim fitting jackets don't adapt well to the bulges of over-filled pockets risking damage to the fabric: these days the wallet bulges more and more, the house keys are doubled plus there are office and car keys too – probably in two separate key holders – the mobile phones, iphone and ipad, may be high tech but they're still bulky, and then pens, diaries, lighters, for those who can't help smoking still…..handbags have become more than a feminine accessory, exclusive to women: if men don't want the bottoms of their pockets to fall out or to go about as weighed down as lead soldiers, they really do need a bag too.
So one of the main items of the 1970s men's wardrobe is back in vogue, even though in an updated version: the cross-body bag. It has re-invented the image of the man with the shoulder strap, allowing something that was previous unthinkable, to become possible. This accessory used to be rejected as uncool and not attractive for men, but who says that aesthetics and practicality cannot live together, especially when it is carried with such ease and self-assurance?
Anyway it was high time men stopped hijacking space in their fianceè's bags – already overloaded with their own things – and started managing their own load themselves. With all the many different requirements and habits, today the market proposes thousands and thousands of models: generally the items most in demand are those with well defined space for work use – places to keep documents, folders and laptop – and for travel, with other compartments in case men need to put in a shirt or a quick change for a relaxing weekend.
But, how long ago did fashion see the appearance of the first models of these men's bags?
It all started back in the 1970s, during that period of social revolution, when everything was brought into question. So, while women were asking, louder and louder, for equal opportunities with men, even fashion was affected by this atmosphere of radical change, proposing extremely tight and slim fit clothes, flared trousers and jeans with low waists and external pockets with no functional use besides look and design: these pockets were so uncomfortable and tight that they would hardly even fit a few coins inside. So, it was time for men to start carrying bags.
The men's bags in vogue during those times were of genuine calf leather, black or brown, and were available in two models, either the shoulder version or the hand-held version. Both had the same square shape and medium dimensions, a structured design and a zipper fastening, that in some cases alternated with a gold metal buckle. The shoulder model had a long adjustable strap, in the same material as the bag, and it could be carried either on the shoulder or cross-body. The other model, instead, had a more lengthened shape and was a bit bigger, with a small side strap by which it was possible to carry the bag by the wrist: of course this kind of model was more professional and more used by older people than the shoulder model.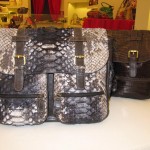 Nowadays men tend to work even while they travel, while they are waiting at the airport or on the train and in the hotel: this is why artisans and bag producers have added a few more compartments to the classic two, providing the extra space needed to organize personal effects, which can be safely closed when the bag is opened to take out documents and work papers during a meeting.
But what about when the convenience and practicality of a versatile accessory is not enough because we are also looking for elegance and refinement? A great variety of luxury models made in exotic leather, such as python and crocodile, can be found on the market, and in our Gleni Boutique in particular, which reflect and emphasize the self-confident personality of the person who wears them.
With thousands of pockets and compartments, fashion becomes more and more competitive in search of new solutions: in genuine leather or other materials, with detachable shoulder strap, and with the shape more or less decorated. Each underlines a certain degree of elegance, to satisfy the tastes of every man, as everyone has his own style……the important thing is to find the solution that fits you best!