Men's fashion for summer 2014 gets underway with Pitti Immagine Uomo, edition 84th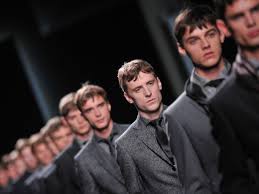 Authenticity, refined craftsmanship, and plenty of Italian tailoring –in no way an outmoded concept, especially during these times of globalization, but rather something to be proud of. These are the key words for this year's 84th Pitti Uomo edition: as usual the extraordinary setting of Florence's Fortezza da Basso hosted the world's most famous menswear fashion show, with more than 1000 brands presenting their new collections for next summer 2014, not forgetting the 64 women's pre-collections for Pitti W.
A huge hall with plenty of smart and fresh sections,, a veritable Mecca for buyers from all around the world: a true stage where Italian men's fashion can compare itself with all the competition, especially from the London and Paris catwalks. And so the debate is always lively on the Italian-ness of this most important and distinguished men's fashion event, seen through the lens of the many visitors seeking to discover fresh and clever collections, all ready to be sold.
There's no longer room for the empty and vacuous fashion of a few years ago: times have changed and now people are looking for something real and substantial, something that doesn't only focus on the superficial appearance, but which is given the benefit of aesthetic research and timeless quality.
A rumbling squadron of motorbikes attended the launch of the fashion show at the entrance of Fortezza da Basso, underlining the main theme of this year's Pitti Uomo edition – that irresistible attraction between motorbikes and fashion, with two principal aims: to boost the internal market that showed a 5,7% decrease for men's clothing in 2012, and continuing to stimulate the export market and trying to beat the 3,8% growth achieved last year.
In fact the real challenge for Pitti Uomo is betting on the foreign markets by creating a new luxury and business model that works not only for the well-known brands but also for the many bright satellites from the galaxy of small and medium companies.
And as communication becomes more and more important, together with appealing images and new trends to stimulate the market, this year Pitti Uomo was welcomed by the 7th edition of Florence For4Ever, the blogger festival created by Andrea Panconesi: 30 international bloggers on the hunt for images and Italian style, accompanied by rapid and instantaneous writing that spreads new ideas via the web in real time.
Dominant feature of many of the collections presented at Pitti Uomo, especially the more informal ones, is the use of color, usually strong and bright shades reminiscent of Pop Art, while for classic clothing, natural fibers have a strong presence, from linen to jute, cotton or silk, featured with crumpled effects, for the more confident and relaxed elegance favored by the gentleman of 2014.
According to this trend, Lardini shows its Gunny Jacket that reinterprets tradition while turning it inside out: a jute fabric jacket – natural, biodegradable and recyclable – with a slightly raw feel and a graphic design that makes it unique. In contrast the No-stress jacket by Gabriele Pasini is made from either cotton or high-tech jersey..
Woolrich takes its inspiration from the ocean, revisiting its pieces with high tech fabrics: it's important to have new ideas and strategies to make the product more and more desirable and bring people back to the shops.
The classic men's suit too is revisited with innovation and technology: Tombolini presents a tailored suit weighing only 400gr: ultra-lightweight and made from waterproof materials.
For La Martina, lots of shirts with flower prints, while Colmar Original proposes light jackets in sober colors and denim prints.
Men's shoes reveal that the 2014 man is looking for a great sense of freedom, such as the models proposed by A. Testoni who goes for  "urban cowboy" boots; while the classic "desert boot" by Clarks has been updated and lightened with cork soles in their classic colorful chamois.
These are the main trends shown at the 84th Pitti Uomo edition which, despite the difficult times, is establishing itself even more as an important platform where trends, buyers and markets can meet.