Milan fashion week: Back to the roots of classic elegance… but with a trendy touch!!!
Almost all the autumn-winter 2009/2010 women's collections presented at Milan Fashion Week have been animated by a return to their roots of elegance and natural refinement. The woman's look proposed for the next cold season is focused on the idea of classic simplicity! It is devoted to rediscovering the typical styles of the 50's, and 80's, both in their lines and in the materials used.
What does this mean? Have Italian designers perhaps run out of innovative ideas, to be seeking inspiration from fashionable trends of the past or has the economic recession pushed even them  to reconsider their budgets and to review their old creations, changing details and colors, in order to save their cashflow and their brands?
This was the most recurrent, provocative question asked by critics and fashion newspapers at the end of this fashion event, located in Milan from February the 25th till March the 3rd.
We too have tried to analyze in more detail what was proposed by world-famous Italian fashion houses at Milan fashion week, in order to better express our personal point of view and find our own personal answer to this weighty question!
However, before embarking on this discussion, we'll summarize for you the main styles proposed in Milan by some of the most famous Italian designers: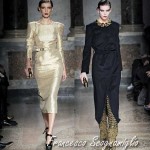 Francesco Scognamiglio creates the image of a romantic, sensual woman, whose silhouette is further enhanced by luxurious, very long tailored jackets made of prestigious fabrics such as astrakhan, contrasting with a nude look. He uses very prestigious materials to enrich his creations such as 18ct gold applied to wool blends and fine knitwear. Also made of 18ct gold are the long necklaces, and the buckles and studs decorating gorgeous bags and boots. The predominant dark colors characterizing Scognamiglio's collection are black, and midnight blue, while the chosen light tonalities vary from white, ivory (which, thanks to the wonderful shiny fabric, dresses are made of, assumes wonderful golden streaking)  and beige. A touch of vivid color is given to this collection by the shiny turquoise shirt.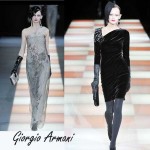 With Giorgio Armani a return to the 80's is evident, thanks to the use of paillettes and shining rhinestones, applied both to evening shirts and luxury dresses, and the return of the single jewel button jacket with structured shoulder-pads. Skirts are very short, in shades of grey, dark green and dark blue, leaving woman's legs exposed, just encased in sensual tights. The waist line is further emphasized by wide belts. The day-wear style is very elegant and refined, accompanied by wide shoulder bags clasped in the hand or by wide tote bags held by the handles. The evening look, on the other hand is very sensual and gorgeous, using shimmering fabrics and enriched by refined accessories, such as luxury elbow-length gloves and chic structured clutches. The fashionable evening colors proposed by the king of the fashion world, Mr. Armani, are black, light grey and silver. Shoes and boots are absolutely ultra flat but decorated. Hats are round, black and covered by glittering sequins.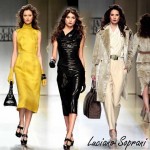 Luciano Soprani too celebrates a sort of return to the 80's, re-proposing black leather dresses for a gorgeous sensual look. The fabrics used are very shiny, as if they were covered by a sprinkling of stars, giving the woman brightness and glamour. The day-time look is characterized by knee-length dresses or skirts, leaving the woman's legs uncovered,  while the evening look is focused on more stylish gorgeous and absolutely shiny dresses, accompanied by structured clutches to clasp in the hand, even when provided with a small strap. For shopping, Soprani suggests wearing very gorgeous tote bags made of black leather, to combine glamor and practicality into a dazzling mix of beauty and charm. Gloves are very sensual and enhance the natural charm of the woman. The most trendy colors of next autumn- winter 2009/2010, according to Soprani, are white, light beige, yellow, Bordeaux, gold (both for fabrics and for accessories), wine red, brown.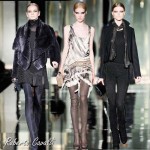 Roberto Cavalli: after the announcement that his Just Cavalli brand, wouldn't be taking part in the Milan Fashion week, his collection was awaited with particular curiosity, but the results haven't been as positive as expected, with many critics accusing his collection of apathy without the usual innovative ideas, that are characteristic of him. The woman proposed by Cavalli wears classic mid-thigh length dresses, simple but also elegant and shiny, completed by opaque dark tights or thigh length boots. Suits are black or grey, enriched by pearls and rhinestones. Sheer knit gowns are however visible in the evening look. Stretch trousers or very short skirts are the ultimate in winter fashion next year, according to Roberto Cavalli, who also promotes the use of classic colors such as light pink, electric blue, brown, grey and black. His creations are almost all accompanied by very elegant clutches, with or without a small chain strap but always clasped in the hand. His handbags' colors are also very sober: beige, black or brown.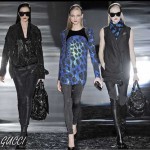 Gucci returns to the famous 80's style, re-proposing skin-tight black trousers made of leather or lurex and very high thigh length boots, tightly encasing legs like a sheath. Jackets are very short, denoting a perfect waist line while the trench is made of shiny patent leather. The evening look is luminous and very gorgeous, enriched by shining pearls. Fabrics are shiny and very fluid, and colors are very seductive. The most recurrent ones are: electric blue, purple, wine red, black. Also very fashionable are  the so called lamè fabrics in  green, black, silver and electric blue (above all for over-shirts). Handbags are very wide, similar to totes, to assure the woman comfort and practicality as well as elegance and charm. However, when the suit or the evening dress are really very gorgeous, the tote bag cedes its place to the ever-stylish refined clutch, both in natural leather and made of genuine python skin, matching the dress in color.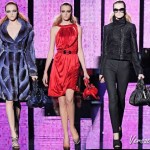 Versace presents us with the image of a luxury woman who loves elegance and perfection and who wants to look gorgeous and well-groomed every day, with classic style. She wears refined shiny dresses with plunging necklines and slit skirts which enhance her silhouette. Shirts or mini dresses are enriched by paillettes, while skirts are knee length or shorter if worn during the day. The evening look imposes long dresses, some of them also with a long train. As for the colors characterizing the Versace woman, we can certainly affirm that this collection is enlivened by the presence of many different shades such as: grey, black mixed with silver, emerald green, electric blue, red, fuchsia, turquoise, beige. The day-time look needs a bag which is both comfortable and elegant. The solution: a nice leather tote bag, which is not worn on the shoulder but held by the handles, or a dynamic flat office bag, practical both at work and during your leisure time. Evening dresses, both long and short, need a gorgeous clutch by their side, enriched by rhinestones or simply made in the same fabric and color as the matching dress.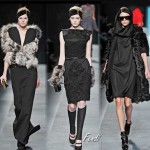 The woman dressed by Fendi will wear elegant black or red dresses next winter, made of gorgeous velvet or of shiny fabrics, worn with luxury leather bags, held by the handle or worn on the shoulder, and falling open on one side. Next to them, there are the classic clutches,  either  soft or  structured, always clasped in the hand. Clothes are simple and linear, skirts are short while legs are kept warm by leather-look stretch leg-warmers worn over sheer tights. And fur could not be dismissed on Fendi's collection, with gorgeous and precious of mettalic and silver matching and very refined elaborations. In sable, mink and fox Fendi demonstrated once again its supremacy as furrier.  The evening look too is essentially black! Heels are extremely high, both during the day and at night.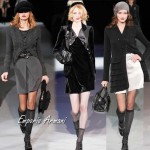 Emporio Armani: the youthful line of dresses, created by Giorgio Armani for his younger customers, has been inspired by the figure of the typical French girl walking along the banks of the Seine and hanging out at French bistros. She wears short skirts and sheer kneesocks. Heels are very high to enhance her beautiful long legs, while wide black leather bags are clasped in the hand as if they were simple clutches. They alternate with shiny original clutches in black, to go with a more elegant look such as very gorgeous shiny shirts, covered by very small rhinestones which create a special delicious effect. The predominant color is black even though we can also detect some touches of beige, Bordeaux, midnight blue and dark green.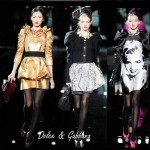 Dolce & Gabbana: shiny satin, lace and fur are the main fabrics used by Dolce & Gabbana in this latest fashion collection, very gorgeous dresses which will certainly enhance the natural sensuality and the refined beauty of the high-class woman. Sober suits in shiny black or luxury black and white mini dresses, leaving the legs exposed, remind us that the key word is "seduction through elegance". Evening dresses are embellished with lace or made in prestigious shiny satin in black, fuchsia, bordeaux and gold, sometimes decorated with fur. Absolutely stunning are the proposed black satin evening dresses, enriched by golden highlights, conferring on the woman wearing them light and prestige. Both the designers emphasize a slim waist line. Coats are made of maculated fur, as are some medium length dresses. Fur coats are fuchsia and not just classic black, but the special feature of this autumn-winter women's collection is the face of Marilyn Monroe printed on the fabrics used to make very chic dresses with flared medium length skirts, in typical 50's style. Handbags are quite big with handles for day wear, and absolutely small, structured or soft clutches enriched by golden straps or decorations for the long evening dress.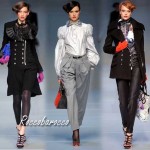 Rocco Barocco: colored gloves and high heel shoes go with classic black dresses and coats. Handbags and shirts, like the shoes and trendy gloves, confer on this collection a touch of vivacity and color, with bright shades like electric blue, fuchsia and violet.
Grey suits are very chic, while the evening look is dominated by key words such as color and joy. Black dresses are enriched by paillettes and rhinestones, while others are less rich but made in shiny fluid fabrics in purple, acid green, wine red and silver.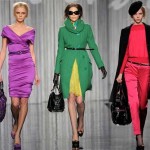 Enrico Coveri presents a collection which is an explosion of color. Red jackets trimmed in red fur, vivid green, fuchsia, yellow, purple: these are the main shades used by the maison Coveri. Combined together, they create a very particular look which seems already to be anticipating the imminent arrival of spring. Jackets are short and denote a perfect waist-line, taking us back in  style to the typical women's look of the 50's, while the fishnet tights are a further element of seduction. Handbags are dynamic and wide, held by short handles, while the evening look demands gorgeous black clutches, as always the symbol of prestige and elegance. Fabrics are very shiny and flowing, in order to create a soft effect, giving the impression of an ethereal woman. The tote bag is also very trendy in black with electric blue trim for men, to use both as a sports and leisure bag.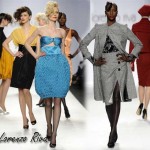 Lorenzo Riva too uses very dynamic colors for next autumn-winter season, focusing his attention in particular on vivid warm tonalities such as orange, dark yellow, petrol green, red, brown and beige. Coats have an A line and are lined in a contrasting color. Skirts are short and enhanced by black or metallic silver patent leather boots. Suits are very refined and youthful, while bags are big and held by the handles, even when they have a strap. Evening dresses are very luxurious, with dramatically plunging necklines and corselets decorated with pearls and rhinestones. They are classic black, dark green or metallic silver, decorated with lace and paillettes for a really seductive style.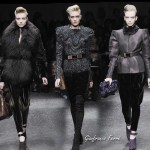 Gianfranco Ferré's brand, despite the economic crisis that the fashion house is going through, still managed to present its collection at Milan fashion week, proposing a very sober look in the typical winter colors such as brown, dark green, midnight blue and black and using the contrast between matt and shiny effects.  Shirts and jackets have Pagoda shoulder lines, while the waist line is highlighted by original jewel-belts. Ferré's designers use prestigious fabrics such as cashmere, bouclé, laminated tweed. Shoes are have vertiginous heels while bags are enormous and held by the handle or the strap. Skirts are often enriched by paillettes, while evening dresses are long and really gorgeous, essentially black and brown.
As we can deduce, having taken a look at these Italian fashion collections, many designers have been inspired by the old trends in look and style but, in our opinion, this return to the past doesn't indicate a lack of original ideas or that their creative vein is going through a crisis. They have simply re-proposed in their collections a special element or a typical accessory characterizing a past era, as a sort of homage to those trends of the past, which raised the fashion world to great heights.
If fashion and, in particular Italian fashion is now renowned and appreciated all over the world, it is also thanks to the hard work put in by many of the old historic fashion houses which sacrificed private life and leisure, investing a large amount of money in their projects, to open up Italian style to fame and success. This is why we don't think that the decision, taken by many designers to focus some of their creations on a return to past fashion eras, can be attributed to lack of creativity or even to the economic recession which is affecting everybody, but it should rather be read as a homage to the fashion creations of the past; an important step devoted to honoring our past and our traditions even in the field of fashion.