A close look at the Milan Fashion Week collections: the show of the Italian Fashion Houses
…..
In our previous article, we gave you a brief and tantalizing synopsis of the most interesting facts and events of this year's Milano Moda Donna. Now in this article you can plunge headfirst into the many collections that were presented by the most renowned and worldwide appreciated Italian fashion houses, in very close detail.
So, are you ready?? Let's start!!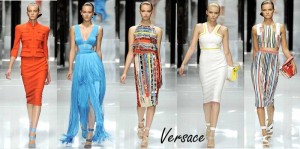 Rigor with sensuality was decreed by Donatella Versace, who, for next Spring/Summer 2011 presented a handful of elements combined to create a statement that was limited but strong, revealing an absolute strictness. A great variety of vivid colors played the starring role, such as Mediterranean blue, orange, shades of red combined in summery stripes, without forgetting the classic black and white.  Models showed severe silhouettes in pencil skirts that ended just below the knee or in a fitted mid-thigh length. To add a touch of sophistication, decorative borders were applied to tops and dresses, reproducing Greek patterns, a classic Versace motif, but this time proposed in vinyl.

Taking inspiration from a trip to Marrakech, Gucci's collection was a total explosion of color, as the public immediately realized on seeing the first model who walked out in an orange blazer, violet tube top, green pants and gold python belt. The attention to detail reveals how important a strong background in craftsmanship is for this fashion house, allowing it to create heavily embroidered and studded jackets and dresses, while leather – the most frequently used fabric in the entire collection – was densely laced and dotted with gold hardware or fringed to the hilt. For the evening, Gucci's woman is imagined in black silk jersey jumpsuits with gold accents, or jewel-tribal dresses embellished with metal, feathers and beads, to shimmer all night long.
In an innocent Garden of Eden setting, immersed in the nature of a romantic garden, Alberta Ferretti presented her collection, focusing on floating floral chiffons paired with flat rope sandals. Departing from the luxe lady look she offered during the past few seasons, for next Spring/Summer 2011 she aimed at creating a fairy-tale femininity, through sheer gowns, sometimes worn with wide-brimmed straw hats.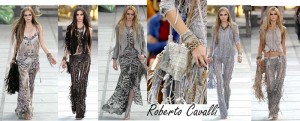 Celebrating his 40th anniversary in business this year, Roberto Cavalli left minimalism behind in his collection for the next summer season, and revealed himself as a grand master of the power of suggestion. Tiny jackets in crocodile or snake, intentionally unhemmed, so that the integrity of the skin was preserved; sheer chiffon gowns embellished with a concealing/revealing fall of fringe; very skinny pants laced to the legs and variegated in neutral tonalities of beige and grey, beyond the classic black: everything layered with sequins, beads and crystals. These were the masterpieces of the Tuscan genius, created with the help of the artisan workshops of his native Florence, which have allowed him to attain a high level in the fashion world.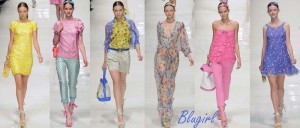 Light, dynamic, as elegantly volatile as a butterfly, an ethereal beauty: this is the woman pictured by Anna Molinari for Blumarine, who displayed a new femininity based on natural concepts at Milan Fashion Week. The typical animal motifs, in either bright pastel colors or neutral browns, are everywhere: from fitted mini-dresses and tunics belted over flaring pants, to chemises and super-voluminous caftans. Pigments are imprinted on fabrics, with flashes of total white and degradè effects.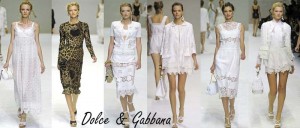 This is a very important year for the Dolce&Gabbana duo, who will celebrate their 25th anniversary in business: and what better way to move into their next quarter century, than with the blank slate of an almost all-white collection? Bedspreads, tablecloths and curtains were minutely transformed into sexy skirt suits, baby-doll dresses, rompers and the inevitable corsets. Lace, crochet and sheer chiffon were the favorite fabrics for this collection, while, for the evening, outfits are covered with crystals and diamonds.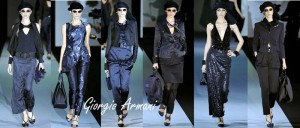 We had to wait the end of the fashion week to discover the collection of the most renowned Italian fashion house, Giorgio Armani, which was the grand finale of the entire event.
For the designer, it's time to say goodbye to classic black, looking instead to a warm and velvety blue, as the only possible alternative to total black. A single-minded but strong collection it was, where everything was expressed in indigo blue and navy tonalities. Sprinklings of crystal and sequins appeared on long skirts and tanks while a Saharan subtext was explicit in the Tuareg head wraps and tribal jewelry.
Armani offered multiple variations of jackets, invariably paired with tapered, pleated pants, creating a long, slim silhouette, even with one of the designer's most original inventions: layering a skirt under the jacket and over the pants – here in light chiffon, while it was made of tulle for the Emporio Armani collection – which added something chic and streamlined to the outfits.
We have selected just some of the designers that proposed their styles and ideas during this year's Milan Fashion Week, for Spring/Summer 2011. Did you find anything interesting to update your summer wardrobe? Share your opinions with us, we would really appreciate  receiving them!!!