If you're new here, you may want to subscribe to my RSS feed. Thanks for visiting!
We remind you that Gleni's blog is originally written in English (www.gleni.it/blog/) and that the version you are about to read (if the version you are reading is not english) has been generated by an automatic translator.
New life for the woman of next fall-winter 2012/2013
On February 22nd, Milan shone once again under the fashion spotlight, with the many fashion shows that took place in the city, decreeing the style and new trends in women's fashion for next fall-winter 2012/2013.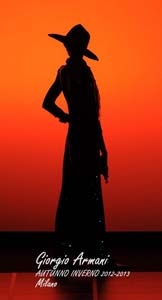 The Sforzesco castle and its monumental towers were the favourite set of many fashion collections that brought the image of a sensual, elegant and self-reliant woman to the catwalk.
This important date with Italian fashion, which, as mentioned above, opened on February 22nd and closed on February 28th, was seen by most of the visitors and buyers visiting from all corners of the world, as a positive response  to the severe period of economic recession that many countries are still facing, given that almost all the designers focused their collections on two very important concepts that, have always characterized the genuine craftsmanship and tailoring of Made in Italy: research and quality of the product.
Unlike past seasons' shows, these collections allowed for research into the most suitable designs and styles for the modern woman, to the perfect accessory completing her look and further enhancing her dress, but they also emphasised research into colour, given that, according to many designers, colour too plays an important role in the creation of a particular design and in its transposition onto the woman's body.
In addition to this, sophisticated, sublime, elegant and, sometimes, even unusual materials are to be used, such as exotic leathers (genuine or embossed) not only to make luxury bags and clutches but also for the creation of soft dresses and coats with a glamorous and unmistakable style.
The woman of next fall-winter season 2012/2013 is a woman who recaptures her own vitality and confidence also thanks to the dress she's wearing and to the accessories completing her look, whether simple or unusual.
The handbag, in fact, is back to being a constant presence in any collection shown at Milan fashion week, better if big and roomy, but perfect even in the "clutch" version, worn with an evening dress made of chiffon or tulle.  In both cases however, the handbag is clasped in the hand, like a clutch or, at the most, it can be held by the handle or the strap, but it's absolutely never worn on the shoulder.
The belt too regains a prestigious position, above all for those designers that use this accessory to further enhance the waistline of the woman and her perfect silhouette.
The MUST-have color next fall-winter season 2012/2013 is still BLACK, even though it's no longer the classic "solid shade", as in the past, but enlivened by decorations in vivid tones from gold to red. Even tonalities such as bright blue, camel, eggplant purple, as well as strong colours such as coral red and fuchsia are much in use.
Let's look now in more detail at the new fashion ideas for the coming fall-winter season 2012/2013 proposed by some of the most famous Italian designers taking part at the latest edition of the Milan fashion week…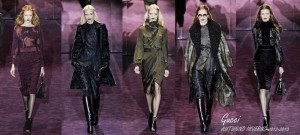 Gucci fashion house, thanks to its creative director Frida Giannini, puts forward the image of a woman that looks at the same time androgynous and romantic. Her style fluctuates between severity and bohemian style. Long dresses are made from flower patterned fabrics or are enriched with jacquard designs, while silk is embroidered and the rather wide coats  are embellished by inserts in chiffon. Skirts are made of soft velvet if worn during the day, but, at night, the woman dressed by Gucci, wears very gorgeous dresses decorated with feathers and animal prints. She also wears sumptuous dresses decorated with small pearls or enriched by sheer sections leaving legs visibly uncovered. The waistline, on the other hand, is not enhanced by the classic belt but by ribbons and bows. Among the most fashionable shades for the next fall-winter 2012/2013, Gucci primarily chooses black, but also makes space for woodland green, purple and blue.
Handbags accompanying the Gucci woman are wide totes to clasp in the hand like the classic clutches, everything strictly in black.
Black is also a recurring theme in the collection proposed by Emporio Armani, where the woman on the catwalk is absolutely self-reliant and aware of her charm. She faces the next winter season in knitted outerwear and gorgeous dresses enriched with ruches, giving volume and more prestige to her silhouette.
However, "King" Giorgio doesn't use black as a solid colour but contrasts it with bright tones going from bright blue to vivid red. Shoes are ultra flat, given that – as Giorgio Armani himself affirms – "sensuality is not a question of centimetres", while bags, whether they are wide and roomy or small and discreet, are held by the handle, even when they have a strap. The evening look, on the other hand, demands the use of the classic clutch, in classic black or in the same colours as the dress and usually held from the strap made of chain or of leather.

Ermanno Scervino, on the other hand, portrays on the catwalk a woman in perfect balance between the equestrian world and 18th century Venice, thanks to redingote jackets, jodhpur pants and riding boots. Knee length skirts are worn with sporty wool jackets or with maxi crocheted sweaters. Bustier dresses are also knee length made of leather, velvet or organza, while the evening dress, strictly long, is enriched by transparent lace or by sequins. Among the most popular colours used by Ermanno Scervino woman, a special role is occupied by warm shades such as camel and brown, but also by black, midnight blue and green in all its many shades. Handbags can be maxi or mini and are an integral part of the look but they are strictly held by the handle.

Giorgio Armani shows the woman of the next fall-winter 2012/2013 as a strong and compelling woman that wears mannish suits made feminine and sensual with printed flowers on the breast pocket of the jacket or with wonderful clutches. Coloured silk tops have a linear and clean cut. Flared or wheel skirts are worn over bermudas, the must-have item of the Armani collection. Crystals and sequins enhance evening dresses in black velvet while the clutch, in maxi or in mini version, is clasped in the hand and perfectly matches the dress in colour and fabric, further enhancing the woman's silhouette. Among the trendiest tonalities adopted for the next winter season, orange, coral red and fuchsia are top of the list, according to the king of Italian fashion, Mr. Giorgio Armani, who uses these colours both for dresses and for the coordinated accessories.
A glamorous woman who hates rules and conformism but hasn't abandoned her sensuality: this is the new woman for fall-winter 2012/2013 proposed by Donatella Versace. Her dark side is reflected in the fabric clothes enriched by Byzantine crosses or embroidered gothic letters, while black leather dresses are studded with Swarovsky crystals. Silver mesh dresses cling to the body thanks to close-fitting bustiers and mesh is also present on vertiginous heeled boots. The clutch, in a rigid or soft structure, is unforgettable and is strictly clasped in the hand, however big it is.

Roberto Cavalli, despite the greyness of the winter season, focuses his fall-winter 2012/2013 collection on vivid colours and dynamic energy. Colours such as fuchsia, black, eggplant purple, acid green and sky-blue are much used, even contrasting with each other. Pants are enlightened by shining sequins even though the Must-have element of this collection are without doubt the animal prints in leopard, python or crocodile not only on dresses but also on matching accessories, such as handbags. Crocodile print is even used for to make delicious miniskirts or jackets, for a "wild effect" that makes the Cavalli woman extremely sexy and mysterious. The evening dress, on the other hand, is enhanced by ruches and flounces creating elegance and volume, while the bags accompanying the Cavalli woman to evening events and parties are classic clutches or small casket bags with a quite rigid structure and with a single small handle that allows it to be held in the hand.
And, having dedicated ourselves to this detailed look at the fashion parades of the latest Milan fashion week, let's move to Paris to discover the new trends and ideas proposed by French designers( and others) at Paris Fashion week!
Don't miss our next article!
Related Posts
If you found this page useful, consider linking to it.
Simply copy and paste the code below into your web site (Ctrl+C to copy)
It will look like this: Milan fashion week fall-winter 2012/2013
Leave a Reply
(Comments will be accept only if in english language, if pertinent to the post and with valid arguments.)