Milan Fashion Week: Men's Autumn-Winter 2009/2010 collections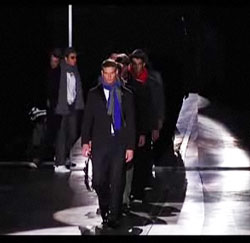 From January the 17th till January the 20th, Milan was once again the center of one of the most important fashion events in the world: Milan fashion week, which this year was concentrated into just four days in order to allow journalists and designers to fly to Paris and take part in Paris fashion week, which started already on January the 21st.
On the occasion of this edition of Milan fashion week, many Italian and foreign fashion houses had the opportunity to show their men's autumn-winter 2009/2010 collections before focusing their attention and energies on the latest details of their women's autumn-winter 2009/2010 collections that will also be presented in Milan, but from February the 25th to March the 4th (we will certainly speak more in detail about this event in our next articles).
This edition of the Milano Fashion Week saw the participation of about thirty-eight important labels, which presented the image of a classic, elegant man, a business man who takes care of himself and of his look. This new man is deeply attached to nature and to tradition and his main object is the recovery of old classic traditions and ideals, without forgetting that he is looking towards the future and that he needs to adapt these old traditions to the current times. We also see meticulous rediscovery of the high quality and prestigious fabric which perfectly symbolizes the true essence of the Made in Italy style.
The man presented at Milan Fashion week is self-reliant, independent and knows who he is and what he is looking for. He is dynamic and trendy but always retains a touch of elegance and natural charm. Some important elements of the classic formal style such as the tie (very slim and tied up around the neck) or the gilet are now re-introduced and revisited in a more modern key and worn with both casual and more elegant looks. Fabrics must be very soft and warm, which is why most of the designers taking part in this event have chosen wool and cashmere for their creations. Trousers are skinny and sometimes only just ankle length in order to define the man's legs and give the impression that he is taller. Pullovers and shirts are elegant, sometimes sober, sometimes decorated with leather or with mink fur. Coats are simple and very classic, knee-length and made of warm wool. Pinstripe fabric suits in grey or blue are also very trendy.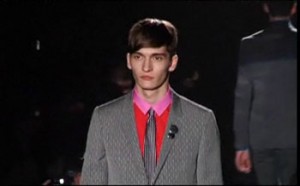 As we have already seen at Pitti Uomo some days ago, when the preview of these fashion collections was presented, the colors of next autumn-winter season are all focused around sober shades such as grey, sky blue, black, white, brown, camel, contrasting with more vivid shades like purple (sometimes even fuchsia), wine red, electric blue, bright red (almost all the designers have at least a red shirt or a red pair of trousers in their collections) and green.
Green can be considered one of the most sensational new colors of this autumn-winter men's collection because this color, set aside last year, now seems to be having another lease of life and many fashion houses have adopted it as the theme color of their shows.
This collection, however, has been characterized by some more extravagant new ideas, which have certainly underlined the importance and the original nature attributed to the new man of 2010. He is a dynamic essential element of modern society: everything must revolve around him and guarantee him absolute comfort and a stylish look. So jackets are no longer restricted to simple natural leather, but some designers dress their models in crocodile coats, very prestigious and luxury items for a top man who wears them with ease and pride. They are perfectly matched with genuine crocodile shoes and boots, with a classic line and speaking of Italian tradition and craftsmanship.
Never mind if these clothes and accessories are expensive: what is really important for the fashionable new man is to be exclusive and project a prestigious image to all around him.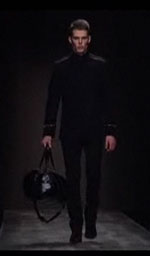 But the man of 2010 not only has to be trendy, stylish and superbly prestigious; he also needs to be practical and he can certainly be that wearing a wonderful tote bag. Yes, fashion changes but comfortable accessories always remain! After the big success obtained by the men's bags last year, stylists have decided to reintroduce this precious accessory this year too! So, the new man proposed at Milan Fashion week, will go out next winter equipped with a big comfortable tote bag to keep all his things in absolute ease and practicality. Pockets are no longer adequate to contain keys, cellphone, and blackberry , while a comfortable bag added to a man's look, will allow him to be at ease anywhere and at any time. Bags are made of fabric or of genuine leather, with external zippers and pockets to keep everything in that a trendy man needs when he is not at home. They are held by the handles or if they are not too bulky, these bags are worn on the shoulder, like classic shoulder bags. Some designers propose shoulder bags with gold straps, in the same color and leather as the trousers (so if the bag is gold, the trousers will also be gold!). For those who want to look absolutely chic, Italian designers also propose genuine crocodile bags, carryalls like a small suitcase, to use both as business bags, in work hours and as travel bags or leisure bags.
Despite the luxury leather they are made of, these man bags, in fact, are very practical to keep your notebook or blackberry in, without compromising a chic look and a trendy image.
This is the new image of man, as he is seen by designers showing at Milan Fashion Week!
Gleni has thought to dedicate this article to all the men following our blog because the man of today, just as the woman, has a new vision of himself. He takes care of himself and of his look and he desires being daily brought up to date about the latest news in matter of fashion trends, in order to appear every day stylish and gorgeous.
This is our first article on men's fashion collections but many others will be inserted in few days, just because we desire paying attention to the men's fashion universe too and create a new line of luxury products just for them in order to let them feel absolutely trendy and charming in each special occasion.