Milan Fashion Week: new Colors and Trends for 2009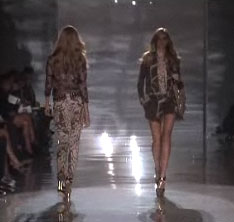 A couple of weeks ago, Milan, always considered one of the most famous fashion capitals of the world, opened its doors to the 2009 spring-summer fashion collections, where many of the top Italian fashion houses presented their finest creations and the latest fashion colors for the coming year.
Many different styles and models paraded down the catwalk, filling the salon with the heady air and strong, shining colors typical of the sunny Italian season. Designers and fashion stylists presented the image of a woman who, despite the financial crisis which is gripping the interest of the entire world at this time, continues to take care of her style and her beauty. She wears very elegant clothes not only in the evening but also during the day when she goes out shopping or has breakfast with her friends. She is a woman who wants to appear sensual but elegant too, whatever the situation, a woman who values her style but also pays attention to her accessories, preferring big jewelery such as chains, bracelets, scarf-pins that enhance her figure.
The kind of woman portrayed by Italian stylists at Milan fashion week, is not subdued by industrialization or by social events; she lives her life with elegance and glamour, enriching her look with precious and very beautiful accessories, not just as complementary elements but as fundamental parts of her successful look.
Handbags for next season are very elegant but also comfortable to wear, embellished by rhinestones, pearls, pendants and golden chains. Front pockets make them more practical and almost all of them have shoulder-straps, the other innovative trend of the new 2009 season. Shoulder bags are worn everywhere, combined with every style of dress, from the most casual to the most elegant. There are many different models of handbags but they are all created with a common goal in mind: that of offering women comfort and ease.
For evening parties, where elegance and glamour are a MUST, Italian stylists propose the classic clutch which can either be worn on the shoulder, using its fine strap, or held in the hand like a precious jewel with the strap tucked out of sight,. These small bags in fact really are just like prestigious, perfectly-finished jewels because they are made with the utmost care and embellished all over with pearls and pendants, giving a woman's look a touch of brightness and absolute natural beauty.
The leathers which are mainly used to make these bags, both clutches and tote bags, are python, ostrich and genuine crocodile. Stylists have used these exotic skins to go with their creations because python and crocodile are considered the pure essence of elegance and there's nothing better than matching a prestigious dress with a stylish, high quality bag which emphasizes the natural charm of the woman even more.
Shoes too are very beautiful and elegant, characterized by high heels, which are almost impossible to wear but extremely fashionable.
As for the most fashionable colors of 2009, we can affirm that Italian stylists haven't selected just one single tonality as "the shade of the year" but are using and combining many different colors with an obvious preference for black. Black is present in every fashion show symbolizing as it does the "undisputed color of elegance and glamour". Almost all the evening dresses on show are black, perhaps enriched with golden or silver linings or set off by jewelled golden clutches covered by pearls and rhinestones. Tote bags too are mainly realized in black because, as we have mentioned in our post on black handbags, a woman must be elegant but also practical; so a black bag is perfect for her because she can use it without worrying about getting it dirty.
As well as black, which never goes out of fashion over the years, Italian fashion houses promote very light colors such as light grey or light beige, which, in soft fabrics such as cotton or silk, give women a refined touch of elegance, transforming her into an ethereal creature. Both these colors create an effect of softness and extreme lightness, typical of the spring season and very often they are combined with very refined clutches made in the same color but with natural or exotic leather, such as genuine python.
White is the other ethereal color chosen by Italian designers for the creation of their 2009 spring-summer collection, thanks to its natural quality of pureness and freshness. This color is often used with linen or silk, two very fresh fabrics which assure women comfort and elegance. White dresses are contrasted with black or colored handbags (above all shoulder-bags) which give a woman's look a touch of color and vivacity without affecting her refined, glamorous style. These colors are very strong, dynamic shades which remind us of the colorful landscape in spring or the hot sun of Italian summer days. The most recurrent are: electric blue, gold, silver, yellow, orange and purple.
The new color of 2009 is without doubt "electric blue", a very dynamic shade that captures the eye, almost hypnotizing you with its brilliance. This shade too is very striking and if you wear it you can't avoid being the centre of attention and having everyone looking at you and it is also very attractive and seductive.
Gold and silver will be in fashion too next year as they are very chic and, for this reason, particularly loved by our designers, who use gold and silver either to create their dress collections or to enrich them with high quality clutches and shoes in these colors, which are carefully handmade and decorated with rhinestones and stones.
Strong colors such as yellow and orange, typical summer brights, are used once more, as is purple which, after its phenomenal success this year, will continue leading the fashion trends next year too. Many stylists have created the greater part of their collection, just using many different shades and tones of purple (from the lightest to the darkest) and matching their creations with accessories that are also made in purple. This color is destined to have a long life in the field of fashion, so each fabric, each leather has been adapted to it. Purple too, like emerald green, is a special color to wear, being both really exclusive and extremely elegant and undoubtedly helping the fashionable woman to express her style and her personality.
Emerald green is the other revelation of summer 2009, a color full of vitality, passion and positive energy. It is very strong so it is particularly recommended for the fashionable woman who loves novelties and constantly follows the latest fashion trends, even if they are sometimes extravagant and unusual. It is a very chic shade, which enhances the bronzed color of a woman's skin, above all if she has dark hair.
Turquoise is another fashionable color, much used and appreciated by all the most famous Italian fashion houses showing at "Milano fashion week", thanks to its pure beauty. In fact, even though turquoise is quite a strong color, it recalls the color of the sea with its deep seabed and gives us the impression of looking at something extremely pure and crystalline.
However, these collections also propose softer tonalities such as light blue and pink, two pastel colors which suit both the young woman and the mature lady because, in both cases, elegance and prestige are assured.
According to our analysis, it seems that next year too, strong colors will continue to dominate fashion trends, highlighting the beauty and the elegance of the stylish woman, and enhancing her desire to stand out and to be considered absolutely special……and what better than a special dress made in one of these stunning colors to satisfy her desire???