Milan fashion week Spring-Summer 2010. Part 2
What do Italian designers proposed for next spring summer 2010 at Milan Fashion Week?
Are you curious to discover how to update your wardrobe for next spring summer 2010? So, let's look in more detail at what some of the most important Italian designers have created for women to look impeccable during next season!!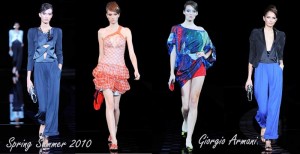 Giorgio Armani, the "King" of Italian fashion, didn't disappoint the expectation of his fans, presenting a very gorgeous collection, devoted to enhancing woman's natural charm, even through a very simple style composed of very short jackets worn with silk ankle length trousers, or refined suits  with very short skirts or dynamic shorts. The woman of next spring-summer season 2010 will wear short dresses in the evening too, for special events and celebrations, certainly made with precious fabric such as silk, taffeta, satin and decorated with thousands of sequins and beads, for a totally shimmering effect. Shoes, unlike the general trends which impose the use of very high heeled wedge shoes, are flat but entirely covered by sequins and decorations. Colors too, like the fabrics used, are intense and gorgeous. The most used are: the classic black, grey (in all its shades), midnight and electric blue, green, red, iris, orange, fuchsia and violet, for a really bright and fresh summer. Giorgio Armani's collection is also characterized by the use of handbags, in particular of the evening clutch which is seen as an extension of the dress, also made with prestigious shiny fabrics such as satin or silk but not always in the same color as the luxury dress. They are normally clasped in the hand or held by the small strap they are provided with.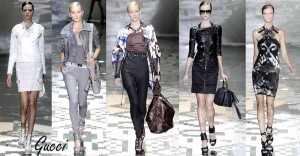 Gucci's designer, Frida Giannini proposed a look totally inspired by sensuality, presenting a collection that, with some exceptions in vivid tones such as bluette, fuchsia and orange, is totally focused on monochrome shades going from white (symbol of evanescence) to black (the color of audacity and sensuality) ranging through tones of grey and ice. High waisted trousers, always skin tight, are worn with long jackets. The classic mid-length stretch skirt, opportunely revisited, will be, according to Gucci , the "Must Have" of next summer. Vertiginous high heeled shoes are accompanied by enormous tote bags held in the hand by the handles. The evening look imposes the use of very gorgeous clutches in the same color as the dress or simply black. These bags stand out not so much for their shapes which, above all in the case of the typical clutch, are absolutely classic, but for the prestigious leathers used such as crocodile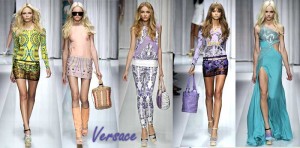 Donatella Versace has no doubts: her woman must be sexy, gorgeous, beautiful and ready to conquer the entire world from her 16 centimeters of heels and wedges!!! The proposed style is an explosion of vivid colors such as peach rose, lavender, orange, white, black, silver grey, yellow, pink and turquoise, brightening up very nice mini dresses or ankle length trousers. Fabrics are shiny and create a particular transparent effect in some points, making the Versace woman extremely sensual even during the day. The evening look dictates the return of the classic long evening dress created by the juxtaposition of sheer tulles and sliding chiffons which caress the woman's legs and further enhance her perfect silhouette. Skin tight corselets, on the other hand, define the waist line. Necklines and slit skirts are decorated with shimmering sequins and precious applications while bags are extremely colorful to remind us that summer is not far off. Next to the usual tote bag and the refined "evening clutch" made of prestigious python leather and enriched by a luxury chain strap, decorated with pearls and rhinestones to turn around the wrist as it were a precious bracelet , Donatella Versace re-introduces the classic bucket bag to wear with a fresh day-time look.

The Tuscan Roberto Cavalli, with his two collections, the "Just Cavalli" and the "Roberto Cavalli" collections, proposed two very different images of women: strong and independant, totally immersed in a metropolitan atmosphere for the first; more delicate and devoted to a simpler lifestyle, in the second collection. "Just Cavalli" proposed very short or long chiffon dresses in very tender colors such as pink, light green and sky blue, but showing strong and modern geometric designs or slogans. Ravaged jeans and denim minis worn with multicolor biker jackets characterize this strong-minded woman, who is not annoyed by the long fringes that she finds applied on hems, bags and even shoes. Much more sensuality and femininity can be found in the "Roberto Cavalli" collection, perfect for all those women who find their expression in flowers: printed on soft chiffon dresses or on long silk scarves snugly wrapped around the neck, these little flowers represent the key word for the entire collection. If the everyday look allows a juxtaposition of feminine-masculine clothes, wearing an apron worn over pinstripe trousers, the evening line expresses all its romanticism with very fluid, innocent and candid dresses.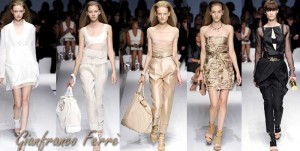 The lightness and freedom of delicate butterflies inspired the Gianfranco Ferrè collection, totally dominated by candid colors such as pure white, or very light brown and beige tending to gold. The elegant and very light dresses are made from sheer and weightless organza which creates airy volume: typical of the brand is the narrow waisted dress, always cinched by delicate belts. Strapless tops abound over hyper-feminine high-waisted and ankle length trousers or bubble skirts. When it is proposed, black is always highlighted by gold detailing applied either on belts or on bags, maxi or minimal as the occasion requires.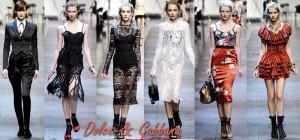 Dolce&Gabbana's collection was a real tribute to Italian femininity, emphasizing the passion and sensuality of the Mediterranean and Latin woman. The proposed style was an alternation of black, white and red which were dashed on shining, mannish suits or over sexy dresses with plenty of lace and fringes for a really sensual, transparent effect. A lot of narrow corsets were teamed with hot pants or worn over flounced mini skirts with high heeled boots sometimes worn with black socks. Very trendy and attractive are the rose-patterned dresses or the red and black spotted shirts, whose patterns were also carried over on to maxi bags, always held by the handles. The result? A woman who expresses both her romanticism and her sexiest aspect!!
We have focused our attention on those designers that, in our opinion, summarized the trends and styles we will wear during next spring summer 2010 season. Do you agree with us? Which kind of collection do you like most? Let us know your comment and we will be happy to hear from you!!