Milan fashion week: spring summer 2010
Milan fashion week: femininity and sensuality on the Italian catwalks for next spring summer 2010.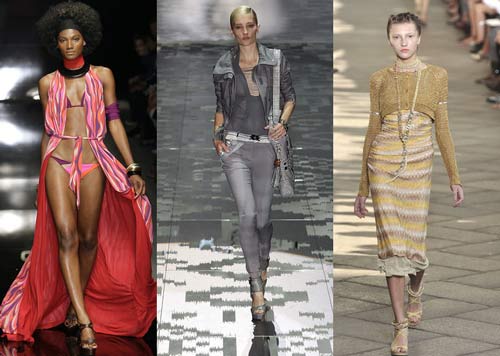 September has already gone and with it, the curtain has fallen too, on the exceptional Italian catwalks that for an entire week, from Wednesday 23rd to Wednesday 30th of September, turned Milan into the world's capital of fashion. Numerous events and exhibitions, enormous creativity and super-elegant style were the key words for the most eagerly awaited fashion show in the world, which didn't disappoint its public, and, even better, reflected the courage and energy with which Italian designers and fashion companies face these hard times of crisis.
Creativity, inventiveness and determination have always characterized the Italian style but during this year's Milan fashion week, these themes took precedence for all those who really want the fashion engine to work again and regain its luster and prestige so that Italian products keep their exalted position in the starry firmament. Despite criticism and attacks on our manufacturing sector, coming from the Herald Tribune columns, probably driven by envy and jealousy, Milan responded magnificently to these futile irritations, proposing strong collections with plenty of creativity and charm, for a woman who is always ready to show all her elegance and femininity.
So, the national and international press together with big names and very important guests, were spellbound by almost 182 collections dictating trends for next spring summer 2010, signed by the most renowned and glamorous Italian designers in more than 97 catwalk shows. A really important event for all those people involved in the fashion business and for Italy in particular which, more than ever, demonstrated its prestige and determination, avoiding all the excess of previous seasons to provide a more reasonable price list for the end consumers.
This year's Milan fashion week edition also featured a number of social campaigns alongside the fashion shows: the anti-rape whistle, conceived as a pretty pendant worn at the neck of Missoni's models, as a thought provoking message to create greater awareness about violence against women; the proudly black models of the Fisico collection showing a group of wonderful "black panthers" as African queens; and, finally, the battle against anorexia, with many designers agreeing to avoid using too skinny models, and even showing the long repudiated size 46 on the catwalks!! So, a real celebration of the woman, with all her shapes and curves, with her elegance and sensuality but also with her desire for freedom and independence.
But how do Italian designers imagine woman for next spring summer 2010? What are the newest trends that will update our wardrobes?
Superb evening dresses made of organza, jackets with well-shaped shoulders to enhance the silhouette, smooth and soft pants, but also chiffon and floral prints, corsets over pinstripe trousers in a total mix of masculine and feminine clothing, ending up with lots of jeans and denim enriched with precious pearls and rhinestones: these are the basics for the fashionable woman of next season, who also enjoys wearing fluorescent colors or tie-dye shades to express all her graceful and ultra-feminine characteristics.
All kinds of women, from the young girl to the grown-up lady, will find a fashion expression to suit them both for business and leisure, in these amazing collections which are source of pride for the Made in Italy brand. While the total look is already a thing of the past, a lot of space is given to the sense of freedom reinterpreted in silk mini-dresses both in delicate shades and in patchwork patterns with studs and piercing for a more aggressive and military look. Lots of crochet, lace and fringes crowded the Italian catwalks to emphasize woman's physicality with all her sensual energy.
Bags are once again an indispensable accessory, especially for the day, when the woman goes out for business or pleasure and she needs a comfortable handbag always at her side. Tote bags sometimes assume enormous dimensions, as big as suitcases, to keep everything a woman needs through the day in absolute order. They are not worn on the shoulder, even if they have a strap, but are held by the handles or by the strap itself (when it is not too long). Clutches are confirmed as the most fashionable model of handbag for this season too. With their undisputed elegance they are used both during the day, as a classic bag, and at night, to match a chic evening dress. However pay attention to an important detail: during the day, you can simply clasp your clutch in your hand as usual, but when you wear it at night for a special party or to go out with your partner for a really romantic dinner at a restaurant, you should clasp your clutch in hand, but the strap (made of small chains and decorated with stones and shining pearls) should be wrapped around your wrist, almost like a bracelet. In this way, you will not only look very fashionable but your clutch will be safe from any attempts to steal it.
Very high heeled shoes are the ultimate in fashion for next summer, but your feet shouldn't suffer too much because wedges will help make the vertiginous heels more comfortable.
All this is just a fraction of what Milan fashion week actually proposed….in our next article we will analyze more in detail the personal styles proposed by some of the most important Italian fashion houses!!!