Milan Men's Fashion Week: Fall/Winter 2013-14 collection
For men dressing in classic style is convenient as it never goes out of fashion: as soon as the curtain goes down in Florence on the 83rd edition of Pitti Uomo, the army of models is all set to walk the catwalks in Milan and interpret the style and the trends of next fall-winter 2013/2014.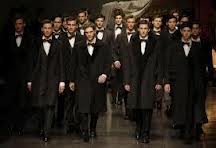 For next season, men's fashion launches a colour challenge: out with solid shades and in with checks in pink, ochre and green. This is the cornerstone of the Milan fashion parades showing how Italian fashion is more and more sought after and beloved, and buyers from the most disparate countries in the world  ask for nothing better than the excellence of Made in Italy.
But let's look in more detail at what the top Italian designers are proposing…
Formal suits in gaudy tartan, tuxedos revisited and shoes with red soles: if the aim is to get closer to the final buyer, Moschino achieves it by sending its models walking among the dinner tables, to draw attention by combining " good food and Italian fashion together".
A hybrid collection is proposed by Cornegliani, with homage to Renaissance decor, clean lines for formal suits and coats revisited just a bit bigger than before.
Ermenegildo Zegna, showing a vast range of sober sweaters and turtleneck shirts, proposes new winter silks and metropolitan pinstripe fabrics.
Jil Sander, on the other hand, offers two tone cashmere sweaters with leather inserts, while beautiful painted felt coats are weatherproof.
There is a particular interest at Hogan fashion house in lightweight shoes that Diego Della Valle considers most appropriate for those who love to explore new paths.
Versace gives the image of a macho-man. Everything is bigger and better, from the dimensions of shoes to the fur coats, introducing the super-luxury.
Angry young men are the models for Costume National: regular guys with a lot of energy and motivation to change what is wrong, even in style. This is why they want to wear accessible clothes both in quality and price.
Iceberg too agrees and its man has a robot look, with a prevalence of black mixed with flashes of blue, red and yellow: there is plenty of experimentation in the fabrics where natural materials are mixed with hi-tech ones with excellent results.
In this edition of Milan Man fashion week, there were many alternatives to the classic catwalk and it was often the setting of a show that grabbed the attention and established the success of a collection: Trussardi takes us into woodland, from which he draws the colours of the next fall/winter season; while, at Fendi, the long platform is abandoned and models go up and down stairs wearing big shoes and  hooded jackets, boiled wools and many man bags…and the duffel coat either in washed jersey or enriched by details, is the latest great passion for men, along with accessories: the men's wardrobe in fact, becomes increasingly rich in man bags and totes.
Backpacks are greatly appreciated, preferably ultra-tech and personalized, such as the ones that combine the creativity of Antonio Marras with the technology of PIquadro, to approach to the poetry of a journey.
Unconventional elegance is expressed by Salvatore Ferragamo where everything is fine and well made and where clothes are pleasing because they are sellable.
There is a strong desire for normality in fashion and in style according to Miuccia Prada,  with more concrete pieces to put together with personality. So, heavy moccasins are worn without socks, pants are short, leaving the ankle uncovered and the shirt is left hanging out of the pants.
The protagonists remain classic pieces that are revisited with creativity and enriched by experimentation with new technology: such as the rubberized leather cloak or the coats to wear over a jacket.
Velvet and cloaks are back in, and while the tuxedo in its many interpretations has always been beloved and continues to conquer young people, Cavalli fashion house considers it the key element for the next generation.
Influenced by the wardrobe of a cavalry officer is the look proposed by Gucci where Frida Giannini astonishes with the choice of formal and informal dress: coats are beautiful but the tuxedo gets noticed, made current by the style of the brand headed by a creative director who has been much sought after by the top international fashion groups.
Giorgio Armani pays particular attention to every detail, while his man chooses iconic pieces from his wardrobe, where the prevailing tonalities are blue and grey: pants with a slim cut, wool jersey or neoprene enhance the wide volumes of coats and jackets, sweaters are big and made in thick wool, while, for the evening look, king Giorgio modifies the tuxedo making it right up to date.
Bottega Veneta focuses its attention on the modern transformation of the tailored suit: a simple and calibrated look, without any confusion and with a predominance of dark colours  that have always given men security. The main colours are black, blue and grey, while the new bags are structured for work so they become more functional.
So, what do you think about the new trends for your men?