Milano Moda Uomo next Fall/Winter: classic or romantic style?
Made in Italy triumphed on the many catwalks that animated Milan from January 14th to 17th, where the men's wardrobe for next Fall/Winter 2012-2013 season was the focus. There were plenty of good products, maybe fewer new ideas, but a great display of pride in Italian workmanship, which is recognized and appreciated for its excellence, for its great artisanship and its inimitable style that still survives despite the current recession.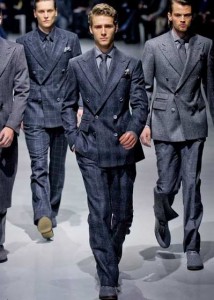 And in the end, that determination paid off. At the conclusion of the event figures demonstrated that the Italian fashion industry seems to be recovering, highlighted by a turnover that shows a rise of +5.30% in 2011, far exceeding initial expectations.
A return to a classic and worldly-wise style, even a little bit worn by the passing of the time, gives the market the reassuring message that everyone is expecting: on the Milan catwalks a sober and restrained men's fashion was presented. The time for luxury and excess are definitely over, so fashion houses look back to austerity and severe lines. Designers want to sell and are putting their money on the sole key word – "sustainable" to avoid repercussions on consumption and turnover.
While the present is uncertain and the future scary, Italian designers preferred the stable traditions of the past: so, on catwalks, we witnessed a come-back of all those clothes and fabrics from our fathers' and grandfathers' wardrobes, reinterpreted according to the tastes of the sons. Men need to be reassured with designs that preserve memories and inspire trust There was such tailoring as only the real artisan masters can provide, at Milano Moda Uomo, together with a great variety of fabrics and those classic English motifs, from tweed to hounds tooth, but also velvet and brocades, wool and leather of any sort.
Backstage the real need of this year's Milano Moda Uomo edition could be felt: to offer customers a lasting alternative to throwaway fashion, both in style and content. So, we could feel the reassurance offered by the formal suit, sometimes showed with matching gilet, even presented by the more unconventional labels.
While fabrics look to the past, their adaptations are totally new: trousers are either slim and ankle-length or high-waisted and with wide legs, while jackets are tight and unlined, with a structured and tailored look but never too formal, even in the double-breast version. Men who don't like blazers can cover up in warm knitted sweaters made of cashmere or angora, but sometimes also combined with leather.
This year's Milano Moda Uomo for the Autumn/Winter 2012-2013 collections, with more than 39 fashion parades and infinite news – to name just a few such as the return of Fendi and Rocco Barocco, together with the long awaited debut of Enzo Rosso's Diesel label – had one undisputed star: the coat, a real substantial heavy one. Blousons and duvet jackets had their come-uppance: a certain type of tailoring took its revenge with the proposition of the coat in thousands of versions to satisfy everyone's tastes.
But, let's have a more detailed look at what the main designers of the national and international scene presented to us during these 4 days dedicated to men's fashion collections.
From the Corneliani collection signs of sobriety and seriousness were evident, showing a typical Great Gatsby wardrobe, that of the seductive man who even matches his coat with his shoes: cashmere waist-belted trench worn over an ivory white double-breasted jacket, without forgetting some original touches, such as the elegant smoking jacket in mink or the knitted cape with fur hood. Corneliani's man is modern and contemporary, lives in a great metropolis and travels a lot, so he wants to be in step with his own time.
At Zegna – celebrating a fantastic turnover of more than 1 billion euros this year, 85% of which solely from foreign markets, Asia in particular – the Fall/Winter 2012-2013 collection tells the story of a young man who is always connected; when he wants some relaxation he heads for the mountains where he shows off an evening coat, black and comfortable as a dressing gown, or blue velvet double-breasted, and woolen cardigans blended with sheepskin.
Roberto Cavalli blessed his son Daniele's work with a collection entirely dedicated to the charming man: dispensing with the usual prints, they reproduced tigers and crocodiles on leather to make their designs more fluid. Rounded down shoulder for coats, crocodile patterns on a velvet smoking blazer, tiger stripes as leit-motifs on leather bombers and leopard spots on jackets.
Exclusive washes and innovative finishes characterized the leather used for Bottega Veneta's collection: from nappa to goat or buffalo leather for a man who likes to show a confident look where lots of room is left for your own imagination.
Burberry Prorsum goes back to its British roots, paying homage to hunting and rain, with umbrellas carried like rifles and velvet suits worn with duvet jackets.
The show proposed by the Dolce&Gabbana duo was entirely dedicated to baroque tailoring and to their beloved Italy, first and foremost.  These two world famous designers presented a collection that was in no way poor or minimalist: baroque embroidery in antique gold appears on wool and trousers, without forgetting on shoes and coats. Dolce&Gabbana's fashion idea is classic and creative, well ahead of the crowd with new trends – for example the passion for all that is second-hand, starting with shoes, that are being sold distressed, stained or worn everywhere now. The message they are putting across is that "the lived-in provides security and safety, in contrast with the new that is scary": according to Stefano and Domenico, the younger generation craves a reassuring style, clothes that preserve the memory of the past. The collection has plenty of tailored jackets with perfect, though not padded, shoulders, comfortable trousers which at the same time show a classic cut, smoking jackets with washed silk lapels, and fur coats in sheepskin. However the real symbol of the season is the coat: at the end of the show the public could gaze at 70 different models, both for day and evening. Everything is a little bit threadbare, as if matted by many washings, but the result is always soft and tender, comfortable and not at all shabby, but elegantly enriched by brocade.
Giorgio Armani has no rival, and when his designs take to the runway excitement is guaranteed, with top models embodying the style of the master, displaying clothes that are impeccable in tailoring and creativity. Clothes that ironically reinterpret the classic textile patterns of the men's universe: for the coming winter, King George says yes to classic corduroy trousers, beautiful cashmere sweaters, shorter jackets worn with pants provided with 4 pleats.
For his Emporio Armani line, the designer conceived a romantic and mysterious man, who prefers more humane and less aggressive behavior, often combining knitwear and leather in the same look. Jackets and vests are always teamed with big scarves, while the narrow coat in shiny sheepskin matches the giant beret perfectly. The velvet suits have slim pants and hidden fastening double-breasted jacket.
So, what's your opinion about the new trends proposed for our men?