New York Fashion Week – Colors and trends for Spring 2009
New York Fashion Week is now over and the fashion press is full of the colors of spring 2009 revealed by the American designers showing there. Here at Gleni we enjoy seeing all the new looks and lines of women's fashion but our eyes are always on the look out for the handbags accessorizing the designers' flights of fancy. The runways tend to inspire some designers to extravagant combinations of fancy dress (some of them unwearable by any woman who wants to be elegant!) as well as gorgeous glamorous evening gowns, but when your eyes tune in to the handbags slung over the willowy models arm or casually dangling from her fingers, you can see the real wearable side of fashion, the new trends of the coming season created in leather. The handbag is at once an expression of creativity and a more solid and permanent forecast of the season's trends .. in our eyes at least!
So what did we notice looking at all these designer collections? First of all a myriad of color continuing the 2008 trend to stronger and brighter colors, which we wrote about earlier this year (see more … ). Positive red is strongly in evidence, as is purple, which has been a favorite color for several seasons now. Cobalt blue emerged as a challenger for purple's first place though and plenty of other shades of blue were in evidence. Candy bubblegum colors were also tempting us – pinks and oranges as well as lime greens. Spring 2009 looks to be a time for a kaleidoscope of color, though for those who prefer more sober colors, some designers did stick to the classic blacks and whites, so you can keep to a more restrained palette if you prefer and still be in fashion!
Exotic skins were also well in evidence with ostrich a prime favorite among several designers. Gorgeous pink totes, elegant purple frame bags and chic mint green clutches all in ostrich stole the show in a few collections, though gorgeous crocodile came in stunning bright colors too.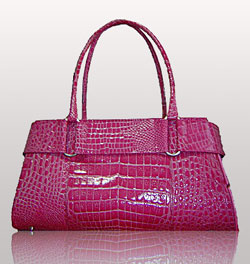 The big bag is still a prime favorite with roomy totes and outsize frame bags with showy chain handles swinging jauntily along the runway. There are plenty of smaller, classic handbags too and a plethora of clutches to match elegant evening gowns.
So if you're thinking about Spring 2009 already how about ordering one of our genuine crocodile bags in Ischia – a gorgeous bright pink completely in step with the trends we've just seen in New York – or perhaps an ostrich bag in bright orange?! If you prefer more subtle colors, a python bag in pastel Rose pink or mint green might be more your style or you could go for a classic white bag that will never go out of style.
Have a look through the gorgeous colors we have in our crocodile, python, Ligator croc and ostrich collections and see what inspires you for next season!