New York Fashion Week – the Bag-Lover's Guide
Last week's New York Fashion week demonstrated two contrasting reactions to the recession in the designer collections for Fall 2009. Many designers were criticized for playing it safe, with a huge return to classic black, while others went all out to bring color and cheer into the gloomy economy with bright neon colors or rich jewel shades.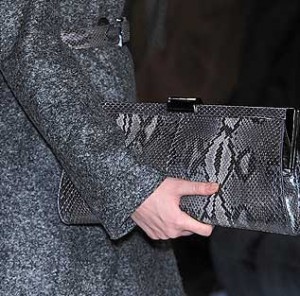 While there were many different styles and looks proposed, some major trends emerged overall: asymmetrical, one shouldered dresses in many different interpretations; cut out panels and shapes in tops and dresses, sometimes even in pants; the return to the Eighties still strong with leggings, patterned tights, neo-punk chains and studs, tailored jackets with padded shoulders and belted waists.
For bag lovers there were a few collections that really stood out:
Marc Jacobs – this was a show that some loved and some hated. Bright neon coats and dresses worn with black or sparkling leggings and tights, padded shoulders and heavy eye make-up were a nostalgic revisit to the Eighties, big hair and all. Whether or not that is the style you are looking for, most bag lovers agree that his bags are a hit – fun, colorful chain bags in vibrant neon pink with chunky red chain strap, or patterned in pink and green, these are fun accessories to raise spirits on dull winter days. His bag shapes are quite classic with his usual quilted chain bag style, but he has gone for bright shocking color and patterns to give a fresh and vibrant feel.
Michael Kors – this collection was restrained and elegant, very wearable, featuring sheath dresses, often with the so trendy asymmetrical one-shoulder style. He also used neon shades of pink, orange and yellow but classic black, white and gray balanced them out.  Tailored jackets and tops were neatly cinched at the waist with medium width belts, and accessorized with chunky chain jewelry. The bags worn with this collection were also elegant and understated, simple classic shapes and structured clutches, like a trapezoid wristlet bag in black, or a metallic mesh clutch. The nod to the Eighties punk theme was subtly shown, with zippers on the outside of simple black leather clutches and satchels managing to combine a young feel with elegant restraint.
Oscar de la Renta's classic and sophisticated collection made the merest reference to the current Eighties obsession, with a hint of shoulder padding in his tailored jackets, elegant gold or black belts to cinch waists and skirts falling to just above the knee. Dramatic bows and drapes on taffeta ball gowns recalled Dynasty but with new millennium elegance imposing style. He chose big bags for day wear, including structured bags and slouchier hobos, and clutches for evening wear, using leopard print to add interest to a plain structured clutch accessorizing a little black dress.
Alexander Wang is a new young designer, whose collection drew much acclaim from the fashion press. His look was rock chick, with black leather and figure hugging dresses, leggings, skinny pants and sexy tailored jackets. His bags reflected the same vibe, a black distressed leather duffel with silver studs covering the base, being one of the most covetable pieces, hyped as this year's 'It' bag and already seen around New York on the arm of Mary-Kate Olsen just before fashion week started.Isaac Mizrahi managed to steal a few headlines by sending his models down the runway wearing bags as hats! Mini leather tote bags were perched on top of the heads of about half his models, distracting the eye from the rest of his clothes and leaving onlookers unsure whether this was ironic comment or mere gimmick. The models who weren't wearing their bags on their heads carried colorful big totes in contrasting and sometimes clashing colors to the rich jewel colors and metallics of their clothes.
Mulberry hosted a presentation rather than a runway show at New York Fashion week, bringing a rich selection of hobos in luxury leathers and ostrich skin. They also went for the neon colors, in particular orange and bright pink, that were featured in several of the other designers' collections.
The prevailing theme of many handbags featured in the New York collections was using them to add a splash of color and fun to a classic wardrobe. If a recession is going to cut your fashion spending, then it is going to be the bags that you rely on to add variety and dress an outfit up or down according to the occasion. People may not feel like splashing out on several new designer outfits but will instead choose a colorful bag to inject some life and positive energy into their style.