New York: trends and styles for next spring-summer 2010
New York fashion week: trends and styles for next spring-summer 2010
Summer is gone now and we are thinking about what to wear this afternoon, of our warm wool pullovers and our comfortable jackets. But, as you know, the fashion world is always on the move and many designers have just presented their proposals for the next spring-summer season 2010, very interesting and innovative creations destined to enhance women's beauty and capture her heart and soul.
The first "official presentation" of the styles and trends which will be very fashionable in spring-summer 2010 took place in the USA a few days ago, from September the 10th till September the 17th, at the famous New York Fashion Week. This very important event this year, saw the participation of many famous brands (from the USA but also from Europe) here not only to show their latest creations for the next summer season, but also to try to expand their business, after last year's economic crisis which brought many important companies (fashion companies too) to collapse.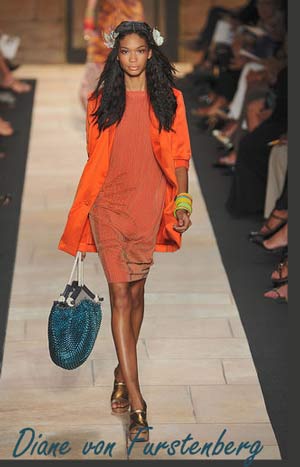 Compared to the New York fashion week of September 2008, the collections proposed this year by American and foreign designers are certainly richer and more luxurious but they reveal that American fashion houses are still suffering from this crisis, as they presented very elegant dresses, with great attention to detail but more affordable in price. They have tried to create a product which will sell more easily, addressed to everybody who loves looking gorgeous and refined at all times, without necessarily spending a lot of money. As the designer Diane von Furstenberg, president of this edition of the New York fashion week affirmed, designers need to produce original creations which are, at the same time, evergreen, practical and, above all, affordable in price, in order to allow our young women to buy quality clothing, even if they are not billionaires. This is the reason why designers taking part in this important fashion event have decided to sell their goods at a discount equivalent to 30% of the total cost.
But what are the key words of next spring-summer 2010 women's collection according to designers showing at New York fashion week?
Next summer 2010 will be characterized by absolute elegance and extreme sensuality. Woman will appear attractive and refined in her natural beauty, whether she wears an evening dress or just a tracksuit. Fabrics are very soft, fluid and slippery to better enhance the perfect feminine silhouette. Prestigious silk, chiffon, satin and lace are used to create special dresses which recall  the Orient and its old empresses. Generous necklines or slit skirts are the secrets of a sensual woman so designers rework these seduction tools, enhancing slits and necklines with finishing and decoration.
However, the must have of next spring-summer 2010 is certainly the mini-dress or the mini-skirt. Legs are one of the most obvious expressions of a woman's sensuality and next season they shouldn't be covered up. So, over-shirts are used as mini-dresses, belted at the waist and enriched by a pair of high-heeled shoes which further enhance the perfection of your long legs. Stretch fabric mini-dresses are the height of fashion, decorated with sparkle or made of refined lace for evening wear to go out with your friends or with your partner; simple and made in printed fabric for the day-time look.
Are you a business woman and afraid of being unpractical and uncomfortable wearing a short mini-skirt at the office?
Don't worry because you won't risk looking inelegant wearing the beautiful suits proposed at New York fashion week with very nice shorts instead of the classic mid-length skirt or the ordinary pair of trousers. You will be absolutely fashionable without losing that elegance and refinement which, have always distinguished a professional business woman.
However, if you don't like wearing mini skirts or mini-dresses, among the proposals shown on the New York runways, there is a solution for you! Next summer, trousers will continue to be fashionable but only if they are high-waisted and ankle length.
T-shirts and shirts will be sheer and enriched by ruches and decorations or by tribal fringes, for a more exotic look. It doesn't matter if they are white or colored, but they must be different and original, eye-catching enough to attract attention and admiration to the woman wearing them.
The evergreen bustier is the other seductive element which will be incredibly fashionable for next summer, because, nipping in a woman's waist line, it helps enhance the beautiful shape of her body, so she looks slim and toned.
At "New York fashion week", particular attention was also given to accessories, the important details which define the woman's look. Spring-summer 2010 will be characterized by the use of colorful bracelets (matching or contrasting with the color of the dress), enormous necklaces made of stones and rhinestones and by the return of the oversized hats which give the woman a touch of mystery.
Sandals and summer boots will have vertiginous heels with enormous wedges at the front, because elegance does not have to mean suffering and a woman should be able to walk comfortably even if her shoes are very high.
The handbag will have its own important role in the look proposed by American designers for next summer 2010: elegant and extremely practical, it will be woman's faithful companion, always at hand to hold everything she needs through the day or at night, when she goes out and wants to look absolutely amazing!

While for the fall-winter season 2010, handbags should be absolutely kept in the hand, whether they are small or oversized, for next spring-summer 2010, the most fashionable bag will be the shoulder bag!!!!!Yes, you heard right; after a long period of absence from the fashion scene, the classic shoulder bag, not too big and with a comfortable strap, will be very trendy once again, made of fabric or of leather (to go with an elegant look). Most American designers used this style of handbag to accompany their best creations, just because the shoulder bag is, and always has been, a symbol of undisputed elegance and charm, an evergreen item which won't ever go out of fashion. Very often, models went down the runways wearing this kind of bag on the shoulder, especially if its strap was made of fine chains, while they wore it across the body to go with a more casual look.
However, besides the classic shoulder bag, the American spring-summer 2010 fashion collections have been animated by the presence of the ever fashionable and beloved (by our women) tote bag, with a very large internal compartment and many external pockets where we can keep everything in absolute order. Its handles should be neither too long nor too short so that the woman can choose whether to wear it on the shoulder or hold it by the handles, according to the situation.
Clutches still hold their place in the woman's wardrobe next spring, their decoration and fabric strictly matching the evening dress, for a really gorgeous look!
What can we say about the fashionable colors of next summer 2010?
Shades are certainly vivid and fresh, reflecting the beautiful colors of flowers blooming in spring and the wonderful atmosphere of summer. Beige and white will be incredibly trendy, accompanied by other shaded tonalities such as light pink and sky-blue, typical fresh summer colors. Bordeaux too will be one of the most fashionable colors of next year but only if worn with lighter colors such as ivory or cream. Light grey combined with pink is very chic, while "sea green" is, according to American fashion designers, the exciting new color of next summer 2010, an extraordinary variant of green with blue reflections and many shining shades.
Strong colors such as red, fuchsia and electric blue continue to enjoy their "golden era" above all for the evening look because their power of attraction is unequalled, while vivid yellow, is living a second youth, appreciated and used by almost all the designers taking part in New York fashion week, combined with other colors or alone, as made by Lacoste, for an explosion of positivity and happiness to involve your innermost senses.
Are you curious to discover the latest trends for next spring-summer 2010 proposed by the British designers at "London fashion week"? Don't miss our next articles!!!