Paris and Rome Haute Couture:
Elegance and Style Made in Italy!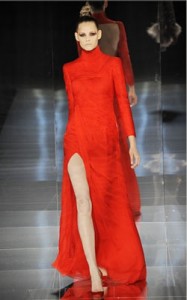 No sooner had the spotlights dimmed on Paris fashion week, than Paris was once more the stage of another important fashion event: the Paris haute couture, a very prestigious fashion date for the most important world-famous designers, as well as for some younger talents who, thanks to this show, have had the opportunity to present their collections and gain popularity.
Unlike the famous Paris fashion week where the new trends in colors and styles were presented to all the "fashion followers", the Paris haute couture is aimed at a more select upper class, at very rich people who have no problems in spending a lot of money on an evening dress or a stylish designer label handbag. Designers taking part in the Paris Haute Couture event, had the opportunity of presenting their exclusive creations for the coming spring-summer 2009 season, very gorgeous women's dresses and accessories, devoted to enhancing a woman's femininity and her natural sensuality.
You probably remember our previous articles focused on the European fashion weeks, where we introduced the new styles and colors proposed by international fashion designers for their women's spring-summer 2009 collections. Well, looking at the creations proposed by designers at the Paris Haute couture, we can certainly tell you that they confirm what was announced throughout the European fashion weeks:  woman, this spring-summer season, will be the very essence of refinement, style and elegance, a mix of gorgeousness and sensuality and her look will contribute to enhancing her precious charm.
Many international fashion designers have taken advantage of this event to present their ideas, promoting the image of a self reliant woman who takes great care of her look and her body, choosing the colors and the accessories which best help her to express herself and her elegance. However, because we are Italian and producers of handbags and exotic leather accessories , we have decided to focus our attention just on what was proposed at Paris Haute Couture by our  Italian designers, trying to discover if accessories such as bags and shoes are still determinant elements of the woman's look and who, among them, has accompanied his "masterpieces" with very luxury and chic complementary accessories.
VALENTINO's  haute couture collection has been considered by all critics and fashion magazines as a return to its origins. This world famous fashion house offered a delicious show, proposing very gorgeous, sublime dresses, made of high quality fabric in typical summer fresh colors. Dresses are not over the top but they are absolutely gorgeous, decorated with flounces and elegant bows. White and red are the most popular colors but Valentino's designers Maria Grazia Chiuri and Pier Paolo Piccioli also include more exciting trendy colors such as lilac, emerald green, turquoise and olive green for gorgeous long evening dresses provided with slit skirts and low-cut necklines. However Valentino's haute couture collection is not accessorized by handbags or purses, because, despite the elegant and refined style, the woman is free.
The second designer taking part in Paris haute couture is Giorgio Armani with his  collection "Armani Privé". We have analyzed his innovative creations in more detail paying particular attention to all the accessories used by him to complete and exalt the woman's look in the coming spring-summer 2009.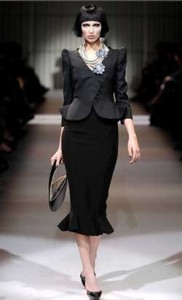 GIORGIO ARMANI, the "king" of fashion, dresses his woman in very refined and prestigious clothes with belts to emphasize her waist. A belt is often included in the jacket which is designed with unusual shoulders, "pagoda style". Suits comprising jacket and trousers or jacket and skirt are very fashionable while evening dresses are extremely seductive and stunning, with embroidery and lace on the borders. His style, however, is always classic and harmonious. No space is given to eccentricities or extravagant flights of fancy.
Armani uses very vivid colors such as yellow, electric blue, purple and violet next to more sober shades such as black (for elegant evening dresses), white, beige and light grey, very refreshing tones to wear in the warm summer afternoons. However he doesn't forget the trendiest colors of next spring summer 2009 creating gorgeous dresses in red or alternating classic black and white with metallic shades such as gold and silver.
A dress is not complete without its own accessories! So let's look in more detail at Giorgio Armani's proposals with regard to handbags and shoes.
Armani sends his exclusive creations down the catwalk accompanied by very gorgeous and seductive shoes with high heels and wedges. As for handbags, an elegant dress requires an elegant handbag, and the best of glamour is expressed by the classic clutch to clasp in the hand with pride and lack of constraint. The clutch can be simple or decorated with pearls and shining rhinestones, according to the style of the dress it is worn with and, for those who like glamour and elegance but also comfort, Armani proposes really gorgeous small shoulder bags, , if possible with a short gold or silver chain strap. These shoulder bags are not worn on the shoulder but carried by the strap as if it were a handle. They are restrained but very shining and refined, perfect when made in metallic colors such as silver or antique gold, because they really capture the attention and have all eyes focusing on the gorgeous woman's look. Some purses are so small that they look like wallets and can be easily enclosed inside the hand.
Both in style and in accessories, Giorgio Armani's haute couture remains faithful to the main fashion coordinates presented at Milano Fashion week last September, but in this collection he introduces a variation on the classic clutch: the casket bag, which has a rigid structure and is made with rigid materials lined with fabric or high quality leather. With a short rigid handle, these purses are very gorgeous, especially if decorated with rhinestones and pearls, perhaps in the same shade as the dress! They are small but very effective, contributing to the creation of a woman's style, giving her an undisputed touch of glamour and prestige.
The predominant color used by Giorgio Armani for his handbags is black, symbol of haute couture and extreme elegance, ( two fundamental elements characterizing his style and creativity) even though we also find yellow or red purses worn with white or black suits to add a touch of color and originality to the totally  feminine look. Other colors he has used for his bags are beige, white and light grey, typical summer shades.
If the Paris haute couture show gained a lot of success, the Alta Roma show, which took place in Rome from January the 30th till February the 3rd, successfully defended its prestige and its importance. Unfolding in an atmosphere of criticism and insecurity, due to the economic recession and the exclusion of many important brands of the Italian fashion panorama, this glamorous event, celebrated in Rome, one of the most beautiful capitals in the world, presented the image of a  woman who is aware of her success and of her physical beauty and is proud to express her sensuality through the use of very gorgeous colored dresses with plunging necklines and slit skirts. The mantra of this collection is: the female body is a harmonious instrument and it should be enhanced!
As we mentioned above, the Alta Roma fashion event was the focus of many protests from the designers whose participation was declined by the members of the staff, but some critics have also praised this important show because, with its "Who is the next" competition, Alta Roma is promoting the birth of new young fashion talents who have had the opportunity to present their creations and gain recognition.
But, what was proposed by Italian designers at the Alta Roma fashion event?
Before focusing our attention on analyzing the proposals of our designers at Alta Roma fashion event,, we want to point out that many Italian designers, as you will read below, don't seem very attached to accessories. Bags are present only on a few catwalks and not many models wear them. Does this perhaps mean that the handbag is really disappearing from the woman's fashion style, as announced in our previous articles? We really hope this is not the case, as, in our opinion, woman would be deprived of an essential part of herself, an important accessory which speaks of her and of her harmonious elegance. A handbag is a woman's distinguishing element and, to take that away from her means stealing some of her natural femininity from her.
But, let's now look at the Italian proposals at the Alta Roma fashion event!
GATTINONI imagines woman as deeply enfolded in the colors and the harmonious summer atmosphere. Her dresses are very colorful but the colors are subtle and lightly nuanced, in order to better reflect her good humor and internal peace. Clothes are very soft and silky, draped to follow the outline of the body. Only few dresses, however, are enriched by the most appropriate handbag, a small pochette made of leather or fabric. This accessory seems to be used by the Gattinoni label as a sort of complementary jewel, clasped in the hand and enriched with shining streaks, reflecting the same design and color as the dress. Everything goes perfectly together.
FAUSTO SARLI too dresses his woman with very colorful clothes, but he shows a preference for shades focusing around gold, bronze and light brown, typical summer colors, making us think of a beautiful oriental atmosphere. His collection is inspired by the dream of exoticism, between seduction and voluptuousness. However, his creations also have more vivid shades such as turquoise, red, blue, white, pink, violet and ….obviously black. Necklines plunge dramatically and skirts are slit to the thigh! Fabrics are very soft and very often enriched with decorations and rhinestones, creating a gorgeous shiny effect. The black clutch completes the woman's look and it is held easily in the hand and worn with dexterity. However, Sarli has moved away from the idea of the bag as an essential accessory for the modern woman, because only one or two models belonging to his latest collection are accessorized with a small pochette. Shoes are very gorgeous with very high seductive heels.
LORENZO RIVA re-introduces the wearing of long gloves with very gorgeous dresses, colored to match the straw hat and leather shoes. Clothes are very dynamic and the main colors used are, turquoise, light pink, white, acid green, fuchsia, and blue. Evening dresses are black or shaded olive green, restrained but, at the same time, very gorgeous. Handbags are not used.
CAMILLO BONA proposes very small leather gloves as the main accessory to complete his haute couture collection. They are made of soft high quality leather, and they are not worn but gripped tightly in the hand in a very protective way as if the woman wants to keep them always by her side and fears losing them. Bona's clothes are very gorgeous and sensual, made with shiny fabrics in the main summer tonalities such as tobacco, yellow, violet or pink. Black is the Must color for the evening dresses next to white: long or short, they are all very glamorous and chic, enriched with laces and decorations. The distinctive element of this collection is the use of very long necklaces and bracelets made of pearls which give the models themselves a touch of prestigious elegance.  But where is the bag? It seems to have disappeared because this accessory is not present in this collection either. Perhaps rich women wearing these gorgeous dresses don't need to wear a bag because there's always someone accompanying them when they go out, who also pays for their purchases or who carries their bags for them!!!!
RENATO BALESTRA uses very strong vivid colors to enhance the woman's style such as orange, emerald, electric blue, violet, next to more classic colors such as the eternal black, white and dark blue. Fabrics are decorated with silver or gold streaks and colored sequins, and most of the dresses presented are substantial and very prestigious. The woman dressed by Renato Balestra enhances her sensuality through vertiginous necklines at the back with cross straps made of silver rhinestones and metallic fabrics. In this collection, Balestra uses the classic shoulder bag to be comfortably worn on the shoulder but, pay attention! The strap must be made of small chains and the bag must be made of the same fabric, in the same color and style as the dress. If you wear a dress whose fabric is decorated with printed flowers, your shoulder bag too must be made with the same floral fabric.
As we said in the first lines of this article, all these creations are mainly aimed at very rich women, movie stars, famous singers and important business women who always need to look fashionable but also perfectly elegant, especially for special events or important parties and who are ready to spend a lot of money (the cheapest dress costs about 20.000 Euro) to wear one of these exclusive masterpieces of undoubted Italian style. Paying attention to what was proposed by Italian Haute Couture both in Paris and in Rome, the use of the classic bag is minimal: only Giorgio Armani fully adopts the use of the classic elegant bag with almost all the creations from his haute couture collection. This designer, more than others, perfectly embodies the idea we have of women's style: restrained, refined and absolutely elegant. And, how can you reach the pinnacle of elegance without a gorgeous bag by your side?
We would like to thank Giorgio Armani for acknowledging the importance of the role the handbag plays in a woman's life, by including it as an essential accessory with all his creations, and preserving in this way the image of genuine elegance:  perfect style for a naturally' refined woman…