Paris Fall-Winter 2010/2011 fashion week: Latest styles and colors for the next cold season
…
On 10th March, Paris switched off its spot light on one of the most anticipated and controversial fashion events of 2010: the Paris fashion week, which started March 2nd and lasted eight days. Yes, we can define this Paris fashion week as "controversial" because it played out in a climate of polemic and criticism, in part due to the greater length of this event compared to the few days conceded to Milan fashion week, but also because the Paris fashion collections, in all their extravagance and vivacity, were presented not many days after the tragic death of Mr. Alexander McQueen, who was due to have attended this important fashion event, presenting his innovative creations.
Despite his sudden death by suicide on February 10th, his collection was almost completed and the designs conceived and created by Alexander Mc Queen were shown at Paris fashion week, receiving compliments and appreciation from everybody, as a tribute from all the French fashion houses  to the artistic talent of this designer and to his memory.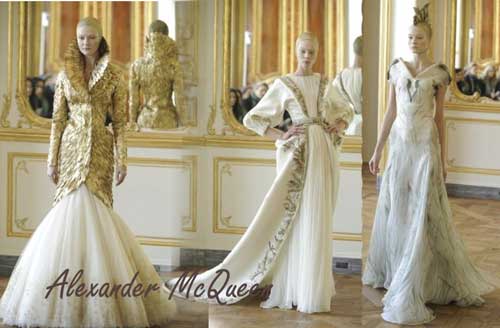 As usual, many famous designers and fashion houses took part in the Paris fashion week, presenting the image of a new woman, self confident and positive who wants to appear absolutely glamorous and attractive in any situation, at work and in her leisure time.
Sensuality and elegance are the key words which connect almost all the collections presented. Every designer aims to transmit his personal idea of a sexy, dynamic woman through his creations. one who catches the eye of everybody around her, at the same time appearing elegant and refined.
What fabric could be more appropriate to reveal this sensual side of woman than leather? French designers know that perfectly and they focus part of their fall-winter 2010-2011 women's collections on the use of leather. Shiny or matt, colored or classic black: leather leggings, leather mini-skirts or leather jackets, leather will be the trendiest fabric of next winter. Warm and extremely chic, a black leather mini skirt will make you look sensual and attractive, at the same time as allowing you to enjoy the elasticity and comfort of natural leather, which perfectly adapts to the shape of your body. Designers, such as Hermes, create long coats entirely made of leather in the classic warm winter tonalities of black, brown or Bordeaux.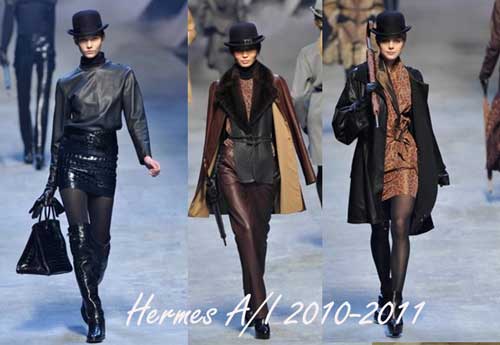 Leather gloves are very trendy if they are elbow length and possibly made in a vivid color contrasting with the black of the dress. They are usually worn either through the day, combined with a refined T-shirt or a classic look, as proposed by Givenchy, or at night, worn with a more sensual evening dress.
Boots too are made of black leather and they absolutely have to be over the knee, as if the woman were wearing stay-up stockings or Parisian nylons. Heels must be very high and slim in order to better enhance the woman's figure.
For those of you who have read our last article on Milan Fashion week, there is another important element which Italian designers adopted in their creations but which, for French fashion designers, seems to represent a Must for the woman's look of next year: fur.
Fur, whether 'ecological' or genuine, is the common factor of almost all the collections presented in the last few days at Paris fashion week. It is present everywhere: coats are made of fur, collars of jackets are lined with fur, sleeves are edged with fur and there are some designers who really go over the top with their use of fur. Chanel designer Karl Lagerfield, for example sends his models down the catwalk wearing big coats and voluminous dresses made of fake fur, as if the Chanel woman were a Yeti woman living in the frozen north. Her comfortable flat boots are lined with fur also, while at night the Chanel woman seems to feel warmer and adopts a lighter and less encumbering look, the finale gown having flowing flounced skirts with a train. Chanel bags too, whether small clutches or real tote bags, are lined with soft fake fur. The same style as concerns the bag of next fall-winter 2010-2011 is adopted also by Kenzo designers, who agree with the decision to create special fur bags whose main aim is to give the woman a cozy sensation of warmth in the long frozen winter days.
Gilets and shirts will be very fashionable next season, above all for the day look, worn with leather miniskirts or ankle length trousers, like the ones proposed by John Galliano for Kenzo. Very nice too are the leather shorts conceived by Kenzo, while if you love wearing classic styles even in the  day, Givenchy proposed very refined long velvet skirts or tops enriched by ostrich plumes.
The evening look is certainly more seductive thanks to very glamorous evening dresses enriched by sequins and decorations and made from fluid, soft fabrics such as satin, silk or taffeta. With sexy slit skirts, they can be classic black or colorful like the masterpieces proposed by Valentino in red. And it's Valentino's designers in particular who through this latest fashion collection want to give the image of a woman who likes the unusual and pays attention to each aspect of her look with deep devotion. She wants to appear impeccable so she always wears elegant suits or cocktail dresses, enriched by ruches and flounces at the collar or on the skirt. The waist line is enhanced by stretchy bustier jackets decorated with high quality lace.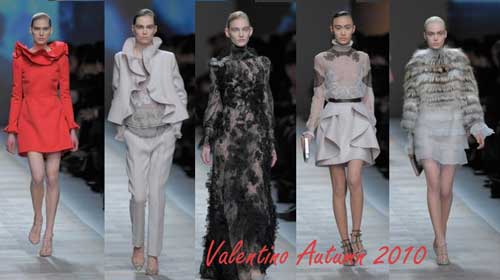 The handbag will have its own role in the woman's look of next winter, according to what was presented at the Paris fashion week. Large totes or comfortable shoulder bags (possibly lined or at least decorated with fur) will be at the woman's side next year to assure her the maximum of practicality in preserving her personal effects, especially when she is at work, while clutches will further enrich the evening woman's look, letting her shine like a star and lighting up the night.
And what about the colors? Which are the trendiest colors of next fall-winter 2010/2011 according to what was presented by French designers at Paris fashion week?
Most French designers propose very warm winter colors such as camel brown, black, grey, dark brown and dark green, but there are also many designers who want to use very strong, shocking colors to exorcize the grayness of next winter. So, Dior dresses his models in aqua green or purple next to the classic colors, while Valentino re-introduces his famous red, next to fuchsia and light pink. Chanel, on the other hand, sees his woman among icebergs, so she wears completely white dresses, some of which, with ice-blue shadings, contribute to the "frozen effect". If you want to guess, other fashion colors for next winter are cobalt blue, coral red, electric blue and violet, as proposed by Louis Vuitton.
We have tried to summarize the best in terms of elegance and glamour that was shown during the Paris Fashion Week Fall/Winter 2011 which is the finale of this season's fashion events. A parade of collections, which captured the eyes of buyers and left the press breathless, representing the numerous sides of woman, who, whether romantic or severe and austere, always appreciates the idea of beauty that only a refined and charming dress can express.