Paris fashion week: the triumph of elegance in a climate of crisis!
Economic crisis, as we've already mentioned in our previous articles, is deeply influencing the lifestyle of many people all over the world. While in the past there were many women who could afford to spend a lot of money on a luxury accessory or a gorgeous designer label dress, today, most of them have to manage their disposable income differently, paying more attention to their primary needs and expenses and giving up anything that they consider superfluous.
This critical period is seriously damaging the fashion world too, as we have already pointed out, when we looked at New York fashion week, London fashion week and Milan fashion week. Many designers declare a reduction in sales of about 15% and this lack of profit obviously affects their production. Some important fashion houses have had to give up their place in the prestigious European fashion weeks because they are not able to prepare a satisfying collection, which does justice to their label, while others have tried to vanquish the fear of the crisis by focusing their own collections on luxury and prestige, betting everything on quality.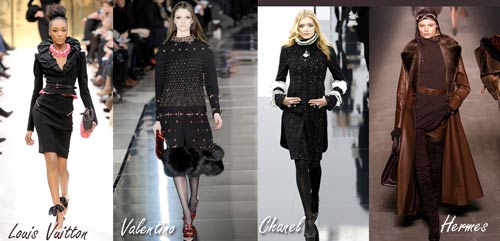 Paris fashion week too, like the other European fashion events, has suffered because of this uncertain period of recession and the most evident sign has been the absence from this event of many international buyers and editors of fashion magazines. Almost half of the buyers and journalists invited declined their date with Paris fashion week and the Chambre Syndacale de la Mode, is now seriously considering reducing the number of days in the Paris fashion week calendar, from nine days down to just seven.
However, despite the burdensome economic recession and the absence of many important fashion critics, Paris fashion week, which opened last Wednesday, March the 4th and concluded last Thursday, March the 12th, has been much appreciated for what it offered. Most French designers proposed a sober and very elegant style for the woman of next autumn-winter 2009/2010, paying attention to detail and re-introducing seductive elements to make the woman more gorgeous and attractive, without losing any of her natural refinement and elegance.
For example, there is the return of the black leather or fabric corset which emphasizes the perfect silhouette of the woman, enhancing her waist-line, just as black micromesh tights display her perfect sinuous legs, exposed by micro skirts made of leather or fabric. Shoes often have high heels and wedges, colored to match the dress or simply black. Boots are made of black or colored patent leather and they are thigh length, like the ones proposed by Louis Vuitton. Gloves, considered by some as a fetish and by others as a very important seductive accessory, are present in many French collections and they are often made in the same vivid color as the shoes and the bag, contrasting with the dark tones of the dresses.
As for the fashionable woman's style of next winter, according to what was proposed by French designers, there are many different options: she can wear a classic pinstriped suit with a classic mini-skirt, like the one proposed by Yves Saint-Laurent, or a gorgeous mini dress made of soft pink buclè wool, as proposed by Chanel. Trousers are losing their privileged position, giving way to the skirt, which is the lead player next season, whether knee length or really short. However, if worn, trousers absolutely must be high-waisted. Tights are decorated or colored if the dress is black or dark grey and they have the role of covering the legs, keeping them warm, but also of creating a more sexy look.
Coats often replace the classic jacket (which is uniformly short, outlining the perfectly slim waist line) and they are made in the same fabric and color as the trousers or the skirt. They are made of wool or of colored fur, like the shocking red fur coat proposed by the Italian Gianbattista Valli, who has long been resident  in France. Sometimes wool coats are enriched by special accessories which confer a touch of elegant originality, like the black coat with macro buttons proposed by Christian Lacroix. Hermes, lover of leather clothes, offers very refined ankle length leather coats in brown or black, worn over leather leggings or long leather skirts, to create the image of a strong, seductive woman.
If the day look, with certain extravagant exceptions, is fundamentally based on classic and simple elegance, the evening look is more seductive and gorgeous, thanks to the use of shiny fabrics such as satin or silk, enriched by lace and decorations. These evening dresses are also given a special quality by the wonderful colors which are used, luminous shades capable of transforming even the simplest dress into an extraordinary masterpiece. Next to classic black, which remains the uncontested top color of next winter 2010, we can find more decided vivid colors such as emerald green, purple, wine red, turquoise, electric blue and red.  A touch of undisputed charm and sensuality is certainly offered by gold and silver. Classic, elegant colors such as beige or midnight blue will still be fashionable next year too, according to the French designers, while snow white is falling out of favor.
The day-time look on the other hand, re-proposes white for borders and trims, as presented by Chanel, in combination with black, but the most fashionable color for the day look next winter, is grey, both light grey and dark grey, pinstriped or not. Orange and strong yellow colors are also trendy, better if combined together, as suggested by Christian Lacroix. Brown and midnight blue seem to be gaining popularity and black is the eternal color which, despite the passage of time, will never be out of fashion. Valentino, in his autumn-winter women's collection, also proposes Bordeaux for the woman's daywear look while other French designers have created some dresses in fuchsia, a typical summer shade, in reaction both to the greyness of the winter season and to the grey moment that fashion and the entire world are going through because of the economic crisis. Louis Vuitton combines black and fuchsia but he also proposes coral red and cobalt blue dresses or totally black dresses trimmed in purple.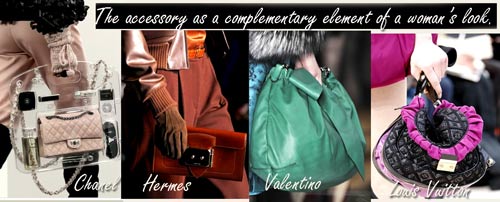 Unlike the latest spring-summer women's collections, where accessories were hardly used at all, these last collections seem to be celebrating the return of the accessory as a complementary element of a woman's look. Designers agree on the use of golden necklaces, bracelets and  pearl, jewel-button and rhinestone decorations on the dresses. Sometimes shoes too are enriched by paillettes but, almost importantly, woman gets to wear her beloved handbag once more. This accessory is present in almost all the collections presented in France, and, as we have already seen at Milan fashion week, bags too are often decorated or made of prestigious fabrics or leathers.
The day-time look, of course, demands a style of handbag which must not only be elegant and high quality but also functional and practical, to hold everything that a seductive woman needs to have by her side every day. So, the best solution is the use of a comfortable wide tote bag to clasp in the hand like a small pochette, as proposed by the Valentino house of fashion, or a large bag held by the handles as if it were a small suitcase, even when it comes with a strap.
Kenzo sends her models down the catwalk wearing large bags across the body, while Hermes suggests the winter urban woman should carry two tote bags at the same time: the first one worn across the body on its comfortable strap, the second one held by its short handles.
Louis Vuitton, doesn't neglect the classic tote which appears with some of his creations, but he prefers a medium-size bag, not too small and not too large, a comfortable item which doesn't detract from the elegance of the woman's look. This bag can be either clasped in the hand or held by its small rigid handle.
The most innovative idea in the matter of handbags, is certainly the one proposed by Chanel: a sort of rigid handbag made of plastic, inside which is contained a smaller leather bag. According to the designer's point of view, this kind of handbag is the best solution for the business woman, who has many things to carry with her everyday; a small handbag cannot contain all these objects so it's necessary to create a larger structure which can fit the handbag and all the other things perfectly. The plastic structure is transparent while the internal bag, similar to a pochette is colored. Christian Lacroix, on the other hand, proposes rigid colored caskets made of fabric or leather to hold by the small handle.
The evening look, on the other hand, remains faithful to the utmost symbol of elegance and prestige: the classic clutch. Structured or made of soft leather, this small handbag accompanies almost all the evening creations, to complete the woman's look, making her elegant and irresistible. Clutches are clasped in the hand, or carried by their short strap made of small chains (as suggested by Kenzo), and they are enriched by rhinestones or gold hardware or, more simply, made of shiny damask fabrics or with luxury patent leather. The most recurrent color for the clutch, according to what we have seen at Paris fashion week, is black, even though many designers propose clutches in a color to match the dress or the shoes,  so we could also find clutches in wonderful vivid shades such as red, Bordeaux, blue, green, gold or silver.
The belt is another main accessory which has its own important place in these collections. Made of natural leather or enriched by a jewel-buckle, it is particularly evident in these French creations where the slim waist line is really emphasized. A luxury belt not only gives the woman's dress a further touch of light and undisputed elegance, but it also helps enhance one of the fundamental features of next winter as far as fashionable style goes: the wasp-waist!
What do you think about the styles proposed at Paris fashion week? Do you like them or do you think that designers should propose something more original and alternative? Leave us your feedback!