Paris fashion week: an explosion of color and style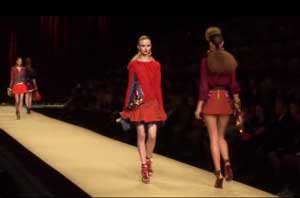 As we have already explained you, Paris fashion week dictates a new style of clasping handbags: It doesn't matter if these bags are enormous or have perfectly comfortable and convenient shoulder straps; you should hold them in your hand!
**********************************
And what can we say about the trendiest new colors of next spring-summer 2009?
They are almost all strong, vivid, attractive and extremely fashionable! Some designers adopt softer colors such as light pink or light blue, (sometimes mixed together) as they are the typical colors of spring, of natural landscapes and flowers. They symbolize the re-birth of nature after the cold winter season. They feel ethereal, light and very harmonious.
However, for the most part the designs presented at Paris fashion week are made in bright colors such as emerald green, bright yellow, passion red and orange.
Emerald green, that we have already seen at Milan fashion week, is the international fashion color of spring-summer 2009 with each designer using it for at least a couple of his creations. It is strong but, at the same time, elegant, attractive and extremely chic. Its tones remind us of the beautiful crystalline sea of the Cote d'Azur or wonderful Corsica, perfect summer destinations.
Bright yellow, like orange, is a classic summer color, and, this year, it has been especially popular with French fashion houses for their new designs as this color perfectly expresses the positivity and joy of the confidant woman who is sure of herself, happy and extremely beautiful. She knows that admiring eyes are drawn to her, attracted by her look and her undisputed style, and this awareness gives her a feeling of endless wellbeing.
Passion Red, is the other revelation of the spring-summer 2009 season, according to what was presented at Paris fashion week by the French fashion houses and it will influence every look, accessory and style, soon taking over as a cult color. Clothes and accessories in passion red will underline the natural sensuality and charm of the fashionable woman, expressing her femininity and undisputed elegance.
An important role in the coming spring-summer 2009 season is also played by military green, another new entry this year. Compared to the strong 'in' colors like emerald green , yellow or red, military green is very soft and harmonious, a quiet and peaceful shade that gives you room to breathe, above all if it is combined with white. Many French designers, in fact, have contrasted military green clothes with white belts and bags as accessories, creating a harmonious and attractive effect.
Classic colors such as black and white are always fashionable and they are especially featured for evening dresses where elegance and charm are a Must. These two shades are often combined together in tote bags or belts, giving a more sophisticated and stylish aspect to the woman's look. White is the color of pureness and freshness; black is the color of elegance and sensuality: mixed together, a stunning result is guaranteed!
Gold is also a very much used by the French designers, mostly for accessories such as shoes, belts or handbags (purses and pochettes) to go with elegant beige or black dresses. Gold accessories should not only be fashionable and well-manufactured but also reflect and complement a woman's natural sparkle, which is why they are often decorated with pearls and shining crystals, and are more like precious jewels than mere accessories.
Purple remains the hit color of 2009 for French designers too, available in many different shades and tones. It is often used with fuchsia or bright pink in order to create a really stunning effect which will never go unnoticed. Purple is seen as the color of transgression, of vitality and originality and it is probably the color that best enhances a woman's personality and life style. Wearing a purple accessory you will immediately project the image of a strong and decided woman, who has respect for herself and above all who cares for her image paying attention to every detail.
Brown is a perennial color and takes its place on the catwalk above all as the color of accessories. Brown, like black and white is a neutral color which can go with every look, from the most casual to the most innovative. A brown bag is always elegant but is less severe than black, so it can be very easily adapted to get the effect you desire.
Light grey, considered one of the most elegant and stylish colors, along with black and white, will be in fashion again next year, thanks to its irresistible charm and refinement. Accessories such as belts or handbags in this shade, have a particular beauty, which enhances the quality and the design of the item, giving them an intrinsic, luminous glow.
According to this short analysis we can deduce that, the French fashion houses, like the Italian ones, see next year's woman as a refined, ethereal creature revelling in elegance and dynamic colors that express her personality and style of life. Everything revolves around her intensifying and setting off her beauty in every possible way..