Paris fashion week: new proposals and much criticism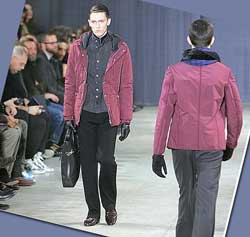 Last Sunday, January the 25th, Paris Fashion Week switched off its reflectors on the men's autumn-winter 2009/2010 collections presented by the most famous French fashion houses and emerging designers. As you already know, this important show was preceded by another fashion event, Milan Fashion week where many world famous and Italian designers presented their own collections. Because of the closeness of these two events, fashion journalists and critics have had the opportunity to analyze and compare both these "fashion weeks" in a very detailed way and many criticisms have been made of both the events.
Before discussing this subject, let's see in more detail what was proposed at the Paris fashion week by French designers:
Hermes proposes a man who dresses classically and very formally, a follower of the typical Hermes style. Each detail is considered with particular attention and fabrics too are top quality and completely warm, in order to assure him not only elegance and a perfect fit, but also ease and comfort during the cold winter season. Wools and prestigious leathers are much appreciated by Hermes. As regards the colors, this fashion house adopts dark shades such as grey, anthracite, navy and black, mixed with more vivid tones such as lemon yellow, green or bright red. As the designer himself affirms, these colors need to bring good humor and positivity to this winter collection and the trendy man of 2010 will certainly feel better and more hopeful wearing them.
Givenchy takes inspiration from the classic tailored suit, proposing jackets decorated with turtle leather, printed T-Shirts and shorts to wear with the jacket, as if they were part of an elegant suit. Looking at this collection, we certainly notice a touch of gothic style, expressed by black leather leggings, smooth or laced or by glittery boots similar to nylons. The most used colors are grey, black and brown, typical winter tonalities.
Yves Saint Laurent is the creator of a vibrant and very modern men's collection proposing a style which really embodies the concept of genuine craftsmanship. Wide Cabannes are worn on comfortable trousers and black leggings. The novelty proposed by this label is the coat with a single button closure. Yves Saint Laurent's men's collection is focused around classic winter colors such as grey and black with a sudden explosion of electric blue.
Dior Homme proposes the image of the new man of 2010 as a fusion of three different styles: techno, punk and new wave. The collection is entirely focused on two basic colors, white and black. Clothes are decisively oversize or ultra skinny while micro jackets are trendy if worn over maxi T-Shirts or very long shirts. The decision to combine oversize and ultra skinny clothes in a single outfit has provoked some sharp criticism of Dior's new designer, Mr. Kris Van Assche, accused of having created an apathetic collection, without any new or original ideas. Kris Van Assche comes across as lazy and yelding, as he were not particularly interested in this show.
Hugo Boss too, like Dior, focuses his stylish creations on classic colors such as white and black and his collection is pervaded by the feel of German history and Architectural arts. Jackets are very large, contrasting with skinny trousers or micro pullovers and shirts worn with oversize trousers. Particular care is paid to geometric designs and to interesting new stylish cuts. Pieters too, the new art director for Hugo Boss, has been severely criticized by fashion journalists and mass media viewing his collection because his models are geometrically perfect and innovative but his style has no soul.
Paul Smith is inspired by the typical English style, using diamonds and checks. Fabrics too are typically English: check, tweed and tartan. Pullovers are very colorful with plenty of attention to detail. Among the trendiest colors of this autumn-winter season, Smith chooses colors such as brown, grey, black, camel and white, mixed with bolder shades such as yellow and vivid red.
Lanvin gives us the image of a very elegant man who seems to preserve the innocence and the harmony of childhood. He is at the same time optimistic and melancholic, gentle in his movements without being feminine; he perfectly embodies human fragility. Colors are intense but harmonious.
Kenzo celebrates the debut of Antonio Marras who proposes a romantic, passionate man, who is multicultural and alternative, looking toward the Russia of Majakovskij with curiosity and admiration. His wardrobe, comprising layers of pullovers, is vibrant and dynamic but also extremely poetic.
Luis Vuitton focuses his collection on very unusual shades of blue, green and petrol and his proposals are a mix of craftsmanship and luxury sportswear, a very original fusion which, again has provoked many comments and sharp criticisms towards the collection itself. However, this brand is very famous above all for its creative handbags and accessories and this section has given us many wonderful innovative surprises: bags made with a patchwork of hexagonal pieces of different leathers or with monograms in relief created with silicon. Through this collection, for the first time, Luis Vuitton pays special attention to men's luxury accessories too, not only proposing this new line of men's bags but creating a new pair of sneakers, personally designed by Kanye West.
Dries Van Noten promotes the concept of a relaxed elegance for the man of 2010. Clothes are very soft and belts are made of the same fabric or leather as the jacket or the coat. His creations emanate serenity and calm, two very important sensations that the new man needs to cultivate if he wants to live in this chaotic world and solve his many problems.
---
As we have already announced in the very first lines of this article, Paris fashion week and Milan fashion week have been the centre of many sharp criticisms and negative opinions. Many journalists have recently accused the designers taking part in Milan fashion week of having presented apathetic collections where nothing is really interesting and innovative. They say that the styles are classic, simple and certainly elegant but not sufficiently involving and original to be presented at such an important fashion event as Milan fashion week. Compared to the proposals shown at the Paris fashion week, Italian designers seem static, blocked and without creativity. This awkward situation could be also due to the difficult economic climate that Italy, as well as many other foreign countries, is living through in this period; people have no money to spend on luxury items, many orders were cancelled last year (according to what was reported by the king of Italian fashion, Mr. Giorgio Armani) and this economic recession has certainly had its negative effects on the world of fashion and luxury.
French stylists seem more motivated and fresh in their ideas and a lot of importance is also given to emerging young designers, coming from France or from other foreign countries (such as our Italian Gianbattista Valli, who is now an established fashion designer in France and all around the world). Journalists and the mass media are asking why Italy, which is generally the acknowledged symbol of genuine fashion style, is going through such a difficult period and is allowing French fashion to take the lead in the world wide fashion panorama without any opposition.
On the other hand, looking at the comments posted by some of the most important fashion magazines and fashion critics who took part in Paris fashion week, French collections have also been severely criticized because they have been the fusion of contrasting elements which have very often transformed a classic and stylish collection into something absolutely fetishist and absurd. Many French fashion houses have followed a classic line for the creation of their styles but they have then combined that classicism with punk or a totally offbeat style, irreversibly damaging their products. Too many styles have been mixed together and the result is a collection which has no distinctive element, something anonymous and ambiguous which doesn't capture the attention at all.
We can't judge where the truth lies and whether the Italian style presented at Milano fashion week some days ago is better or worse than the look presented at the Paris fashion event. We only wish to express our personal point of view as Italians and as a company involved in the fashion world. In our opinion, the collections presented at Milan fashion week, were simple, classic but very gorgeous and well thought out. Designers have all paid attention to every detail, to each smallest accessory, choosing the best leather or the best fabric to enhance their creations and the natural elegance of the Italian man of 2010. Probably they have also considered the economic aspect of their designs, because of the difficult economic period we are going through, and, for this reason, have addressed their productions towards a more sober, simple style which could be easily worn by everybody and which is also more accessible in price. However, looking at the Italian collections we have not had the impression that Italian fashion is either static or apathetic. It only reflects the recession which affects the entire world and that we hope will be over very soon.
So what do you think about all this controversy around the recent fashion events? Leave us your feedback here!!!