Paris fashion week: the newest handbags' trends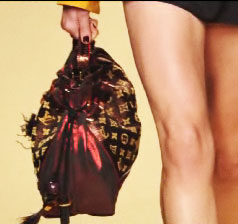 Some weeks ago, Paris fashion week drew to a close, leaving us with the impression of a dynamic and fashionable woman who loves her body and sets off her personality with her stylish look, choosing strong and attractive colors both for her clothes and her accessories. The new spring-summer 2009 fashion collections presented by all the most famous French designers, such as Chanel, Christian Dior, Yves-Saint Laurent and Louis Vuitton, are a real explosion of color and style with the key words of the coming season being beauty and elegance in every smallest detail.
Much care and emphasis is given not only to the clothes but also to the accessories which complete the feminine look: the jewelery, shoes and above all the handbags. Bags are present everywhere, in every single collection, worn with pride and an elegant air by all the top models on the catwalk . The handbag, in fact, is no longer seen by designers as a mere accessory than can be included or not according to their whim; it has become a fundamental element of a woman's look, something that is essential not only for its practicality but, above all, because it is chic and complements a woman's personality and style.
French designers promoted many different styles of handbags in their spring-summer 2009 collections, each one perfectly suited to a specific look:
Christian Dior sends his top models down the catwalk wearing medium-sized handbags, very elegant half-moon or elongated handbags with medium-length handles or a very short strap, held comfortably in their hands, rather than worn on their shoulders. Some designs are larger and wider, similar to tote bags but the manner of wearing them is still the same: handbags in these Paris shows are never worn on the shoulder, even if they have a long strap but are clasped in the hand, as if they were clutches or purses. Elegance is a MUST for Dior so, handbags too are extremely refined, enriched by shining chain straps, rhinestones and pendants everywhere. Comfort is important but prestige and attention to detail are obligatory for a successful and stylish woman.
Yves-Saint Laurent, on the contrary, prefers setting off his creations with small handbags, always held in the hand, like pochettes or clutches, decorated with pearls, crystals and gold accessories. Evening bags are often in the same color as the dress but in patent leather, adding a brighter and more sophisticated note to a woman's look.
Louis Vuitton, like Dior, accessorizes his models with very large tote bags with external pockets to fit a multitude of things, because his "woman" has to be elegant but also practical, fashionable and dynamic. A large handbag allows her the freedom to go wherever she wants but, despite their dimensions, these totes are not worn on the shoulder but held clasped in the right hand, as if they were small clutches. As well as these styles, Louis Vuitton, like many other fashion houses in Italy and New York, promotes the return of the classic clutch, as a symbol of elegance, to be held in the hand (for evening parties and special occasions). The other solution for the evening look is without doubt the elegant purse, sometimes dangling from a very short gold or silver chain strap and enriched by shining rhinestones and pearls which add brightness and glamour to the whole feminine look.
Most of the handbags presented by Louis Vuitton at his 2009 spring-summer collection, are made of genuine ostrich skin, a very prestigious exotic leather whose distinctive quality is indicated by the many small polka dot follicles (quill marks from the original plumage) which are instantly recognized as the sign of a really top class accessory.
Chanel's collection, again this season, retains the elegance and absolute refinement which distinguish this brand. Handbags are elegant, focusing on classic and beautiful design. Evening dresses are accompanied by the classic evergreen clutch either in the same color as the dress or in a complementary color such as gold or silver, but in both cases it is more like a jewel than a handbag. Larger bags too are very fashionable for Chanel and they too are held in the hand like small purses, sometimes clasped in the hand or else held by the strap or the handles.
Hermes is particularly attached to yellow and cream colors and proposes different styles of handbags: clutches and pochettes (if possible in the same color as the dress) to be held in the hand for special occasions and evening events; the classic Hermes model, worn either with an elegant ensemble or with a casual look; a middle-sized handbag with a very long slim strap, worn across the body for a fashionable but also practical and dynamic look. The Hermes collection also includes small suit-cases and attaché cases worn as simple handbags, combined with a casual look like an elegant uniform. Some are especially luxurious in valuable crocodile leather.
The same image of a dynamic business woman, self-reliant, fashionable and trendy is proposed also by Kenzo designers who accessorize their creations with professional leather suit-cases worn as pretty bags, as if working is less a duty than a joyous pleasure. As well as the adoption of a professional bag as the novelty of next spring-summer's fashion collection, Kenzo proposes a bag which, while keeping a classic and prestigious style, still manages to be comfortable and practical. It is not very large but neither too small, with long handles but nevertheless held clasped in the hand because, keeping your handbag, small or large, elegant or practical, in your hand, is a Must.
It doesn't matter if these bags are enormous or have perfectly comfortable and convenient shoulder straps: French fashion style currently dictates that you should hold them in your hand!