Paris fashion week: silks and sheers for a really sensual look!!!!
Sensuality and glamour: these are the two key words which best describe the latest Paris fashion week, which has just taken place in the wonderful French capital from 1st-8th October.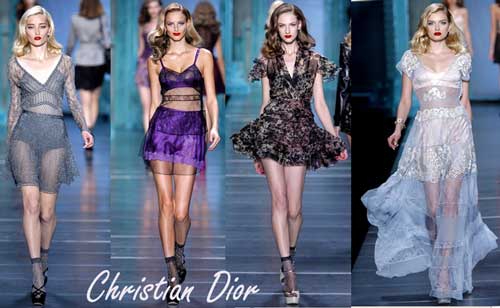 This time, for the spring-summer 2010 collections, the fashion shows lasted eight days and included many famous names in French and European fashion, who presented their personal creations for the next spring-summer look in the matter of colors, styles and accessories. More than 120 designers took part in this world-famous show, capturing the attention of thousands of journalists and media, who flew to Paris to "live" the atmosphere of this event and to report all the solutions proposed by the many designers to combat the anxiety of the economic crisis which is still present, although to a lesser extent than the past collections.
Because we are Italian, before going on with the analysis of the French fashion proposals, we would like to point out an interesting phenomenen: the designers at some of the most famous French fashion houses, are Italian!
Yes, it is true, even though it might seem a little strange, considering that Italian and French fashion houses have always been fighting their own "fashion duel" competing to gain supremacy over each other for years!
However, many young Italian designers seem to have found success in France where they been able to  enter the fashion world more easily and have worked with some of the most renowned names of French fashion. So, Marco Zanini is now the director of Rochas, while Rodolfo Paglialunga is responsible for Vionnet, the French label purchased by Matteo Marzotto and Gianni Castiglioni. Mr. Marras works for Kenzo, Pilati for Yves-Saint Laurent and Riccardo Tisci for Givenchy while Gianbattista Valli has become a recognized designer in France and shows a collection under his own trademark.
The fashion collections proposed at Paris fashion week, as mentioned in the first sentence of our article, were almost all inspired by the return of sensuality and charm. The woman of next spring-summer 2010 will wear very short skirts and sheer shirts where underwear plays an important role: first to excite men's imaginations and to focus all eyes on the woman's perfect beauty. Lingerie plays a fundamental function in the woman's look and it must be really gorgeous: bras, culottes and slips should contrast with the color of the sheer clothes, and they should absolutely be decorated with lace or made from prestigious fabrics such as silk or satin. The lace trims of sensual petticoats often show beneath the too short skirts creating a very sexy effect, further enhanced by the use of real or designed garters.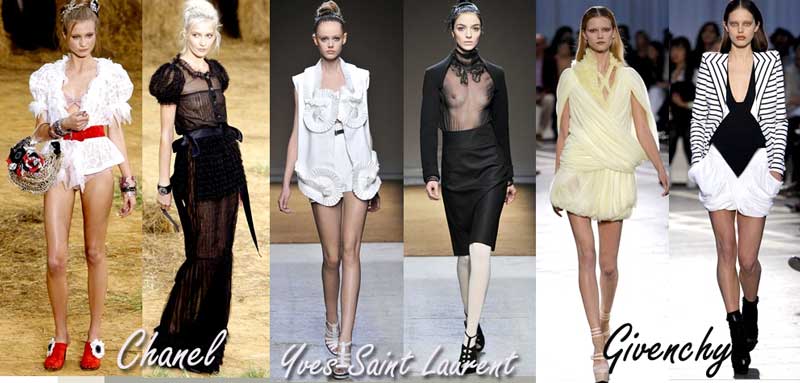 Suits are no longer made with the classic mid-length skirt but are composed of a waisted jacket and a very short skirt, sometimes replaced by a more comfortable pair of shorts. Trousers and mini-dresses have to enhance the perfect waist-line, also through the use of enormous leather belts. Shirts and T-Shirts are colorful and made from sheer tulles or organza, in order to create a shimmering effect.
Some collections presented at Paris Fashion week were deeply influenced by the Oriental style and, in particular, by the old Russian ballets of Stravinsky. There were in fact some designers such as the ones working for Dior or Kenzo, who proposed harem pants, bringing to mind the  protagonists of the famous masterpieces "Arabian Nights" and " The Rite of Spring", adopting those same sartorial lines and those same explosive colors and elaborate decorations. Kenzo's woman also wears a classic oriental turban on her head.
The evening look is characterized by the classic long dress enriched by decorations and slit skirts to display the perfect woman's legs.  However, if you prefer wearing a mini dress as eveningwear, for a special event or an important evening do, you certainly can, wearing it with vertiginous high heeled wedge shoes. The fabrics used for the evening look are, above all, silk, satin and taffeta which give your elegant dress a natural fluidity and softness but lace too is much used layered over a shiny fabric in contrasting color, as proposed by Dior.
While the handbag is a Must for the Italian designers, who presented their collections at Milan Fashion week, this accessory is less fortunate in France. It accompanies the day-time women's look but is often absent from the evening version, probably because the evening dresses are very long and challenging to wear, so the woman prefers to have her hands free to manage her skirts and preserve the integrity of her precious dress.
The day-time look, however, sees the continued presence of the classic tote bag, (the best friend of the business woman) designed with many different pockets and compartments, which can be worn on the shoulder (with a comfortable strap) or held in the hand by its handles. Some designers send their models down the catwalk clasping their totes in their hands, like simple pochettes.
Very trendy too is the shoulder bag, comfortably worn across the body or on the shoulder by the young woman who loves shopping and needs an easy to wear handbag, which will leave her hands absolutely free.
The evening look, on the other hand, if a bag is used at all, favors the ever-fashionable clutch (made of leather or of fabric , according to the situation and the preciousness of the dress) which should be clasped in the hand or held from its short chain strap.
Shoes, as mentioned above, are high heeled and provided with obvious wedges. Chanel makes clogs fashionable again, bringing to mind the old-fashioned shoes worn by our grand-mothers living in the farm, while sandals are high-heeled and decorated with stones and sequins.
And what about the colors? Which are the most fashionable shades of next spring-summer 2010 women's collections, according to French designers?
Unlike the vivid colors proposed at London and Milan Fashion weeks, the colors shown by French fashion houses, though certainly gorgeous and interesting, are mainly focused on warm shades such as ivory, beige, light brown, gold yellow, orange. We noticed a predilection for all these colors, even though there are also other designers who choose different colors for their collections such as grey, sky-blue, fuchsia, pink,  red and midnight blue. Black is incredibly trendy but it is mainly used as evening color for sensual evening dresses and accessories.