Paris fashion week: spring-summer 2010 men's collections
Paris fashion week: trends and styles proposed by French designers for the new spring-summer 2010 men's collections
Having just reported from Milan fashion week on the latest trends proposed by Italian designers for their spring-summer 2010 men's collections, we are now moving on to Paris, where two weeks ago, from June the 25th to June the 29th, the entire fashion world focused its attention on the collections presented by French designers at Paris fashion week.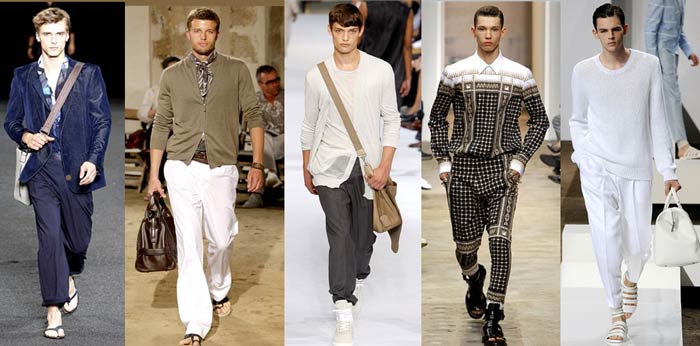 Top French fashion labels such as Louis Vuitton, Givenchy, Jean Paul Gaultier, Hermès and Yves-Saint Laurent  took part in this important event, introducing their vision of the men's look for next summer: a man who, as we have already seen at Milan Fashion week, is confident of his good looks and charm and wants a look that is sexy and eye-catching.
The man portrayed by French designers pays attention to his look and his physique, setting off his toned body with carefully chosen clothing, enhancing his figure with high quality, perfect style.
His look is mainly characterized by the high quality of the fabrics used and by a particular care for details, especially in the accessories which should complement and enhance the man's personality but not overshadow it. Everything is harmonious and perfectly put together.
Unlike some Italian designers who proposed gorgeous bright colors for spring-summer 2010 men's clothing, both for day and evening wear, French fashion houses promote the use of subtle shades for next summer with a particular preference for white, ivory, light beige and light grey. Fabrics are fresh and comfortable, and can be shiny or matt, but should always be light in color. The French man, next spring-summer 2010 will be accompanied by his tote or shoulder bag, but this accessory is not as recurrent as in the Italian fashion collections where almost every model walked down the catwalk holding a large bag in his hand. French men's bags are more like suitcases where he can keep everything he needs to have by his side, for work or travel or a pleasant week end. They are made of leather (if possible in a dark color) and the cut is classic but very refined. However, as said here above, many designers taking part in Paris fashion week, such as Christian Dior in his Dior Homme line, prefer the classic shoulder bag worn across the body or an elegant but wide shoulder bag worn on the shoulder with an elegant suit.
Which are the most innovative ideas and proposals which are going to distinguish the next season men's wardrobe? In the second part of the article we will give you very detailed information regarding the following fashion houses, which in our opinion, best captured our attention: Yves Saint Laurent, Dior Homme, Hermes, Hugo, Kenzo, Givenchy, Jean Paul Gaultier, Paul Smith, Louis Vuitton.
Are you looking forward to discovering what happened on the Paris catwalks? Continue >>>