Paris Haute Couture Spring-Summer 2013
A magical Paris, a sprinkling of snow making it even more beautiful and romantic, recently hosted some of the most prestigious European fashion houses for the presentation of the spring-summer 2013 Haute Couture shows, a really important engagement eagerly awaited by all the top fashion journalists and cognoscenti, curious to know all the latest details of evening dresses and haute couture collections for summer 2013.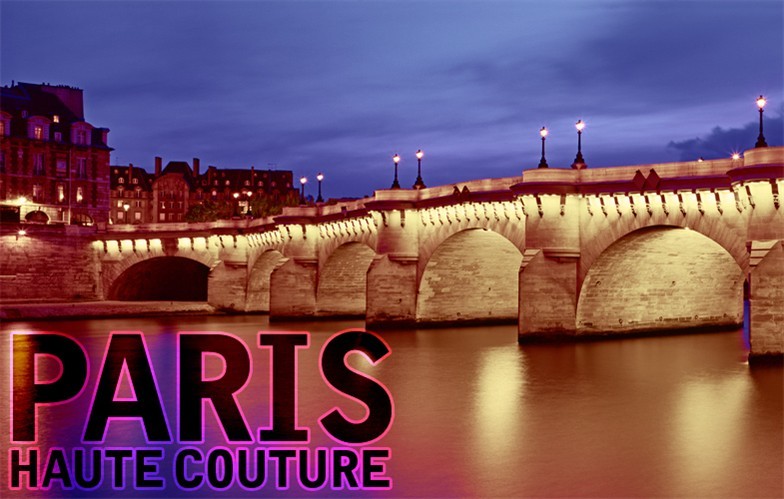 The shows that took place in the French capital from January the 21st to the 24th, immediately aroused interest and gained positive feedback for the elegance and the attention to detail expressed in each designer's collection, and also for the use of high quality fabrics, such as lace, organza, tulle and silks, further enriched by decorative elements such as pearls and plumes, transforming each creation into a truly unprecedented masterpiece.
Dresses have essential and clean lines, knee-length for daywear and long with trains for the evening, are characterized by plays of light, juxtapositions of contrasting colours and are enriched by golden accessories, such as in the collection previewed by Donatella Versace for "Atelier Versace", or by burnished jewels, such as those proposed by Giambattista Valli. .
While some designers are inspired by the shapes of past years and by typical 50's models, such as Raf Simons for Christian Dior, others, like Valli, are influenced by wild nature and recreate animal prints on fabrics or are captivated by the magic of spring, with flowers and petals reproduced in 3D on dresses or on hats.
Other fashion houses, such as Armani Privé, on the other hand, offer a collection inspired by a union between East and West, where ethnic becomes chic, while Jean Paul Gaultier brings evocative Indian and Gypsy themes to the catwalk.
Both day dress and evening dress should express elegance and sensuality at the purest level and, to do so, they need colour as well as sinuous and attractive lines. This is why, among the trendiest tonalities for haute couture spring/summer 2013, we often see fuchsia, lemon yellow, pistachio green, orange, red and Bordeaux.
However, simple and muted colours such as sky-blue, beige and pastel pink are not in the least scorned, above all for daywear, while midnight blue, white, chocolate brown and black continue to play an important role both for daywear and the evening style, being considered timeless tonalities, suitable for every look and for all ages.
Are you curious to know more details of all the latest styles proposed in Paris for the Spring-Summer Haute Couture collections 2013? Let's discover them together!
The "Atelier Versace" collection, previewed on January the 20th in Paris, re-introduces to the catwalk some of the Italian fashion house's cult dresses, reinterpreted according to 70s style, with a sinuous and sexy line also for the day look, made from  fabrics that are iridescent in style and in colour and shorter than before. Some dresses, inspired by men's fashion, are entirely created from lamé fabrics, while others are more sober in tone but original too with stitching in 24 karat gold, creating special bright geometric effects.
Pants cling like a second skin, while micro dresses have an architectural structure.
Each dress from the "Atelier Versace" collection is, however, linked by a special shared motif: the fur. Small fur details are, in fact, present on every single creation, as detachable collars and wraps or as actual tight-waisted mini dresses.
Cocktail and evening dresses, on the other hand, have a mermaid shape and they are an explosion of sensuality, with skirts slit daringly to the thigh, sheer sections and mesh inserts. The woman wearing dresses from "Atelier Versace" is a dynamic and self-reliant woman, aware of her seductiveness and her look shows it.
Raf Simons, creative director of Christian Dior, sets his collection in an enchanted Italian garden, where models walk among flowers and flowerbeds wearing romantic dresses whose silhouette recalls the 50's but with cleaner and minimal lines, using floral decorations applied to special fabrics such as silk, organza, tulle and wool. The dress itself evokes the feel of a flower in shape, fabric, colour and embroidery.
Ethereal models wear neat bustier dresses, tailored jackets that look like architectural masterpieces and embroidered evening dresses, sometimes enhanced by veiled hats or little caps made from a juxtaposition of small petals.
The most frequent tonalities used in the Dior Haute Couture collection range from midnight blue to sky blue, from red to Bordeaux, from pastel green to powder pink, through orange, beige, black and yellow.
For his spring summer 2013 Haute Couture collection, shown at the Italian Embassy in Paris, Giambattista Valli draws inspiration from the animal world dominated by tigers, zebras, crocodiles and snakes, with animal print patterns repeated, as a common thread, on almost all the dresses from the collection. His creations are not in the least aggressive however; on the contrary, they rather present an ethereal (almost sacred) allure. His is a journey through Nature and his models wear dresses stolen from the world of flora and fauna, with 3D embroidered flowers on tulle or on organza.
Colours look like gorgeous brushstrokes on delicious evening dresses with trains. Burnished jewels and belts give a further touch of wild elegance to an already seductive collection, indicating that high fashion is no longer exclusively aimed at rich ladies loving luxury but also at self reliant and dynamic young women.
Giorgio Armani, in his "Armani Privé" collection, imagines a meeting between East and West cultures and traditions, where the fabric takes centre stage. Drapes, cuts and geometries of clear western nature meet eastern lines and styles or, on the other hand, ethnic patterns decorate luxury evening dresses.
The focal point of this collection is the waistcoat made from miniscule strips of fabric for the day look, while for evening, this garment becomes precious and finely embroidered, like an authentic jewel to wear next to the skin.
Trousers are slim and lightly flared, made of satin and modelling the feminine silhouette in a clear and precise way, while skirts have a mermaid shape.  Jackets are short and fit the body tightly.
The sceptre, symbol of  women's power, according to Mr. Armani, becomes the leitmotif of the whole collection, adorning the neckline of a dress or closing the tie of a skirt.
Sequins and crystals on sumptuous satin evening dresses, make this collection a real explosion of elegance and glamour.
Unlike the other collections shown at the Paris Haute Couture fashion week, the Armani Privé line is the only one where evening dresses (and also the day look) are sometimes accompanied by accessories such as shoulder bags or clutches, all them ultra small and made from precious fabrics or prestigious leathers such as crocodile or python.
A melancholy forest recalling nineteenth century gothic literature is the backdrop of the new Chanel spring-summer 2013 Haute Couture collection, with ethereal and almost gothic creatures lightly tripping down the catwalk, with dresses and accessories clearly inspired by the 20's. The most characteristic element of this collection is certainly the feather details on dresses and hats too, for a definite return to the past. The Chanel Haute Couture woman is a woman who loves a rather retro style that is made contemporary by the use of modern materials.
Tonalities, such as blue and white, are perfectly suited to the daywear collection presented by the designer Karl Lagerfeld, composed of short coats, flared pants, waist cinched blazers and soft outerwear, while evening dresses, straight or mermaid shaped, are made from wonderful fabrics, such as lace, satin, chiffon, taffeta, and enriched by crystals and rhinestones or by floral 3D embroideries. Shirts are made of chiffon lined with tulle, giving an extremely romantic allure to the high-class woman wearing Chanel next season,.
Gipsy and Indian references are very evident in Jean Paul Gaultier's collection, with colourful veils enriching light, flowing dresses and fringes decorating soft-shaped, cream jackets. Gypsy-inspired too are the patchwork patterns on ankle trousers and long skirts. Dresses are western in silhouette but they have an oriental flavour, more properly Indian, we should say as far as the colours are concerned, most of them evoking shades of spices, such as saffron yellow, curry green, paprika red. Gaultier's collection however, doesn't abandon the more classic and sober colours, such as beige, grey and black.
The evening dress is always long with a train, in soft and sinuous fabrics, such as organza, silk and lace.
The Valentino collection, put together for years by the proven pair of designers Maria Grazia Chiuri and Pierpaolo Piccioli, is simply perfect: every creation (entirely handmade) is a masterpiece of pure Italian craftsmanship. Every detail is skilfully finished, such as the inserts in crepe and embroidered tulle, enriching beautiful suits or floating dresses, giving the Valentino woman allure and extreme refinement.
Ruches give movement to the skirt while the essential lines of dresses leave shoulders uncovered, defining the torso and enhancing the waistline, conferring sensuality and glamour.
Tulle, silk and organza are among the fabrics most used by the Chiuri – Piccioli duo for the creation of the new Valentino Haute Couture spring-summer 2013 collection, everything further enhanced by decorations in silver wire, mother of pearl and ceramic sequins.
Among the IT colours used in this collection, light shades such as white, ecru, ivory, pale pink and light beige occupy an important place, while only a few evening dresses were made in the classic "Valentino red".
These are just some of the most beautiful Haute Couture collections recently shown in Paris.
They are unique masterpieces, exclusive in quality and though obviously not accessible to everybody in price, sometimes just dreaming of wearing one of these sumptuous and fabulous dresses, can make us feel happy and in a good mood…
So, let's dream on…