Paris Spring-Summer 2010 Haute Couture: the shining side of woman!
Beauty, richness and brightness are the key words of the most recent Paris Spring-Summer 2010 Haute Couture shows, presented a few weeks ago from January 24th to January 29th against the wonderful backdrop of Paris' historical palaces and monuments, by those who are considered by everybody the high priests of fashion, the inventors of luxury and elegance at their purest level.
Many gorgeous creations graced the catwalks, presenting the image of a determined woman, a new woman that, despite everyday problems and adversity, wants to display all her beauty, her sensuality and her love for luxury and refinement. She wears gorgeous dresses, richly decorated with pearls, sequins and rhinestones and enriched by lace, embroidery and tulle and she looks like a queen or a princess. Hats and gloves complete her look, giving her a touch of mystery and glamour, while shoes worn with an evening dress are high heeled, but can be sandals and leather clogs for the day look, like the ones proposed by Chanel.
Jewels return to to their primary role which is to give the woman more brightness, enhancing her look and her natural beauty. Gold and silver necklaces and bracelets are present in almost all the collections, becoming a focal element of the collection itself. Sometimes they are as big as armor, other necklaces are more restrained but always shining and rich.
After a period of economic crisis and monetary restrictions, now it seems as if the upper class woman no longer wants to hide away and is ready to display her prestige and her magnificence once again with the help of her precious jewels.
As we mentioned above, brightness is one of the key words of these Paris Spring Summer 2010 collections: woman should shine in each situation and event. She shouldn't go unnoticed in the crowd, her natural light should shine and dazzle everyone.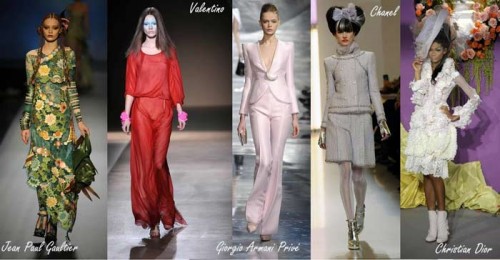 But how have designers achieved this important task?
They have added light to their masterpieces with gold and silver buckles, jewel-buttons and finishing, but they have also used vivid colors which, combined together in a very particular way, are able to create a final special effect like the one produced by Dior's models.
Sky blue, yellow, coral red, beige, brown, fuchsia, Bordeaux, pink, green, blue, white, purple, black, grey: next summer 2010 Haute Couture will be extremely colorful and all these shades will be further enhanced in all their beauty and vividness by very elegant and prestigious fabrics such as silk, satin, bouclé, shiny tulles and sexy lace.
Ivory, silver and gold are the Must-have colors of next spring-summer 2010, according to what was shown by designers at the Paris Spring-Summer 2010 Haute Couture, because these tonalities better enhance the natural beauty of the woman, giving her brightness and a touch of undisputed sensuality and charm. Adopted both for the dresses and for the shoes (Chanel sends her models down the catwalk wearing very nice silver ankle boots), these colors are the ultimate if you want to appear fashionable and extremely elegant and refined.
Handbags, like jewels, have the important role of completing and enhancing the woman's look, giving her luminosity and beauty, so they too have necessarily to be chic and rich in decoration but not too big. Don't forget that they will be worn with a sensual evening dress so they have to be perfectly elegant. Jewelled handbags, with a short shoulder-strap made of small chains and pendants, are a favorite choice for a special occasion, clasped in the hand or worn on the shoulder, as proposed by the king of Italian Fashion, Mr. Giorgio Armani in his collection "Armani Privé". However, classic leather clutches too are welcome but they should always be made in the same color as the dress, or in black, and they are clasped in the hand.
However, there are also many designers who, because of the magnificence of their creations, don't accessorize them with any style of handbag, conveying the image of a woman free from any bond, from any formality, totally captivated by the richness of her dress.
Let's have a more detailed look at the proposals of our most famous designers for the next Spring-Summer 2010 Haute Couture!
Armani Privé's collection is completely inspired by the classic style typical of this label. Every detail is taken care of down to the smallest particular, in order to convey the image of an ethereal woman coming down from the moon and still immersed in a lunar landscape. Lines are perfect, sinuous and magical. Trousers delineate the perfect silhouette of the woman while jackets enhance the perfect waist line. Dresses of undisputed elegance and sensuality are enriched by shining crystals, rhinestones and sequins and they are made of magnificent fabrics such as lamé organza, producing a silver-metallic effect. The motif of the moon recurs throughout the Armani parade: jewel-buttons have the shape of a half moon, handbags and clutches are half-moon shaped and necklaces too reproduce the symbol of the moon. The moon is also reproduced on the catwalk and models walk the catwalk to the music of "The Dark Side of the Moon", by Pink Floyd. The most recurrent colors are the typical lunar tonalities: ivory, grey, white, silver even, though as you know, the moon has its dark side, so Armani also agrees with more shadowy colors such as midnight blue or black for the evening look. All fabrics however, should be rigorously shiny and dusted with shining diamonds.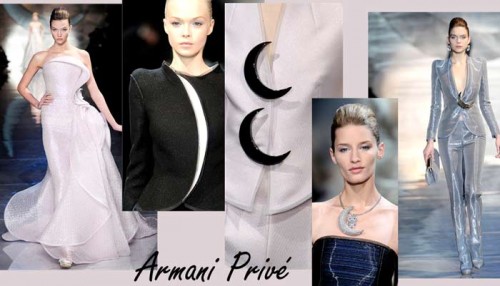 Jean Paul Gaultier focuses his Spring-Summer 2010 Haute Couture collection on Mexico with its souvenirs, music and colors. His line is innovative, original, trendy and detailed. Thanks to a particular play of light and color, Gaultier takes us on a voyage through the history of Mexico, leading us to the Maya period when women used to embellish themselves with metal ornaments and jewels or through the wild forest covered by palms and green vegetation, skillfully reproduced on fabrics. The typical Mexican hat, the Sombrero, enriches highly tailored dresses creating a really gorgeous style. Fabrics are rich in decoration, inserts and carvings. Jean Paul Gaultier's collection can be considered a mix of many different styles: baroque, fantasy, ethnic and tribal; all together to achieve just one goal: to astonish the observer!!!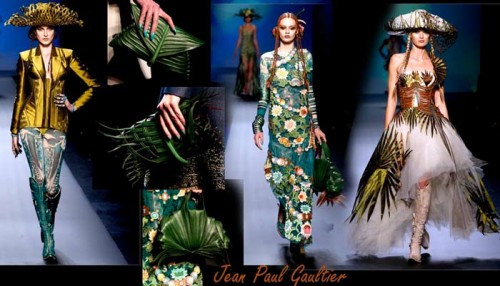 Chanel's woman is at the same time ingenuous and intriguing, walking the catwalk with innocence and artfulness. She is the woman of the future playing with metallic colors or wearing shoes and jewels which seem to come from another planet, but she is also deeply traditional, wearing classic suits, fringed skirts or big bows in the hair. Precious fabrics such as sheer chiffon, macramé, tulle and bouclé in pastel shades going from sky-blue to lavender, from pink to light green, from yellow to silver, are used by Chanel designer Karl Lagerfeld  to make up this collection, further enriched by exuberant decoration and accessories such as flowers, lace, jewels, buckles, leather clogs, gloves, sequins and precious stones everywhere. Nylons absolutely must be shiny or lamé.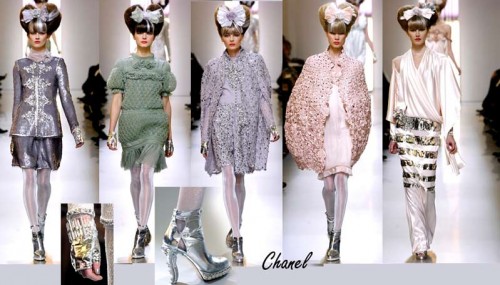 John Galliano, designer of Christan Dior's maison, imagines the woman of next Spring-Summer 2010 as an accomplished rider and all his Haute Couture collection is deeply inspired by the equestrian world. Models walk the catwalk enfolded in genuine masterpieces. Woman is, for Galliano, a wonderful warrior, a splendid romantic fighter, looking like a beautiful work of art. With the continuation of Dior's show, rigid fabrics and riding-whips are discarded and replaced by more sumptuous dresses with wide skirts and lace and decoration everywhere. The Galliano woman transforms into a splendid princess whose face is hidden by enormous chiffon hats, while cocktail dresses take us into a charming, enchanted world. The notable element of this collection is also given by the unexpected matching of colors which usually don't go together, such as violet and Bordeaux, green and violet, fuchsia and brown, violet and cobalt, in order to  distinguish the skirt from the shirt, creating a special optical effect. Fabrics are shiny such as silk or satin with decoration in lace and sequins. Dior's collection too is very rich in jewels, used to denote and enhance the woman's brightness and sensual beauty.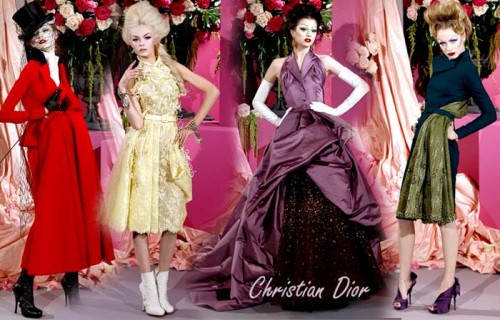 Givenchy, thanks to its designer, the Italian Riccardo Tissi, proposes the image of a very sexy woman, swathed in lace and sheer fabrics which reveal all her sensuality and eroticism. Necklines are daring and skirts are slit to the thigh. Sheer fabrics, satins and silk softly slide along the body enhancing its curves and creating a very intriguing effect. Dresses are enriched by colored plumes, glittering and optical designs, reminding us of the original stage costumes worn by  the Italian singer Renato Zero in the 70's.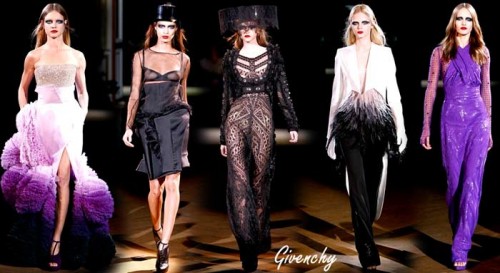 Valentino's house of fashion, headed by the two Italian designers Maria Grazia Chiuri and Paolo Piccioli, through this collection, makes a definitive cut with the past, proposing new styles and colors for the spring-summer cocktail dresses which should not only be elegant but also sexy and romantic. The woman proposed by Valentino is a mix of rebelliousness and sensuality; she is a Lolita walking through a Garden of Eden populated by carnivorous plants and curious butterflies. Contrasting shaded colors are combined to give the creations a new structure and a volume. The day look proposes medium length skirts while the evening dress is always long but light and airy, thanks to the presence of many flounces. Valentine Red is absent, substituted by dynamic new colors such as yellow, coral red, sky-blue, brown, metal gold, grey, fuchsia, Bordeaux, green and purple red.