Paris Spring-Summer 2014 collections reveal the new trends for next season
With Paris, the month of exciting prêt-a-porter fashion parades comes to an end, proposing the best for next Spring-Summer 2014: with its 9-day duration, Paris fashion week marked the conclusion of the fashion tour that moved from New York to London and Milan.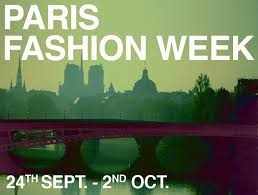 From September 24th to October 2nd, buyers, visitors, press and fashion professionals prepared to round off this fashion event with a calendar full of events, openings and presentations that accompanied the numerous fashion show celebrations, excellent debuts and top shows with super exclusive parties.
To rise to Milan's challenge – never has the competitive tension been so high between the two cities as this year – Paris put on nine full days against Milan's six, and fielded an almost endless list of designers and names of the international fashion worl,d like Dries Van Noten, Gareth Pugh, Balenciaga, Christian Dior, Maison Martin Margiela, Vivienne Westwood, Jean Paul Gaultier, Stella McCartney, Saint Laurent, Chanel, Valentino and many others.
The new trends presented in the French capital included lots of skinny pants and masculine jackets to wear under coats; there were also lots of furs, in case of a cold summer, with socks and embroidered stockings to match high-heeled shoes.
For those who love African horizons, there were bright colors, graphics and lots of ethnic prints taking inspiration from the exotic to renew our life style.
There was also a place for the more romantic women, and so Paris also featured lace matched in different layers and colors, always creating an aura of lightness and sensuality.
But let's discover together the most interesting news proposed by this year's Paris Fashion week for Spring Summer 2014!
A new tribe of women in floral prints, set in Alice's Wonderland, was the main theme for Dior: the setting for the show was made of flowers and leaves, majestic and fresh at the same time, giving Raf Simons the chance of presenting a woman, who is sophisticated and wild at the same time, skilfully melding the elegant obsessions of the Belgian designer with the tradition of the French maison.
Christian Dior liked architectural clothes, but surface details are what the modern day Dior customer is accustomed to. Simons' married the two approaches with a fine flair: so there was an array of jackets, some blouson and oversized, others snugly fitted, cropped or sleeveless, and then a plethora of appliqué badges, chiffon hems and metallic jacquards. The public loved some of these experiments, especially the diagonally pleated skirts, the beaded wisteria decorations down the backs of evening coats, and the traditional Dior Bar Jacket, revamped with detachable peplums.
The Grand Palais was transformed into a gigantic white-walled hangar of paintings and sculptures for the Chanel fashion show, each with a clever twist so they included some element of the Chanel tradition: a camellia, a pearl, a bottle of No. 5.
A pale cream bouclé jacket with mid-length, flared sleeves was a total hit.  Then there was a new take on the Chanel suit: white with a black stripe, it became a very wearable tunic and trousers combination. The house bouclé was transformed by being shredded, dyed pink, and used to fringe dark trousers topped with a youthful matching pink cropped jacket. The tweed skirt was overblown, stretched to its maximum without losing its form, and looked fabulous. Fun and deeply frivolous accessories added a lighter note, including high heels with pre-attached socks and a dramatic choker with two huge faux pearls resting inside each clavicle.
Saint Laurent's models strode out in sheer chiffon blouses, tight leather mini skirts and the signature skinny tailoring. The new collection designed by Hedi Slimane re-works several styles from the archive: there was a longer, fluid tailored jacket, and then the iconic Saint Laurent lip motif entirely embroidered in sequins on a bustier top enlivened by a puff of fabric at one shoulder. Plenty of shimmer and sparkle, as we saw on several Paris runways this season, adding light and glamour: glittering animal print, lurex skater dresses, and silver ankle socks worn with every look.
Marc Jacobs didn't disappoint public expectations with his last collection created for Louis Vuitton, where black played the starring role: youthful, energetic and rich in ideas and the savoir fair typical of the French fashion house.
Jacobs dedicated the collection to the many women who've touched or influenced him during his decade and a half in Paris, including designer muses Coco Chanel, Rei Kawakubo, and Miuccia Prada. We saw elements of their work in this collection, in addition to retrospectives of his own greatest hits.
There were a total of forty-one looks, mostly elaborately ornamented with combinations of crystals, jet beads and glossy feathers. An extravagant headpiece of ostrich plumes designed by Stephen Jones adorned each of the models.
But the street influence was evident just as it was at Jacobs' New York show:  in particular the flat shoes, embellished biker jackets and a significant focus on denim, whether the faded blue variety worn with tulle tank dresses with a twenties feel, and the patchworks of black denim paired with masculine blazers.
These were the most interesting proposals and ideas from our point of view … but, high fashion aficianodos, why don't you let us know your opinions?