Pitti Immagine Uomo celebrates its 80th anniversary
Pitti Immagine Uomo celebrates its 80th anniversary: here comes Spring/Summer 2012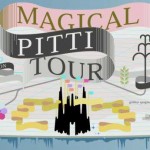 Demanding, educated and cheerful: this is the message that was launched at Pitti Immagine Uomo's 80th edition which, from June the 14th to the 17th marked the beginning of a rich and intense season full of interesting engagements in the fashion calendar, all specifically dedicated to the fashions and new trends that will characterize our men's wardrobes next spring/summer 2012.
Figures fell short of expectations, as this year's Pitti Immagine Uomo was expected to be a record-breaking fair, both in attendance from buyers, press and visitors, and in numbers of brands presenting their collections. In the end it was, nevertheless, an extraordinary event, surrounded by the magnificent scenes of Florence, with a joyful explosion of more than 1000 brands showing their latest trends, interesting proposals and protagonists, together with lots of remarkable ideas and reflections. The common thread of the event was an intense focus on the culture of beauty, on painstaking artisanal production and raw materials, in a word, on that exact concept that makes our country so special and appreciated worldwide, the Made in Italy brand.
However Pitti is not just for men, thanks to the successful initiative of Pitti W, specifically dedicated to the feminine sphere with more than 80 top Italian fashion houses presenting their pre-collections, together with rare fragrances and high-quality vintage ideas.
A total representation of the entire world of fashion was what was aimed at by Pitti Uomo's organizers. To celebrate its 80th anniversary they invited renowned designers directly from Los Angeles: sisters Laura and Kate Mulleavy who launched Rodarte brand, already positively regarded by first ladies and movie stars, and the young talent Scott Stemberg who, with his Band of Outsiders label, explores the boundaries of tradition and modernity, with a vibrant wish to revisit the classic sportswear pieces of the biggest American brands, going beyond their limits with innovative ideas.
Two impressive presentations gave added prestige to that Magical Pitti Tour comprising both galactic brands and emerging ones, and expanding the boundaries of the fair itself with the introduction of the digital platform e-Pitti.
Thanks to its lucky success in previous years, this year the "Who's on Next" contest was awaited with much anticipation: an important scouting initiative and project aimed at discovering the new talents and protagonists of the fashion world in the near future. The jury called to choose the best candidate was composed of the Florentine organizers with the support of AltaRoma and UomoVogue.
But, aren't you curious to discover what your boyfriend or partner's wardrobe will be like  next spring/summer 2012? So, let's look in more detail at all the news and trends proposed by our renowned brands and designers!
Colourful, attractive, fresh and very, very youthful: this is the major trend for next spring/summer 2012 that the many Italian and international companies were glad to present at this year's 80th edition of Pitti Immagine Uomo.
A new edition of a  classic style, turns into something contemporary to satisfy men's' many needs both at work and for leisure time So, we have the two-button jackets proposed by Paoloni, artisanally tailored or the more fun and lively ones offered by Schneiders.
A man that prefers sportswear and a casual style is envisaged by Woolrich and BD Baggies, Colmar and Dekker's man is joyful and sunny, while a more easy and casual man is imagined by Bresciani and Gallo, one who wears the most colourful and original socks.
Taking inspiration from the image and idea of their "Strike your Balance" slogan, Everlast, a historic brand in the sportswear field, created a collection based on serenity and soul balance: the entire collection was made of pieces with a vintage effect, together with soft and delicate tonalities, while the jersey material is always a hit, offering comfort and relaxation.
For bold and audacious souls, Harmont & Blaine offers a wide range of very colourful trousers, to wear according to your mood, or turn your choice towards the delicious swimwear collection proposed by Bear.
Over everything lies the wish of going further, beyond the classic and obvious or what we have already seen during past editions, because now men too are becoming more and more expert and demanding when it comes to their wardrobe.
Highlighting this tendency toward a new concept of masculine fashion, is an intelligent project based on sustainability and reversibility under the name of RVR Lardini. Launched by the historic brand from the Marche region of Italy, during this year's Pitti Immagine Uomo, it showed a collection comprising 3 basic models – jacket, trench and safari jacket. Made from water repellent materials on one side, and natural fibres on the other,  they will be sold in a cloth bag, the perfect prototype wardrobe for a man who is always travelling, but is very respectful of the environment that surrounds him.
Denim of course couldn't fail to show up at this event and for next season it will live a second youth, always current and timeless, with its power of expressing everyone's need of freedom and lightness.
And, just as the curtains fall on Pitti Immagine Uomo, in Milan everything is ready to welcome  the fashion world to the second stop on this amazing fashion world tour for another five intense few days.
So, don't miss our next article if you want to keep on being updated with the very last news in the matter of fashion!