Pitti Uomo – Summer 2013: Elegance, tailoring and all the rainbow colors
If it is true that 90% of Made in Italy exports go through trade shows, this 82nd edition of Pitti Immagine Uomo, which opened its doors on June 19th at Fortezza da Basso in Florence, becomes a strategic event that has never been more important compared to the recent past.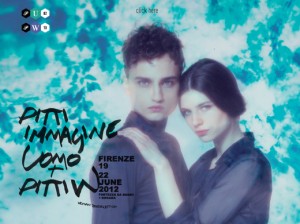 About 1,053 brands exhibited new products for summer 2013, over 59,000 sqm of stands, with thousands of ideas and events, monumental and cutting edge performances and parades, all engaged in a battle of luxury, starting with the men's wardrobe: and this requires a common intelligence, for Italian fashion to work together, looking to the mature market but also to the emerging East.
Keywords from the opening of the men's fashion shows are respect and balance … and lots of emotion surrounded this worldwide preview without equal. In fact, it's hard to imagine such a luxurious and stunning opening as this year's: for the first time in its history, the Uffizi Gallery opened its doors to the fashion world, more specifically to Stefano Ricci's high men's fashion, king of luxury and high quality; it was a very prestigious honor for any creative man, especially for a Florentine, the opportunity of entering this temple of pure art with his perfectly tailored jackets.
The catwalk was not just a platform, but a real carpet where elegant double-breasted jackets in cashmere or silk paraded together with soft overcoats and gilets in crocodile, denims, fabric blouses and sportswear in silk; then there were a few pieces in safari style with jackets and suits in earth colors.
At the end, a few female models showed  a limited edition of crocodile bags with details in gold and diamonds.
Edition 82 of Pitti Uomo, for Summer 2013 could not have a more exclusive and invaluable preview: the 68 models showed the excellent quality of the most exclusive Made in Italy concept, that treasured mastery of craftsmanship that has allowed the Florentine company – now celebrating its 40th anniversary – to achieve a turnover of 56 million Euros in 2011, miraculously doubling its turnover despite the recession. According Stefano Ricci all this was only possible thanks to exports representing 97% of the sales of his collections; the brand is renowned for dressing men of great prestige in Russia, China and America, and famous names such as Nelson Mandela. For Ricci, there is no room for trifles or excess, no one is now wishing for frivolous fancies: the men's look turns towards the essentials, total excellence and the celebration of the craftsman's art.
Pitti Immagine Uomo is not just for big brands, but is an important showcase for new talents from around the world: an exhibition of endless proposals, a stage for the young designers of the fashion world. This is one of the main commitments and aims of this most important men's fashion trade fair, which has launched so many names over the years, such as Raf Simons – new creative director of Dior – who are now leaving their mark. This time Pitti Immagine has chosen the young Frenchman, Guillaume Henry, for Carven, as guest designer for menswear: his lines are characterized by energy and contemporary spirit, showing  a very rustic aura. For Pitti W on the other hand, directly from London, there is Peter Pilotto, the brand that expresses the inspiration of its designer and partner Christopher De Vos, who chose Palazzo Borghese's rooms to host his pre-collection for summer 2013.
But what was the atmosphere soaked up by visitors and exhibitors during these days of fashion shows, that enlivened the historic center of Florence from June 19th to 22nd?
Italy lifts its head high and starts over from the platform of its men's fashion scene, which has always been characterized by plenty of new ideas and news at Pitti, holding the recession at bay and giving hope to more and more bewildered, if not totally frightened consumers. At the fashion fair, bright vitamin, even fluorescent colors triumph for every type of look and not just for the beach.
For the daring, for the holiday-maker, the traditional or the lazy man, there seems to be only one imperative: dare to be different. And so the energy of color is splashed over neutral and milky hues to create a men's wardrobe that is youthful, cool and trendy, but overall wearable. The shirt is multicolored, the jacket reflects the scent of lavender, denim comes in a breathtaking blue, the blouse is fluorescent, while bags follow the path of the rainbow.
These new men's fashion ideas are fun, trendy and also so witty and colorful, even proposing with a touch of irony a python leather envelope clutch to carry in the hand, just like bon ton ladies.
Say goodbye to severe and ultra classic clothing, rigorous and tailored lines, now is the time for simplicity and smoothness of cut. Knitwear, linen, cotton…casual style prevails for the sophisticated and chic. In this new fashion concept the shirt can be substituted with a cotton sweater or one of the many t-shirts, always so fresh and youthful. One thing is certainly true with regard to trends: it is long past the time when precise and clear rules could be distinguished in the male wardrobe. Now we tend to leave more room for personalization and self-realization, so styles are re-invented time after time.
So here are obviously sophisticated and colorful moccasins by Tod's, desert-style denims by Roy Rogers, the rainbow swimwear of Sundek or striped ones by Gaudi, and Schneiders safari jacket. A mix of excellence and economy, a touch of personality, and the fashion conscious man's wardrobe is ready to renew itself.
For the second year in a row, Valentino chose Pitti Uomo to show at – not industrial Milan, not Paris so cool at all costs, but Florence, because it is more believable as a city of classic culture, more personal. Set up at the Boboli Gardens, there is a long catwalk, a very charming scene, where 33 models emphasize an obvious obsession with detail that revolutionizes the clothes making up the modern man's classic wardrobe.
While Valentino for women is all about couture, its men's collection parallels this with tailoring: simple lines, complex manufacturing and meticulous attention to detail, new processes and all the archetypes of the man's wardrobe. of the concept of ​​uniform is there, military uniform that is rather a way to stand out, than to blend in. There is also an obsession with iconic pieces, all those recognizable clothes that can, however, be personally interpreted. Camouflage is the main theme of the collection, usually aimed at staying hidden, in fashion it is used to get noticed: this is for the trench-coat combining various materials, including calf leather, in a valuable patchwork print; the white shirt, perfect yet innovative like a polo in different kinds of cotton; even the now classic sneakers, which men of all ages wear, become special, with special signs to be encrypted.
The message of the whole fashion show is not to be discouraged by the recession
and to look optimistically to the future.
The solution lies in going back to our roots and origins, re-discovering the true craftsmanship of traditional Italian tailoring: men are looking for quality, and so handmade workmanship, and it's  even better when clothes reveal imperfections, like the jacket that Lardini launches in a sponge version for lovers of the ocean and of cruising.
Brands and fashion companies need to sell, and this is only possible with pieces that men like. Luxury is always to be found at Brunello Cucinelli, who has in mind a refined man using valuable materials, but who employs them in a fun way with a witty and youthful juxtaposition of vivid and bright colors.
At Harmont & Blaine the philosophy is that of a suit with lines that allow a man to be anything he wants: elegant, casual, sporting, dandy…. in fashion terms there are no boundaries, the important thing is to select the right thing for you , to be free to express yourself.
But the real highlight of the man's wardrobe for Summer 2013 will be the hat, available in all shapes and colors, but using fabrics and materials to make it as light as possible.
So, ready to get an idea of what your next purchases will be?