PITTI UOMO AND PITTI W WOMAN PRE-COLLECTIONS:
PITTI UOMO AND PITTI W WOMAN PRE-COLLECTIONS:
THE TRENDS OF NEXT SPRING-SUMMER 2010
Starting tomorrow, June the 16th to June the 19th,  Florence will once more be the undisputed protagonist of the worldwide fashion scene, thanks to the 76th edition of Pitti Immagine Uomo and Pitti W Woman Pre-Collections, two very important and much anticipated events which will reveal the fashion trends and the newest stylish colors for next spring-summer 2010, both for the women's  and the men's look.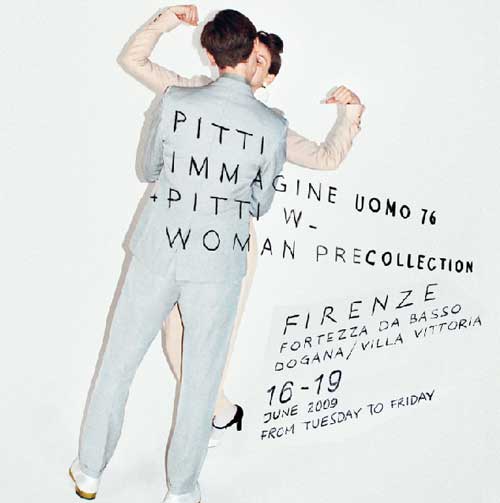 More than 688 fashion companies, with a total of 832 brands (266 foreign brands) will present their collections and the latest in style and accessories for next spring-summer 2010, over a total surface area of 59,000 square meters, alternating men's and women's collections.
Raffaello Napoleone, administrator of Pitti Immagine has presented the 76th edition of this fashion show as the primary barometer detecting the main climates and trends of international fashion. Pitti Uomo is the ideal place for top buyers to come, sure to find established brands but also emerging designers, creators of exclusive projects and innovative trends. Pitti Uomo is, according to its administrator, the solid context chosen by the top fashion companies to present themselves and their creations to the entire world but also a prestigious visiting card for all those young emerging designers, looking for their own space to spread their wings and display their own potentialities and strengths.
And, it is especially to encourage many talented young artists that, on the occasion of the 76th edition of Pitti Uomo, the first men's edition of "Who is on Next" will be presented in a high-tech display and judged by a panel of top buyers and fashion journalists.
We already spoke about this important initiative, born of the valuable collaboration between Pitti Immagine, Alta Roma and Uomo Vogue in one of our previous articles, on the presentation of Alta Roma fashion, last February. That show saw the birth of the women's version of "Who is on next" while Pitti Uomo Immagine will inaugurate the men's version of this important contest.
As mentioned above, many top brands will take part in Pitti Uomo Immagine in Florence, but the Italian section of this exhibition merits special attention. One of the most important features at Pitti Uomo Immagine, will be Classico Italia section, which brings together the best brands of genuine Made in Italy style, with a new layout personally created by the designer Piero Lissoni.  A special importance will also be given to Scotch & Soda's collection and to the new projects of the group Tomasoni (North Sails and Henry Lloyd Italy), but also to Sergio Tacchini and to Helly Hansen.
Guest star of the Pitti Uomo Immagine, will be the Japanese designer Jun Takahashi, creator of the brand Undercover, who, will present, for the first time in Italy, his Menswear Collection Spring-Summer 2010, choosing the wonderful Boboli gardens, in Florence as the location for his performance.
However, Florence will be also the special setting of the 4th edition of Pitti W Woman Precollection, which offers a special preview of all the new trends in matter of Women's wear and accessories for next Spring-Summer 2010. The undisputed special guest of this edition will be the New York label Proenza Schouler, created by the designers Jack McCollough and Lazaro Hernandez who have just chosen Pitti W Woman to present their spring-summer 2010 women's collection as their European debut.
So, what should you wear next Spring-Summer 2010, to be at the cutting edge of fashion?
Are you curious to know the latest styles that will be presented by the many fashion houses at Pitti Uomo Immagine and at Pitti W Woman in the next few days?
Don't miss our next articles!!!!!