Pitti Uomo: the new men's styles for the 2009/2010 autumn-winter season
The new men's styles for the 2009/2010 autumn-winter season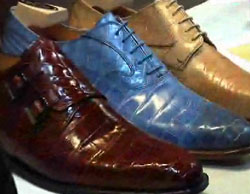 A few days ago, Florence was the main protagonist in one of the most relevant fashion events in the world: Pitti Uomo, a special event in which many famous brands and a large number of emerging new designers take part to present their innovative proposals for the new men's 2009-2010 autumn-winter fashion collections. This fashion show is seen by the top fashion houses as the opening of the new international fashion season because it announces the trendiest styles and colors which will characterize the subsequent fashion events in Milan, Paris and Rome.
Pitti Uomo is staged in one of the most beautiful and evocative Florentine historic palaces, la Fortezza da Basso, a dramatic setting which contributes meaningfully to exalt the new fashions, embuing them with a more mysterious and magnetic aura.
More than 700 exhibitors from all over the world (among them many emerging new designers) presented their concepts of next winter's man: he is a man who pays meticulous attention to his look, whether he wears a classic style or prefers a more extravagant, original look. Men's fashion, next year will be a dynamic mix of elegance and innovation, formality and originality, very ground-breaking combinations of classic and modern which are certain to enhance a man's personality and style.
Despite the new technologies used in clothes and the original combinations of classic and modern, colors continue to play a pivotal role in fashion styles, but in these pre-collections they are not very different from the fashion shades currently dominating 2009. Much used in almost all the collections, is Gray in all its many shades, though the designers' preferred shade at the PITTI UOMO exhibition is dark gray, a typical winter color. White is still fashionable, as is black, but the biggest sensation is that next year, Purple still continues to be very trendy, combined with other colors or on its own, in all its shades.
But let's have a more detailed look at the new styles proposed by the fashion houses taking part in the Pitti Uomo event:
Tonino Lamborghini envisages a man who needs to be practical and completly at ease, especially during his spare time. He creates some classic clothes aimed at the elegant business man but also a more casual line, composed of pullovers and trendy jackets, worn with dark trousers. The colors which animate his collection are different and they vary from natural shaded tones to stronger colors such as red, green and purple, finishing with the new trendy blues, though not forgetting a traditional dark grey and classic black.
Think Pink presented an exclusive collection celebrating the 30th years from the birth of the brand at Pitti Uomo 75. For this occasion it has taken inspiration from the Californian style of the 80's, reworking the models, colors and fabrics which characterized those revolutionary years. As colors, this label chooses very shocking color combinations like turquoise and yellow or bright red with royal blue, brown or natural beige.
Franklin & Marshall presented their collection of very elegant classic men's clothes, made in very prestigious, refined fabrics, designed to be very comfortable and soft to wear so that a man can enjoy absolute ease and practicality in his movements. Prevalent colors are classic blue, bordeaux, forest green and grey.
Comme des Garçons have taken advantage of this important fashion event to present their Homme Deux Collection Autumn-Winter 2009/2010, a sort of re-interpretation of classic formal style seen through the eyes and the originality of this brand. The main theme of this collection is "Play on Formal", and its main objective is to create a trendy personal style with classic elegance as a starting point.
Star guest of the Pitti Uomo fashion event has certainly been Mr. Thom Browne, a very prestigious New York designer who dressed his models identically in his creations as if they were all office clerks ready to type on their old Olivetti typewriters. They were dressed in dark grey, with ankle-length trousers, a long grey tie and a camel brown coat. His collection, so classic as well as dynamic and innovative has won praise and applause from all the visitors and fashion journalists from the whole world.
In this article, we have tried to summarize the most salient points of the Pitti Uomo event for you all, before we turn our attention to the Pitti W Woman the female answer to Pitti Uomo, another important fashion manifestation focused on the preview of the new women's 2009/2010 autumn-winter fashion collections.