A PURPLE BAG: SYMBOL OF CREATIVITY AND ORIGINALITY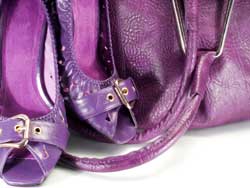 UPDATE: CLICK HERE TO READ OUR NEW POST ON VIOLET
Fashion collections for the autumn-winter 2008 season, are nearly all characterized by a return to dark colors. The most famous Italian fashion houses have presented on the catwalk, clothes made in warm colors such as brown and dark green, which give a sense of warmth to the greyness of the city on rainy autumn afternoons. Along with these shades drawn from the rural autumnal landscape, there are the cool colors such as black, gray and blue, very elegant and always fashionable, but the pride of place is still given to the color purple, which has held the whole world in its thrall for the last few seasons.
Despite the arrival of autumn and winter, purple continues its success story in every sector of Italian high-class fashion: clothing, jewelry, shoes, boots , bags and accessories. Everything is available in purple, whether it's a lighter or darker purple.

Our exotic leather handbags and accessories are also subject to the charm of this color and many women are ordering handbags to be made in purple, often combining them with a wallet or a real python belt in the same color.
Our male customers this year, more than previous years, also seem attracted by the latest fashion trends, and they too are yielding to the charm of this color and instead of ordering their python belts in the classic black or brown colors, are daring to wear brighter and more unconventional shades, purple in most cases, matching their belts with the color of their made to order shoes, also made from genuine python skin.

This bright color, in our case marries perfectly with the refined elegance of exotic skin, both in our cocco Ligator and our python skin, and creates a product that is both original and trendy but also refined and will not age with the passing of time.

Our range of colors offers three different shades of purple: one for our cocco Ligator bags (at the moment however, our made to order cocco-ligator production is suspended; for more details see the page http://www.gleni.it/blog/ligator-croc-production-suspended/), one for our python products, and the last one for our ostrich handbags. They are all very beautiful and irresistable.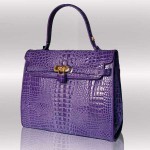 ***
The purple available in our cocco Ligator bags, is a very particular shade of purple: the perfect fusion between blue and red, it is a really eye-catching color, which, if worn to contrast with a color such as light cream or white, will make sure you get seen and admired wherever you go. Everyone will notice your bag and will appreciate your style which is certainly up to the minute but no less refined and elegant.
***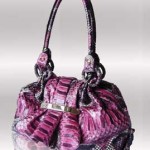 Our genuine python creations are also susceptible to the overwhelming influence and power of fashion. We have thus created a shade of purple for our python bags and accessories, which we have called Orchid, given that its nuances remind us of the fresh and beautiful colors of the orchid flowers. Orchid is certainly a dynamic color, a shade of purple that has a hint of antique rose, and truly enchanting contrasts of chiaroscuro. The beauty of this color emerges from the contrast between the light and dark violet, which are set off by the white and black that define the natural design of the python skin. The vibrancy of this color is based on the contrast of tones that take a new dimension in the sun light, making each item a unique piece in its overwhelming beauty and originality. It is further enriched by the prestige of the high-quality skin used, which, in this case, is also skillfully painted by hand with care and passion by our experienced Italian leather masters.

Just recently we have created a new purple shade for our genuine ostrich skin too, a very dynamic and trendy color that is sure to conquer your heart and make you feel really very beautiful and glamorous without sacrificing the natural elegance of your style . It is a strikingly lustrous purple/fuchsia color, which besides exuding a sense of wellness and positivity, highlights the follicles that characterize the ostrich skin, making any item made from ostrich leather in this tonality a real masterpiece of fashion.

Currently, we do not have a purple shade available for our genuine crocodile skin, but, given the continuing requests for one from our customers, it is very likely that some shade of purple will be created in the future for this prestigious leather too.

In the meantime, for those who are interested, you will find below a list of all our purple bags that are available in our showroom. We will be adding further products in this color to the list as they are made, so keep an eye on this page for new additions if you like combining originality and quality!
*********************************************************************
1. Luxury python handbag 3810
| | |
| --- | --- |
| | Bold and bright, this roomy purple snakeskin hobo has its distinctive python patterns enhanced by skilful hand coloring to make each bag a unique one-off. Ideal for day-time and weekends away, its casual chic will get you noticed!Details >>> |