What are the most suitable handbag's styles to go with a wedding dress?
<<< Page 1 | Page 2
But, what are the most suitable styles to go with a wedding dress?
There are many purses and clutches belonging to our collection that would be perfect as wedding bags. Here below we will show you just some models, which, in our opinion, are absolutely chic and would further enhance the beauty of your bride and the refinement of her dress.
Purse 3751A made of roccia python skin is the best for elegance. This extraordinary wedding bag is very small and enriched by two side laces which form two bows, while its strap is very short and made of small chains decorated with pearls and stones whose colors completely match the tonality of the bag. If you like, we could make this purse also in classic white, but if your beloved's wedding dress is milk white, we think that the tonality Roccia suits it better, creating a delicious contrast with the white of the dress, exalting both the gorgeous style of the bag and the prestigious beauty of the dress.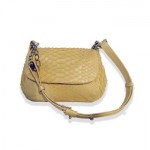 Purse 3799 made of cream or white decoloured python skin is the best solution if the wedding dress is not too elaborate, but simple and absolutely gorgeous. This small handbag is very classic and simple in style,with a short strap and a small comfortable interior, but it is really lovely and absolutely chic.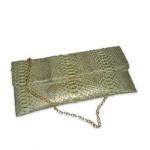 Clutch 3657, very comfortable and practical, is absolutely chic, carried in the hand with a wedding dress. This bag in fact has a gorgeous detachable strap made of small chains but the strap can be easily taken off, so the bag can be carried as a luxury python pochette. If your bride-to-be is a dynamic woman who desires astonishing also on her wedding day, perhaps wearing a particular dress in an unusual color, you could order this clutch made of millennium python skin, in Giada. This color is the most appropriate for the woman who wants to highlight her natural charm and elegance but, at the same time, wants something original and exclusive. Giada is a neutral light beige color but it is enriched by golden streaks which make the bag beautiful and very attractive.
**********************************
These are just some of the many handbags we can suggest to you as wedding bags to give as a wedding gift . You will certainly see many other stunning models here below, and bear in mind that we can make each of them in the color you prefer, according to the response you want to evoke in your bride.
Then consider another important element: unlike the wedding dress which, after the ceremony won't be worn again, our wedding handbags can be carried on many other special occasions in the future too. Your purchase won't lose importance the moment the ceremony and the wedding party end, but your new wife will continue carrying your special gift after your marriage too. Your precious present will always be by her side and every time she looks at her bag, she will always recall that special day of your wedding and your precious token of love!



However, a luxury exotic bag can also be given as wedding gift to the bride by her parents or by her witnesses as an expression of their deep love for her. Often guests give money as a wedding gift but money flies away in no time at all because, as you certainly know, organizing a wedding party is always very expensive, so, at the end of the party, nothing remains of your present. On the other hand, if you present your daughter or your sister with a gorgeous wedding bag, she will certainly never forget you and your amazing gift!!!!