Python leather: a Must of the just gone summer 2013
The warm season has just gone and it's time to make a summarization of the fashion trends animating the recent spring-summer 2013.
And looking at the trends proposed by designers in the spring-summer 2013 fashion collections, it's easy to see that, this year, summer was dominated by just one key word: python.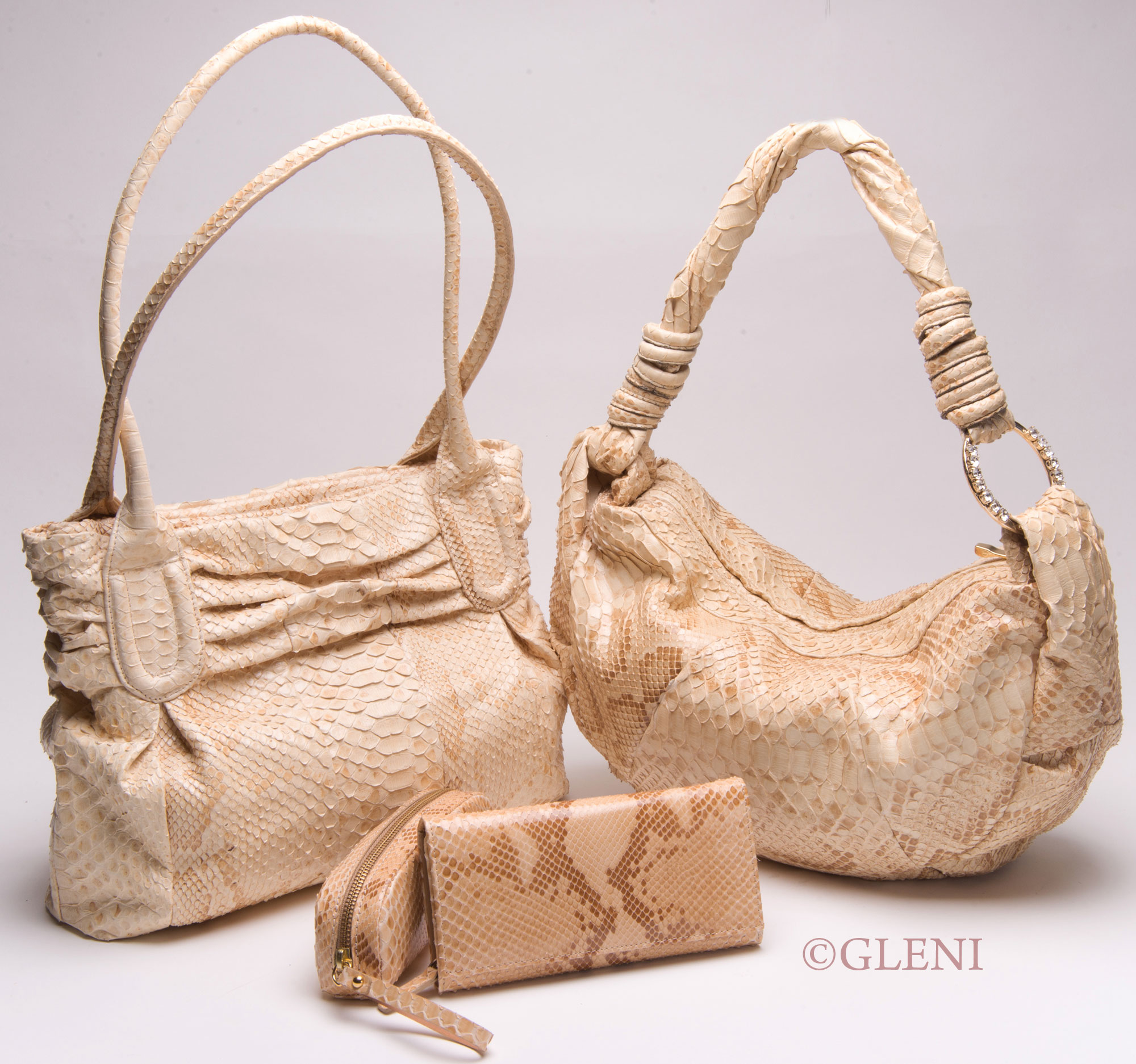 Python skin ruled the roost in the clothing sector, as it already did in accessories, whether it's genuine or embossed, handcrafted or natural, giving women a soft and delicate allure that even day to day made them stand out from the crowd with elegance and charm.
If, till to last winter, python leather had been almost exclusively used for purely winter dress (exotic leather appliqué had frequently been used by designers to decorate shirts or simple and essential coats), the just gone summer saw a distinct turnaround and python skin become a base element of much of the women's wardrobe, used in its multiple tonalities and nuances for shirts, evening dresses, trousers, and also for accessories, such as handbags, shoes and sandals.
At Gucci, this prestigious exotic leather was used for a women's suit composed of a mini skirt and jacket, where the natural python design was enhanced by a contrast between strong and light shades, such as grey and fuchsia.
Valentino, on the other hand, used python skin in combination with soft, shiny fabrics such as silk or satin, and, here too, the beauty of the exotic leather was brought out by the contrast with the fabric and further enhanced by accessories, such as shoes and clutches, also made of python, in the same shade and variant of leather as the dress.
From Salvatore Ferragamo, for summer 2013, came the proposal of a python miniskirt with belted waist, also made of python, for a recherché look that was, at the same time, trendy and youthful, perfect for girls loving dressing with taste, and surrounding themselves with original but practical and unstructured clothes.
Krizia, on the other hand, saw python leather as the perfect solution for a jacket with dropped sleeves that left the shoulder uncovered; a simple but very sensual look, for a woman who wanted to be daring and break boundaries while wearing python.
Ferré fashion house too, opted to use python as a raw material to make mini but high-necked dresses, where for a change fabric was only used on the side sections, letting the exotic leather take centre stage, so that it could be admired in all its extraordinary beauty.
While many different Italian (and also foreign) designers showcased the natural beauty of python (genuine or embossed) in their spring-summer 2013 fashion collections, many others chose to give tribute to this really prestigious leather, by choosing it to create high quality accessories such as shoes and bags.
There were the delicious high-heeled python pumps proposed by Dolce& Gabbana in sky-blue, while Christian Louboutin was even more daring, with sky-high-heeled women's platform shoes, made in Roccia python skin decorated with small coloured butterflies, a hymn to the summer season and its fresh scents.
Refined and very chic was Loriblu's gold python sandal  with high heels and a little ankle-strap.
Giorgio Armani too, accompanied all the dresses from his spring – summer 2013 collection with python sandals enriched by leather and metal inserts.
Snake skin, whether genuine or embossed, was very fashionable in the summer for handbags, in a play of pyrotechnic patchwork, such as the rigid clutch proposed by Corto Moltedo or the Roberto Cavalli maxi clutch, or in simple but luminous colours, like Alexander Mc Queen's Knuckle box clutch.
Multicoloured and summery was the glossy python that Fendi uses for its Peekaboo handbag, while Nancy Gonzales imagined her python tote in a classic Roccia shade, with grass green geometrical designs, and green too for the handle and the feather decoration.
A simple and classic python clutch with brass closure was conceived by Emilio Pucci in a Roccia shade, while Furla's shopping bag was made from python embossed leather in the delicate shades of Roccia and pink.
Even Valentino Garavani's red clutch with brass closure was made of python embossed leather.