Renting a Handbag – Chic or Trick?!
Renting a designer handbag is the latest big thing. Wannabe fashionistas in the States and elsewhere, who crave designer labels but can't afford the prices, can now choose from several big online rental companies that offer you all the delights of a designer bag at a weekly rental price that is a fraction of the price of purchasing it.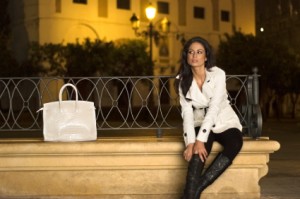 At first sight it seems too good to be true: you have all the kudos and style of a designer bag on your arm, without having to invest in it; you can change your bag every week and try out the latest It bag in any color you like; you can play label one-upmanship to your heart's content, wowing friends and colleagues with your seemingly endless bag wardrobe. All this and in a year you maybe only pay the equivalent of the purchase price of one or two expensive designer bags.
So far we've only mentioned the surface appearances, the superficial gloss, as if a handbag is no more to you than a decorative appendage. Most women though have a more personal relationship with their bags – your bag is with you all day long, the guardian of all your intimate things, it is carefully chosen to reflect your style and personality and becomes a part of you. Buying a new bag is an event and each bag you invest in is treasured, special ones kept carefully in your wardrobe to be looked at and admired and brought out for smart occasions.
When you hire a bag it is not yours. Last week it might have been on someone else's arm and in a month's time it will move on to somebody else. Effectively, though they are always kept in good condition by the rental company, they are second-hand bags. Yes, you might be able to go out with all the best-looking bags of the season, but you never get to develop a personal relationship with any of them, it is strictly business only!
You also need to ask yourself how you would carry off a rented handbag. Should you be open about the fact it is rented and risk people thinking that you're being cheap, or would you want to pretend that you had bought all these bags? Might a sneaking feeling that you were faking it take the edge off your enjoyment of the bag? Would you feel that all the kudos and glamour of a fabulous bag was yours under false pretences, or that you were aspiring to a lifestyle that you couldn't really afford?
On the other hand when you buy a quality handbag, it is a real investment. You will be able to use that bag for years to come, if you choose carefully and buy a design that will stand the test of time. You can build up your collection slowly but surely, as you can afford it, and at the end of the day you have something to show for the money you have spent. The handbags then are a true reflection of you: they take on your persona and are yours for ever. When you hire a bag, that money is gone and when you send the bag back at the end of the month, you have nothing to show for it, unless of course you have had yourself photographed with it!
If you crave a designer bag but really can't afford it, it makes more sense to look for a good quality alternative that you can afford. A hand-made bag in gorgeous leather from a reputable Italian maker will be much more affordable than a designer label bag and makes a far better impression than either buying a fake designer bag, or even than renting the genuine designer label on a short-term basis.
Sometimes though when you have a special event to go to and need a fabulous bag at short notice, renting a bag for a night makes sense, especially if you don't often go to smart dos and so don't feel the need for an evening bag in your wardrobe. In this case indulge yourself: rent a bag that you'd never consider buying, even a crazy ultra trendy one that may be very fashionable today but by next year will be out of style. Whatever you do, don't make a secret of the fact it is hired for the occasion and have fun with it, knowing that tomorrow you'll be giving it back and returning to your own reliable, everyday handbags.
Some women use a bag rental service to try out a designer handbag they are considering buying, to see if they really like it enough to spend thousands of dollars on and in this case too it does seem sensible, though it could take a little of the shine off your eventual new purchase if you have already been carrying around its double for a week or two!
Of course, at Gleni, we all have special relationships with our handbags and get so attached to them that we'd find it very strange to be carrying a rented one, but now we'd like to know what you think:
Would you be happy to rent a bag, or is a handbag a personal thing that you prefer to buy and keep forever?
Tell us your opinion in the comments here. We'd love to hear your opinion!