Rome: Italian Fashion captures the American movie stars!
In our previous article, we focused our attention on the first fashion parades at Villa Torrigiani in Florence, conceived by the Florentine aristocrat Giovan Battista Giorgini. It was in Florence that Italian fashion was officially born, spreading all around the world and becoming established as the undisputed symbol of refinement and elegance. Some years later, Italian fashion conquered Rome, and from here Italian fashion took the American movie world by storm. Many American actresses, coming to Italy to act in their films, were strongly influenced by the creations made by our aristocratic and rich designers, such as Simonetta Colonna di Cesarò Visconti and Giovanna Caracciolo , already famous in the Italian fashion panorama and owners of the first ateliers, here in Rome.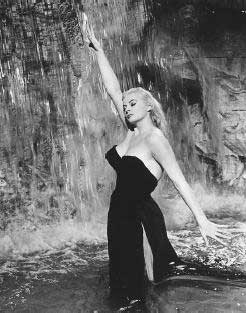 In a very few months, Rome became many American movie directors' favourite city to make a film in. Its setting was incredibly attractive and its natural beauty was so inspiring it had to be caught on film. This was the golden age of Cinecittà studios, Roman monuments witnessed the birth of new love affairs between actors, while the most famous movie stars, both at work and in their private life, wore genuine made in Italy clothes. It was at this time that Rome became the setting of many successful films such as "Roman Holiday", "Tre soldi nella Fontana"(Three coins in the Fountain) and " La dolce vita" with Anita Ekberg and Marcello Mastroianni.
Fashion and movies very soon became two inseparable elements of the Rome of the 50's. For her wedding to Tyrone Power, the actress Linda Christian , chose a wedding dress created by the famous Fontana sisters, who, thanks to this occasion moved to the States, gaining success and prestige there too.
From 1950 to 1960 fashion developed incredibly, growing in value and importance. People started using the technical term "collections" and to give a proper name to each trend and style. Many new colors were invented too, such as "rosso geranio" (geranium red), "blu Capri" (Capri blue) and "Verde Mandorla" (almond green).
Rome reached the pinnacle of its success in 1960 when it was nicknamed "The Hollywood on the Tiber"; the town at this time was completely "invaded" by American movie stars and world famous actors and directors.
Designers such as Micol, Zoe and Giovanna Fontana, were the real protagonists of the first " Made in Italy" brand, dressing the elite of the rich Roman bourgeoisie from the end of the second world war till the 60's, before leaving for the USA to cater for Hollywood and its jet-set. Other lead players in the Italian fashion world were Roberto Capucci, who opened an atelier in Paris and then a second one in Rome, distinguishing himself for the creation of his original "sculpture-dresses", and Fernanda Gattinoni, who opened her atelier in Rome in 1945, after the end of the war and had among her devoted customers, top names such as Evita Peron, Ingrid Bergman and Audrey Hepburn. Emilio Schubert looked after the style of two world-famous Italian actresses: Sofia Loren and Anna Magnani.
Rome celebrated the triumph of the haute couture during these twenty years and became famous all around the world for its sartorial creations and not only for its historical monuments.               However, the rivalry with Florence, the other capital of Italian fashion, was always great and it grew over the last years, bringing Roman fashion to an unfortunate decline.
So, the center of Italian fashion moved definitively to Milan where it is still now…  but we will tell you about the development of Italian fashion in Milan at the end of 60's in our next article!!! Don't miss it!