Spring-Summer 2012 Linea Pelle trade fair
Spring-Summer 2012 Linea Pelle trade fair: Is exotic leather, either genuine or embossed,  the main player next year?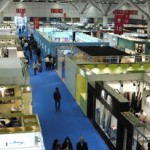 As expected, this year's "Linea Pelle" trade fair was a great success. This bi-annual international event, regularly  held  in Bologna in autumn and spring, during which all the latest news regarding leather, accessories, synthetic components for leather care and cleansing, designs for footwear, clothes, leather goods and furniture are shown for the following year's collections, closed to much acclaim and a very positive balance-sheet thanks to the large number of visitors attending.
In fact, there was a huge number of leather industry professionals, directly  involved in the leather field and specializing in the production of leather components and accessories, who visited the many stands specifically set up for the fair, in which more than 1,100 world-wide exhibitors took part, highly skilled tanners and artisans presenting their leather creations, with a great variety of really attractive colors and shades.
Among them, our Italian tanneries excelled not only in the high quality and technological advances in the processing of the leather, but also for their environmental stance and their innovative ability in terms of style and design.
To make this year's Linea Pelle edition even more special – as the event held from April the 6th to the 9th was celebrating its 25th anniversary – was the presentation of a part of Roberto Cavalli's collection. He is the famous Tuscan designer who, more than any other designers, according to the chief organizers of the entire fair, uses and transforms leather (both plain and processed) into true masterpieces, which are sought after all over the world. And in recognition of his unending efforts in exporting our Italian leather and artisanal traditions everywhere, Roberto Cavalli was awarded a special prize: it was his wife and invaluable business partner Eva who accepted the prize on her husband's behalf, thanking Bologna and Linea Pelle in particular for this unexpected award, emphasizing how important leather is in the making of every single Cavalli  creation. It's a symbol of elegance, unconventionality and sensuality, which highlights the shapely curves of every woman to great effect, maximizing her sex appeal. Colored, woven, cut, laminated or even plain, leather gives shape to every single one of Roberto Cavalli's ideas.
Among the numerous buyers and visitors that attended the fair, we at Gleni of course couldn't miss this latest Linea Pelle edition, eager for all the news and updated tanning processes for next spring-summer season 2012. In particular, our attention focused on exotic leathers such as python, crocodile and ostrich, since, as you well know, these are the leathers we work with every day and that characterize our entire collections.
We paid great attention to every detail that we considered interesting, so as to give you the most precise and accurate report on the new fashion trends for next summer 2012 regarding luxury leather goods: the trendiest colors, the innovative styles and the new tanning and leather processing techniques.
What we immediately noticed only a few minutes after entering the trade fair was that, unlike past editions when visitors and buyers just hung around without a specific interest, this year visitors paid much closer attention to materials on display, ending up by placing substantial orders that really motivated the exhibitors, making them feel more competitive and satisfied with the results obtained.
Visiting the many stands, we couldn't help being excited to realize how very much in vogue exotic leather will be next season, even though loads of Italian tanneries, using sophisticated processing and tanning techniques, created very realistic panels of embossed exotic leather; this means natural calf leather, or leather from other animals, on which the natural pattern of python or crocodile is printed; it's even possible to reproduce the characteristic follicles of ostrich leather. In some cases the embossed effect is obviously not genuine while in others, the leather is so well worked and treated that it deceives even the most vigilant eye. With scales that are perfectly reproduced to look exactly like the real ones, even to the  touch, the embossed leather seems very soft, even though it is a little bit thicker than real exotic leather. However, an expert eye would immediately recognize genuine exotic leather, thanks to its shapes and dimensions: in fact genuine exotic leather comes in smaller dimensions and it takes the animal's shape, while embossed leathers, however perfectly produced, generally come in bigger rectangular panels.
But what will be the most important new trends in the field of genuine exotic leather next spring-summer 2012? Which colors will be most on trend? Will vivid tonalities be preferred or more pastel nuances? Let's discover together!
Given the main characteristics of python leather, its versatility and softness, the most attractive news is about python itself, with lots of experimentation carried out with this material: next year python will assume a wide array of attractive and varied tonalities. While some tanneries concentrate on bold and audacious shades with a glossy finish (sometimes even excessively so), others for Linea Pelle, proposed sober and delicate colors on a neutral base and color striations of pastel beige, white-ice, light pink and violet under the scales, for a more refined and sophisticated final effect. Some other tanneries use the natural scales of the python to create intriguing plays of light and color, enhancing the natural pattern of the animal with contrasting colors of smaller and bigger scales, always preserving delicate and sober shades.
For all those who love the typical summer colors, fresh and vivid but never excessive, original pastel colors are presented, such as ivory, pink, brownish, copper, orange, turquoise or beige enriched with metallic streaks of color next to the natural leather scales.
However, our attention was drawn to a particular kind of python leather, with a "mosaic" effect: the leather seems to be made up of loads of small pieces in different colors and shapes that interweave together, creating this original effect, even though just a single panel of leather is used and the effect derives from a meticulous dyeing process. Believe us, the effect is really amazing and you are sure to agree with us when you see this kind of leather applied to one of our handbag designs in the near future: it will be love at first sight.
The classic solid colors of Curtis python, such as apricot, turquoise, fuchsia, aubergine, ivory and beige will be highly in vogue for spring-summer 2012: soft and delicate colors but with such personality, realized in the matt version to enhance the velvety effect of this leather which, we still like so much, despite the passing of time.
As regards ostrich, the colors proposed at this year's Linea Pelle event, continue to emphasize the classic elegance that always characterizes this kind of leather, even though, contrary to previous collections, this time colors are brighter with more gradations of red and pink, but there is plenty of brown and grey, too,  alongside the classic black, turquoise and acid green.
Crocodile leather becomes softer than ever, and even more versatile than in the past thanks to the new tanning and dyeing techniques that allow the leather to absorb the color fully, accentuating it next to the natural scales of the animal.
Shades vary from beige to dark brown, from tobacco to whisky, passing through orange, red and purple. In the category of the new tonalities we also find mint green, turquoise and electric blue, alongside the classic grey, ebony and black.
Remaining in the crocodile world, some Italian tanneries proposed an original and exclusive crocodile process, conceived a few years ago already, that has nothing to do with the classic image we have of crocodile: through this process the leather obtains a satin effect that makes the leather very similar to a lamé fabric, or else its natural color is removed to get an extremely interesting denim effect, so that it can be used to create casual accessories which still are of a high prestigious quality.
As previously mentioned, there were lots of proposals from our Italian tanneries that we really loved in exotic leather and that, once applied to our handbag designs, could give birth to a really sophisticated and gorgeous item, not to mention a high class one. For this reason we decided to buy some of these leathers that we will use for creating our next collections, so that you too can immerse yourself in this wonderful ocean of color and refined beauty. We are sure that these leathers will win your hearts, conquering your senses just they did with us, leaving us totally speechless!