Spring Summer 2014 collections on stage, with New York the first destination
From September 5th to 12th the fashion industry spotlight was on the Big Apple, marking the beginning of the most intense and frenetic time for fashion houses, big brands and designers all over the world, taking them on a tour from New York, via London and Milan, to Paris.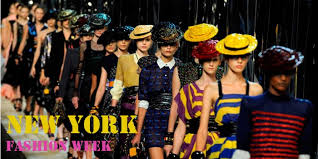 Although the new 2014 Spring Summer collections were the main focus of the event, exhibitions, parties and surprising debuts were much enjoyed by visitors, press and all the fashion crowd, with many big stars in the front rows of the many shows that crowded this year's New York Fashion Week.
Big international names such as Marc Jacobs, Calvin Klein, Ralph Lauren mixed with younger talents such as the thirty-year-old Taiwan designer Jason Wu, newly appointed as artistic director for the Hugo Boss women's line. The many runway shows presented a style that was surprising in its linearity and romanticism, though inspiration from the change of times and recession is still strong in the current era.
So, while Tommy Hilfiger decided against showing his men's collection and focused entirely on his women's collection, Victoria Beckham was looking forward to the opening of her new London-based Boutique, and Spanish label Desigual, for its New York debut, presented its collection with an army of  charming, young models with famous names, such as Tali Lennox and Amber Le Bon.
But, let's look more specifically at what style and fashion will look like for next Spring Summer 2014!
Felipe Oliveira Baptista's new collection for Lacoste offered a master class in transforming a venerable legacy for the future, teleporting the brand from the 1930s to the 2030s without compromising the well-known sports credentials, with a very clever celebration of tennis: a suede shift with dropped waist and pert side pleats smartly adapted a classic tennis dress; the clichéd piqué polo was reconfigured in a generously airy cotton, while the terracotta of a clay court was one of the collection's base colors. The designer played with the lines, outlining icy-pale shirt and pant ensembles with thick bands of contrast color to create an oddly two-dimensional effect. But he balanced that with the sensuality of crunchy knits and sheath dresses in rugby stripes of solid and sheer.
Languid dresses slung with leather belts at the hips, softly constructed coats and jackets that slipped on like a robe, an inviting palette of sea blues and warm, sunbaked browns: these are the keywords for Donna Karan's next summer collection, which swapped prints for solid colors on her evening dresses.
Michael Kors sent out a beautiful collection of real-world clothes, with a soft attitude and a juxtaposition of sportif and romantic, with echoes of the 1940s and 1970s but without looking too retro.
Kors opened with breezy white linen daywear for the girls and the boys. For those who can't escape the city, he proposed banker's-stripe button-downs and khaki skirts or a smart brown pleated dress with python detailing.
Nominated by "Forbes" as the most influential woman in the fashion sector, Diane Von Furstenerg never disappoints in terms of collections, this year's was called "Oasis": black and white are mixed with more creamy touches, surrounding women with an exceptional joy of life. To open the show, was the characteristic "wrap-dress" in optical prints, but there were also short and soft tunics to wear over loose trousers. Lions and zebras roaming through the savannah adorn sophisticated printed dresses like the one the designer came out with at the end of the parade for her bow: indeed she was able to express that happiness and beauty she is constantly looking for "in a world that is so rough, so unpredictable, and scary" as she personally admitted.
Francisco Costa is celebrating his tenth anniversary at the helm of Calvin Klein this season. The collection started off with white, but the exposed seam allowance on the opening look's strapless wrap top and skirt flashed pink. Color was the first difference; in addition to that pink, there was the red, mint, and brilliant emerald green of hand-woven cotton tweed, while black nylon material was used for a tank top and a full, short skirt was loomed with bright threads.
Ralph Lauren started by showing a sixties A-line shift in black with a contrasting white collar. Patent leather and knee socks gave the outfit a youthful energy that was unexpected from New York's elder statesman. Actually, almost half of the fifty or so looks that followed came in black and white, apart from some splashes of color in lime green, acid yellow and neon orange: a three-piece pantsuit in check, a floral patent trench-coat, a striped shirtdress accessorized with a flower tie, and sweater and miniskirt sets.
This was just a quick overview of the New York fashion event…are you now ready to head off to London? Don't miss our next article.