Summer Sales Season
Summer, sun, beach….and so many purchases in the Summer Sales Season!
Just like every year, the temperatures suddenly begin to rise in July, not only the weather either, but mostly because with the summer well underway, things are really hotting up to kick off the biggest and much anticipated season of summer sales. Some of you are still not prepared? The only thing you need to do is visit the shops and department stores and get the satisfaction of buying something that will always be considered a really big bargain!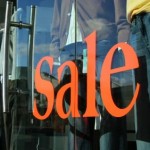 Almost an annual ritual for many consumers, sales are often considered a real life-saver for the merchants too, because of the lean period that, typically in recent years, precedes the discount season; so the end of season offers, both in summer and winter, become more of a bargain for both consumers and traders, a deal for everybody, so …. sales, sales, sales, blessed are the sales!
Unlike previous seasons, with different schedules depending on the area, this year in Italy the summer sales started simultaneously in every city, namely Saturday July 2nd , while the closing date of the sales varies between the end of August and the end of September depending on the region.. The promoters of this proposal are deeply satisfied, saying that this decision re-establishes  more balanced competition in the market and is a benefit to businesses and consumers.
So, shopaholics, it's time for big business. Clothing, shoes, bags and bikinis are on top of the most in vogue list, and we are all hoping not get there too late, risking that the article we have been keeping an eye on for so long has already ended in someone else's hands.
And while for the most prominent Italian cities, the beginning of the sales season helps to encourage the influx of tourists – just picture the principal shops in Rome and Milan literally taken by storm in the early hours of the morning, with people queuing for hours in the sun – to some extent all over in Italy the streets are crowded with people, all staring into the shop windows, to get an idea of what it's possible to get at rock-bottom prices. So after a visit to a museum or historic monument, you will have to fit in a purchase that early in the season you would have considered totally unthinkable.
During the first weeks the discounts will be around 20-30% on all goods and summer collections, while the most substantial discounts will be pushed up to 50%.
There are a lot of high expectations, especially by sellers, of this long-awaited period of sales, during which, according to Confcommercio's estimate, about 6 out of 10 Italians will seize upon this opportunity, with every family willing to spend on average € 250 to a total value of almost 4.2 billion Euros.
Unfortunately, not all offers have good and honest intentions behind them, and since we at Gleni have the safety of our customers in particular at heart, as well as of everyone in general, we ask you to follow a few simple rules that, combined with common sense and a pinch of attention, will allow you to remain satisfied with all purchases made:
Check the prices long before the sales start, so that you'll be sure of what you are going to save during the sales;
Don't spend all your budget in the first shop, but make a comparison and see which shops are more reliable;
In order to avoid reaching the end of the day with a number of bags full of unnecessary things, keep in mind what you really need and stay away from all those attractive objects that you don't really need;
Goods on sale should clearly display on the label: the original price, the percentage of discount and, finally, the discounted price;
Don't trust discounts over 50%, because they are likely to conceal old products from past seasons;
Keep the receipt after the purchase,  and be sure that the shop gives you the option of exchanging the purchased item if it proves to be damaged, and, when it's not possible, the reduction or restitution of the sum paid.
If you find yourself anywhere near San Benedetto del Tronto – a lovely town in the Marche region – either for a vacation at the beach or for a short trip, and you want to treat yourself to something luxurious, classic, elegant and always in step with the times , you should visit our Gleni showroom, where you will be surrounded by the amazing world of exotic leather used to create authentic handbags and authentic and original accessories for every need. Fabulous discounts from 20% to 50% will be applied to most of the merchandise on display, as long as stock lasts, certain to satisfy our customers with truly unique prices.
And for all those who can't physically get to our showroom in person? No problem, our online Boutique comes to the rescue: in fact, sitting comfortably at home, you can peek at the many offers applied to our ostrich and python leather bags, which you can find directly in the "discounted ostrich handbags " category at the following link http://www.gleniboutique.com/US-discounted-ostrich-bags-c-291-us.html and "discounted python handbags" at the following link http://www.gleniboutique.com/US-discounted-python-bags.html
But the opportunity to purchase Gleni's products, synonymous with unquestioned prestige and luxury, at a much cheaper price, is not over: in fact, for a few months now we have a new section in our online store, called "Bargain Corner ", where two articles belonging to our most recent collections will be randomly added every day, to which very attractive discounts will be applied. However, you have to hurry in making your decision, since each article will remain in this promotional corner only for one week! You can find the "Bargain Corner" section through the following link http://www.gleniboutique.com/US-bargain-corner.html .
The sales season has officially begun … so dive in search of the most satisfying purchases!