March 30, 2009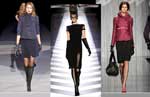 WHAT SHOULD YOU WEAR TO BE FASHIONABLE NEXT YEAR?
[…]Fabrics, shoes, accessories, make up….everything exudes the feel of the 50's, 70's and 80's, in a return to the roots of genuine elegance and craftsmanship. Trousers are stretchy and made of black leather or shiny lurex, accompanied by long over shirts in vivid colors..[…]
March 17, 2009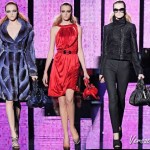 Almost all the autumn-winter 2009/2010 women's collections presented at Milan Fashion Week have been animated by a return to their roots of elegance and natural refinement. The woman's look proposed for the next cold season is focused on the idea of classic simplicity! It is devoted to rediscovering the typical styles of the 50's, and 80's, both in their lines and in the materials used.
What
March 14, 2009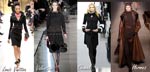 …Paris fashion week, which opened last Wednesday, March the 4th and concluded last Thursday, March the 12th, has been much appreciated for what it offered. Most French designers proposed a sober and very elegant style for the woman of next autumn-winter 2009/2010, paying attention to detail and re-introducing seductive elements to make the woman more gorgeous and attractive, without losing any of her natural refinement and elegance.
March 11, 2009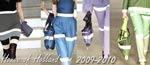 Bags: a complementary luxury accessory or just a superfluous item?
As we already saw at the Paris and Rome haute couture shows (presenting the most fashionable styles and colors for spring-summer 2009), at London fashion week too, only a few designers were in favor of using the handbag as a complementary accessory for their fashion looks.  The handbag seems to be disappearing in favor of

SEO Powered by Platinum SEO from Techblissonline