May 9, 2009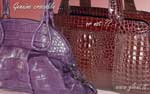 * For a fuller, more detailed version of this article read How to tell if your handbag is made of genuine crocodile leather on our Gleni website.
A crocodile handbag is the ultimate in luxury. The gorgeous soft leather is much in demand by top designers, and genuine, top quality crocodile and alligator skin is very expensive. So it's not surprising that there are cheaper alternatives about that
August 29, 2008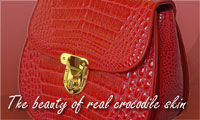 Our customers really want to understand what they are getting – they often can't believe how affordable our Ligator croc bags are and how good they look, so they want to make certain that they actually are getting the top quality that they expect from our products.