September 12, 2008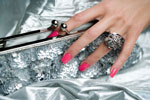 The color silver, in our opinion, can definitely be counted as one of those 'evergreen' colors that are not affected by the passing of the years or the changes and developments in the fashion world. Silver has always held a prime position as one of the colors that is most in demand and appreciated, especially in the leather goods sector.
September 10, 2008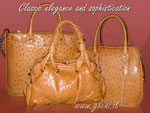 Our first page catalogues all our handbags in shades of brown, but first we will give you a brief analysis of each of the many shades of brown that our products can be made in, according to the leather you choose.
The brown handbag has always been a classic, going perfectly with everything and exuding elegance and refinement. It can be enjoyed both by girls taking their first tentative steps in the world of fashion and mature women who love restrained simplicity as well as style in their accessories.
September 9, 2008
Many women, when they are buying themselves a new bag, already have a particular color in mind before they decide on the style or size for their new handbag, which will soon become an integral part of their look and their daily life. To help you find and purchase a bag more easily this way,…