March 9, 2009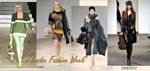 LONDON FASHION WEEK: WHAT IS THE WOMEN'S LOOK FOR NEXT WINTER?
After the New Yorker Fashion Week, we focused our attention on Milan Fashion week, describing you the new trends in matter of colors and styles, proposed by our Italian stylists. It's time now to take a look at London Fashion week, placed in London from February the 20th to February the 25th, waiting for the new proposals coming from the Paris fashion week, actually in progress in France.
March 5, 2009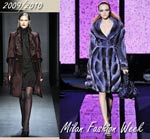 Last Wednesday March 3rd, Milan fashion week drew to a close after seven exciting days spent  presenting the new women's collections on the catwalks for the next autumn-winter season 2009/2010. The most famous Italian fashion houses took part in this fashion event, showing their creations and conveying the image of a refined, self-reliant woman, who loves luxury, with a strong personality and intriguing sensuality.
March 3, 2009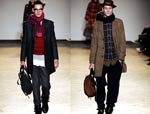 New York designers played it fairly safe for their Fall 09 menswear collections. Gone were the extravagant dandies of past years and in their place we saw rugged American road trip casual styles in denim and leather or no-nonsense business man chic in charcoal or black. The overall silhouette stayed …
February 27, 2009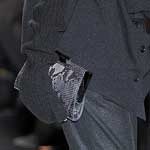 Last week's New York Fashion week demonstrated two contrasting reactions to the recession in the designer collections for Fall 2009. Many designers were criticized for playing it safe, with a huge return to classic black, while others went all out to bring color and cheer into the gloomy economy with bright neon colors or rich jewel shades.

SEO Powered by Platinum SEO from Techblissonline