June 3, 2010
0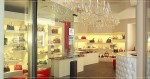 Dearest readers and Customers,
it's with great pleasure and honour that we want to invite all of you to visit us in our new and amazing Boutique, at Via Risorgimento, 43 in San Benedetto del Tronto (AP) – 63039 – Italy.
By
sonia.massi
December 8, 2009
0
Christmas is one of the most important and heartfelt celebrations in the world, not only because it symbolizes the day of Christ's birth but also because it brings a peaceful time of rest and relaxation when friends and families enjoy spending time together in complete harmony and happiness, playing cards, unwrapping gifts and sipping hot…
By
sonia.massi
June 19, 2009
0
The last few decades have seen women's role in society completely transformed. Women have worked very hard to achieve their goals but now have the satisfaction of successful careers and high flying jobs.  The most effective business managers are very often women and, according to some statistics, it seems that having a woman as leader…
By
admin
December 7, 2008
0
Unfortunately I have to announce that we can no longer accept credit cards through 2CO as method of payment for our Gleni Boutique.. You can however still pay for your goods through PayPal.
By
admin
Gleni – Italian Luxury Handbags

via Risorgimento, 43, 63074,
S. Benedetto del Tronto (AP), Italia
Gleni S.r.l.
P.IVA 02245320441
Tel (+39) 0735657565
Fax (+39) 0735657565
Whatsapp (+39) 3737206057

Recent posts



SEO Powered by Platinum SEO from Techblissonline