The 76th edition of Pitti Uomo showcases the latest trends
Color is back with a vengeance and classic style returns:

the 76th edition of Pitti Immagine Uomo showcases the latest trends
Rebuild, refocus, rethink: for the future of fashion, it is now time to get back to work after the crisis, to get over the shock and think positive, both in the factories and in the boutiques. We need spontaneous and original ideas, moving away from unnecessary extravagance and rather addressing a more rational concept of fashion. For some this will sound like a radical revolution, while others will welcome it as a timely liberation from the tyranny of trends, at last ushering in a new optimistic vision rooted in reality: a vision, which will be able to embrace and uplift the textile-clothing sector which has suffered heavy losses in the last few months.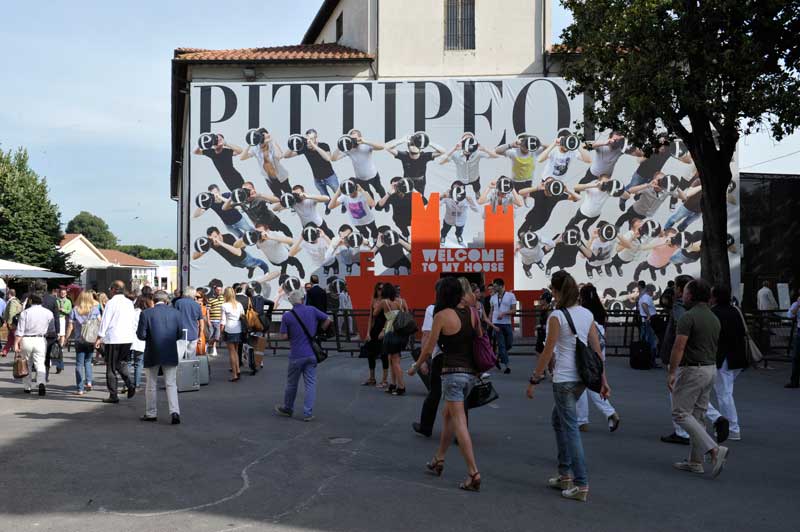 This concept was the starting point for the 76th edition of Pitti Uomo Immagine, which took place in Florence from June 16th to June 19th. It's time for the Men's spring-summer 2010 collections already, showing the world the excellence of the menswear, focusing firmly on the main points of quality, creativity and winning proposals!!!
The sad effects of the international economic crisis still weigh heavily on the budgets, but they haven't discouraged the hopes and the challenges of the business men and designers who, once more, have proved their passion and enthusiasm for their work: very important qualities today with consumers who are seemingly disorientated and incredibly tired of excess for its own sake and meaningless luxury.
The question asks itself here! What will the men's wardrobe look like for spring-summer 2010? The answer is not as easy as the question, with the huge quantity of innovative proposals displayed at Pitti Uomo Immagine, but here at Gleni, for our dear readers, we've tried to extrapolate the most innovative ideas and the most fashionable trends, which will dictate men's fashion style next year!!!
Color will certainly be a fundamental element of many collections, from the most elegant, such as the one proposed by D'Avenza, to the most casual-chic, like those proposed by Harmont & Blaine, Everlast or Schnider. Sifting through the many proposals at Pitti Uomo, it is this one element which most distinguishes the new men's wardrobe. Yes, because color inspires optimism, entices you to make a purchase, it's an antidote to the crisis, a welcome distraction from the gloom: it is the sign of a reaction against the difficult period the fashion – textile sector is going through.
Much appreciated are colors such as indigo, blue, violet, intense sky-blue and bright orange, proposed by Malo in his collection, characterized by the use of precious yarns and by an extreme refinement in the details, in order to create an item which is practical but also sophisticated and chic.
Brunello Cucinelli, for his sweaters, chooses colors such as raspberry red, onion pink and eggplant purple, with muted rather than bright shades, as if these items were faded and aged.
The jackets proposed by Cantarelli are, on the other hand, characterized by mixed tonalities, going from grey to red, from lilac to beige or green, while Corneliani proposes colors such as orange, ruby red, topaz yellow and sky-blue for his sartorial creations, deeply inspired by Magritte's palette.
Pitti celebrates the rebirth of a new man, free to be himself without being constrained by the look of the moment, adding to his image with accessories once considered retro: a brief-case made of vegetable tanned leather, a panama banded with colored ribbon, a daring pochette, a dashing pair of shoes. He loves to challenge and vanquish sobriety and boredom, the true enemies of fashion! Small, almost imperceptible touches characterize the sophisticated country gentleman or the city slicker, always a dandy at heart: a contrasting buttonhole, a cheeky revers, a sharper crease to the trousers, a belt which seems to have  been stolen from a graffiti artist. Or even a pair of socks, perhaps bright red like the ones proposed by Gallo or natural colored like Red brand's or ones decorated with Renaissance drawings, like those created by Bresciani.
Focusing more on the substance of style than on beauty, the numerous invincible companies taking part at this fashion event in Florence, felt the need for a return to the classics, personalizing them with details and with the absolute excellence which is embedded in the DNA of the Made in Italy's label. A man who wants to cut a fine figure will choose light fabrics for clothes which are beautiful to look at and wonderful to wear.
Men's jackets become softer, enfolding the body in fabrics treated with enzymes to give them a vintage patina: he will feel confidant and relaxed wearing comfortable clothes enriched by handcrafted details, with slim, compact and youthful proportions. All menswear will be crisp, incredibly light, with unprecedented wearability: linings are transformed into decorative elements, with stripes and polka dots scattered everywhere, making reversible fabrics the chief protagonists of the show. In fact, the unlined ultra- light jacket, together with the classic skin-tight blazer, given a new twist with jersey and patterns, will be the Must-haves of next season. Nylon is the main ingredient of colored water-resistant blouson jackets or it will double-up in reversible blazers: on one side the classic work jacket, on the other a casual shower-proof jacket.
Just like the jackets, Bermuda shorts become "double-sided" too, like the ones proposed by Mason's: it's true, in a time of recession, you make adjustments, and two looks in one has got to be a good idea, perhaps one side floral for a fun mood and the other striped for the more serious mood!!!!
Of course shirts continue to be fashionable, especially a fine white, simple but very elegant one. Striped shirts or pastel shirts are equally appreciated, aimed at a man who is always at the forefront of fashion, young, modern and never dull. The traditional Italian brand INGRAM proposes the "shirt of wellbeing": white linen, hand finished and enriched by jewel-buttons made of semi-precious stones such as the carnelian  which gives energy and eliminates any sense of fear, or jade, turquoise and malachite.
The classic Polo shirt becomes indispensable to a man's wardrobe, a real fashion staple, with fun stripes like the ones proposed by Fred Perry, available in many different colors: orange, pink, ice-white, green and lilac. While T-Shirts for leisure time or for traveling on vacation should always have a bit of an ironic or amusing twist.
Sartorial excellence goes in search of the perfect materials, on a journey that moves forward from traditional manufacturing to discover new ways of working: the main focus has been the eco-friendly trend, with fashion looking towards nature, and doing extensive research into ever more eco-friendly materials and laundering, bringing new life to the natural fibers of the past, from hemp to broom, to fight against waste products that are harmful to the environment.
Trousers, like jeans, should mold to the shape of the body of the person wearing them: a cashmere sweater is essential, as is white cotton underwear, without any logos!
And it is on white and on summer light colors, that the Japanese designer Jun Takahashi, the guest star at this 76th edition of Pitti Uomo Immagine, bases his whole spring-summer 2010 men's collection for the Undercover label. His suits are in fact white or beige or pearl grey (just a few clothes are dark but always worn with a white shirt or T-shirt), often accessorized by mini-bags attached to the belt of the trousers or  brief-cases tucked under the arm like clutches. The suit is made of sweatshirt and knee length shorts are made of rubberized cotton. In his spring summer 2010 collection, Takahashi has trimmed away every superfluous accessory in favor of a simple and linear style which combines elegance and functionality. The only touch of color is given by colorful sandals, predominantly red.
But the new man is not just about clothes; accessories are also important and so, Furla has introduced the first line of bags exclusively created for men, very elegant and comfortable items in black and blue, and also using more natural shades such as sand or chocolate brown. They are mainly made of hammered calf leather or of stamped crocodile leather which, for the new spring-season 2010 has to have a matt, oiled finish (Note: However, looking at the picture here below, we could say that these brief-cases don't seem be made of stamped leather but of alligator skin).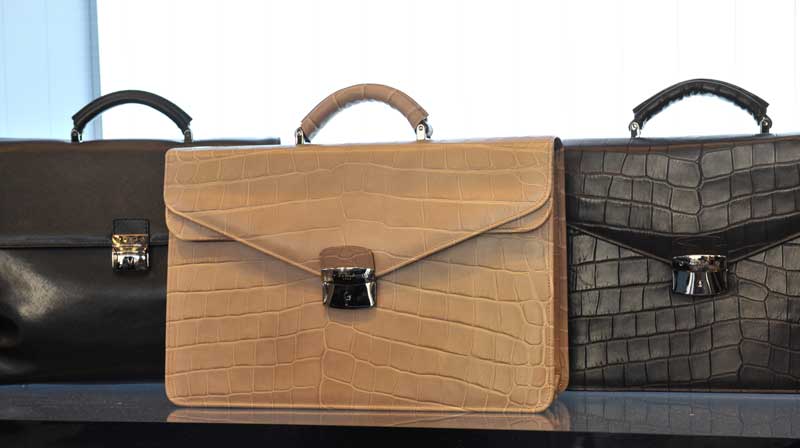 These are the main trends for the new millennium man, a fashionable man who can still have imperfections and doesn't have to be perfectly groomed but who is always chic and refined!!!
And what about women? What are the fashion proposals for next spring-summer 2010 concerning the exclusive and luxury world of women's fashion?
The fourth edition of Pitti W Woman, which took place in Florence at the same time as Pitti  Uomo Immagine, saw the prevalence of a look characterized by refinement and elegance, full of color and haute couture tailoring. It represents a woman who looks for luxury in her daily routine, always taking care of her look and her own beauty.
The dresses proposed by Normaluisa are characterized by deconstructed volumes alternating drapes and pleats, using fabrics that look rough and poor but which are, on the contrary, luxury natural textiles. Prints and patches of color create a special effect on the clothes.
Fabiana Filippi, on the contrary, proposes the image of a dreaming woman, who loves timeless style, who dresses in white and surrounds herself with subtle shades, perfect whatever the occasion. Draperies, pleats and interesting graphic effects make the Fabiana Filippi woman extremely romantic and womanly: a woman who loves to take refuge in fantasy.
Proenza Schouler, the New York label created by the designers Jack Mc Collough and Lazaro Hernandez, have taken advantage of the wonderful setting of Villa Petraia in Florence and of this 4th edition of Pitti W Woman to present the European preview of their women's spring summer 2010 collection, mainly focused on the image of an elegant and creative woman who is daring and expressive in all her femininity, choosing decided, strong tonalities for her clothes.
In this article, we have given you just a few glimpses into the woman's style and the man's look for the next spring-summer season 2010, trends that we'll see in more detail during the Milan fashion week, where world famous Italian designers will present their men's spring-summer 2010 collections.
Are you curious to know how the Italian man will dress next spring-summer 2010? What will be in and what will be out? Don't miss our next articles.