The 81st edition of Pitti Uomo: news and trends
Prestigious materials, handcrafted workmanship and also environmentally-friendly using natural dyes, these are just some of the main elements that characterized the 81st edition of Pitti Uomo, one of the most important dates in the Made in Italy (and beyond) fashion diary. It was  held in Florence from 10th to 13th January and as usual, this year too inspired a huge number of positive comments and congratulations both from buyers coming from every corner of the world and from experts in fashion.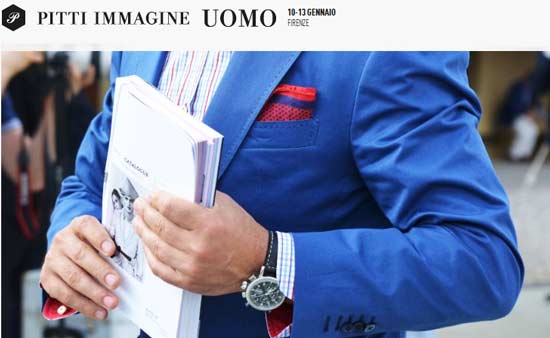 Most of the designers who took advantage of this important media shop-window, presenting their men's fashion collections for Fall-Winter 2012/2013, conceived very light and functional menswear, created with warm and comfortable fabrics, that don't weigh you down,, to give men freedom of movement in their everyday tasks, even when temperatures drop below zero degrees.
Fabrics such as Hydra-Nek (a membrane used to allow transpiration, while being completely waterproof) or goose 90/10 (thermal insulation par excellence with the smallest footprint) were especially used by Canadiens fashion house, while Altea focused its attention on the three-in-one jacket, a special jacket with a pocket-pochette combined with a cardigan enriched with buttons: a really revolutionary idea, where the lining of the pocket can be transformed into a pochette, while the cardigan becomes the unusual lining of the "London" jacket, certainly a unique item to wear on cold winter days.
Blauer showed a line of retro jackets made of wool and polyester, inspired by real American policemen, based on the authentic jacket used by American policemen since 1935. Trousers were proposed in a wide range of models realized with innovative fabrics of vintage style. Outerwear, on the other hand, was inspired by craft items worn by American firemen in the 50's and they even show the original labels of that period. Down jackets are ultra light, made in bold colours to combat the greyness of winter.
Massimo Rebecchi, in his Fall/Winter 2012-2013 men's collection was appreciably inspired by the 80's, with comfortable rain and wind-proof jackets whose linings are detachable gilets with pockets for a Smartphone, a tablet and a pen, indispensable tools for the contemporary manager. Duffel coats and parkas are made of handcrafted wool blended with synthetic nylon fibres, everything enhanced by typical winter shades such as metallic grey and brown.
Cantarelli, on the other hand, proposed a look for the classic connoisseur, an elegant and sophisticated style, with goose-down jackets and double-breasted coats made of jersey. Particular attention is given to the dyeing and washing of clothing given that everything must be made in a completely environmentally friendly way.
The same opinion was shared by Harmont & Blaine whose new eco-sustainable scarves made of  pure cashmere are dyed with herbs and roots for a 100% natural product. Lardini too, for the next Fall-Winter 2012/2013 fashion season, offers a jacket coloured with natural dyes also obtained from roots and leaves.
Putting a distinctive stamp on this latest edition of Pitti Uomo was a special guest-star, much appreciated for their magnificence and uniqueness,: the Valentino fashion house which, for the first time since 1962 (the year Valentino made his debut in the world of fashion) has returned to the Pitti catwalk, presenting its new men's Fall-Winter 2012/2013 collection in the beautiful salons of Palazzo Corsini. Its two creative directors, Maria Grazia Chiuri and Pierpaolo Piccioli, who received much applause at the end of the show, have reintroduced in their creations the elegance of Marcello Mastroianni from the film "La Dolce Vita", of Alain Delon and also the originality of David Bowie at the very beginnings of his success, showing coats rich in detail and innovative elements, where casualwear is united with formalwear. Both jacket and blazer have a sharp silhouette inspired by the 60's. The lining disappears and everything is light, elegant and aesthetically exact. Trousers are narrow and ankle length. A slim two-tone tie accompanies white shirts. Blue duffel coats are made of gabardine. Cashmere sweaters are mounted on jersey bases. The most recurrent colours in this collection, inspired by the Anglo-Saxon tradition, are ink blue, stone grey, black, woodland green, Bordeaux and beige, while, among the most used materials, we can include felted cashmere, wool blended with silk or nylon, dry cotton and leather.
The very elegant men's bag that will accompany the Valentino men's look next Fall-Winter season is very special, made of soft black leather and with a zipped compartment for the I-Pad. The clutch alternates with the leather shopper while shoes are lace-up, with an elongated, essential design. Sun glasses must be made in enamelled metal.
Also long-awaited and much appreciated was the Fall-Winter 2012-2013 fashion collection proposed by Andrea Pompilio, winner of the  2011 edition of the "Who is on Next" competition. He presented a style inspired by "American Sportswear" but with clear references to Italian tailoring, for a collection where elegance meets real life, with soft contrasts and plays of colour for a sophisticated and high quality but not inaccessible look.