The Current Trends for Autumn-Winter 2008/2009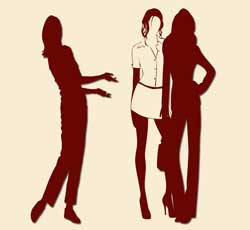 Here we have collected together in one post all the trends for this season, to help everybody who wants to know about the latest fashions in clothes, hair styles, handbags, colours and the alternatives.
We hope that you find these tips and insights interesting and helpful and enjoy reading
10 trends for this season:
Let's start from the feet up: shoes. Ankle-boots and pumps are right back in; both with strictly rounded toes and heels that are vertiginous to say the least, not less than 13 cm! There are many new styles for both types of shoes, like the gothic style that we saw during Paris Fashion Week: with just the right amount of eccentricity and originality!
This season our legs will flaunt ultra-decorated tights: many colours and fantastic patterns, tartan and geometric designs, everything goes, and if you prefer something more classic and romantic, we suggest you go for lace tights, black for preference: the ultimate in elegance and sex appeal!
If you don't like wearing skirts and prefer keeping your legs warm and covered up, you can relax: our favorite bootcut trousers are back. Black and elegant, jeans or even fleece for the sporty; but they shouldn't be too wide at the hem!
Another must-have for this season are blouses, white or with thin stripes, trimmed with bows, frills and scarves, you can have plenty of fun mixing and matching!
What about the hands? The French manicure is still alive and well, but the form and length of nails has now changed. Completely OUT are too long and squared nails, a medium length and a rounded shape is best. Colors are strong and striking: black, purple, all shades of red and dark blue will be the colors you see everywhere (just turn on the tv and see!). Our advice

is not to overdo it, or you'll look rather over-the-top!
In the make-up realm, straight from the catwalks, we have the intriguing "smoky-eyes" look, the blended shading which focuses attention on your eyes. Eye shadow all around the eye or just above, in strong colors, especially black and even better with some glittery or light colors (like beige, white or a light brown),which create a contrasting effect to give movement, attracting interest like a magnet. Colors like shocking pink or bright green for the eyelid are excellent if you are feeling daring and want to attract attention! Another great combination is using

black with colors such as silver and anthracite

to create highlights and beautiful chiaroscuro effects for a really seductive and dramatic look!
Handbags bring you infinite possibilities: big 70s style bags with big pockets on the inside and

outside, for plenty of space, or the new-age hippy ethnic look,

a glossy, luxurious '60s style, in bold colors for elegant women, and soft. structured handbags, very modish in leather;

the colors: purple, grey, white, lilac, and blue, even trimmed with lace (which you can match to your tights if you want!).
A huge come back for the bob hairstyle: short, or extremely short cropped bobs with either very short or very long bangs.

These very versatile and original styles let you change your hairstyle to suit the occasion: messy 'bed hair' with a side parting, smooth or wavy (preferably frizzed), curled

and with occasional locks dyed in shocking colours (gold, blue, silver and purple for the most daring people). Also spot on are asymmetric cuts, very graduated cuts, or, for those who prefer

a more classic style, long smooth hair with mermaid waves to

frame your profile and enhance lips and eyes, with a side parting. This style also works well

tied at the nape of the neck, partly or completely revealing your forehead; with radical highlights it is classic and sophisticated

and can be worn with hairclips toning in with the colour of hair keep fringes, forelock and waves in place. And 70s platinum blonde is huge too!
'In' fashion accessories, besides our indispensable handbags, are, as we already mentioned, bows, frills and scarves, in matching colors. Excellent keep your neck and chest warm, they draw attention to your cleavage if worn with a low-cut blouse or shirt, giving a sexy (but not vulgar) effect, concealing and revealing your shape according to your movements and the resulting

swaying of the scarf itself.. A great ally if you want to seduce and charm!
Finally let us consider colors for a moment. By now you will have grasped that

purple and black are still big this season, a new entry is gray, in all its darker or lighter shades. Going with almost all other colors, gray is a very elegant and refined neutral, especially for the lightest of sweaters or for coats, and it gives a touch of classic innocence to the wearer. It is perfect when combined with a warm color to liven it up.

Obviously there are many possibilities and trends ,which vary according to your personal style, the environment and the circumstance; in any case we have tried to bring you the most relevant and interesting points, now it's up to you! Leave a comment and tell us what you think and what are the other trends of this autumn-winter 2008/09 in your opinion. What are the trends you like most that you will be adopting this season?!