The food specialities of our Piceno region
Are you planning your summer vacation but have not yet decided on the destination?

Are you tired of the average summer resorts, full of people and noise everywhere day and night?

Would you like to spend your holiday in a peaceful country area, where you can finally relax and re – discover your connection with Nature and the natural rhythms and traditions?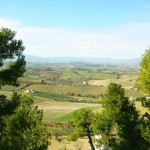 In this case we suggest you visit our Piceno region, a beautiful corner of peace and harmony surrounded by green hills and the blue of the Adriatic Sea, a magnificent natural landscape, dotted with many small villages and towns steeped in history and tradition, famous for the delicacies and the typical dishes of the Piceno region, where the friendliness and good humor of the inhabitants will immediately captivate you and your friends.
There are many good reasons to visit our region in summer:
the harmony of the natural landscape;
the delicate scent of trees in bloom;
the crystalline blue sea of our "Riviera delle Palme";
the beach where your children can have fun playing in the sand, waves and playgrounds all day while you sunbathe or enjoy a chilled cocktail under your sun umbrella or in one of the trendiest chalets on the waterfront of our San Benedetto del Tronto;
trips and excursions into our mountains to take advantage of the cooler temperature offered by the wooded slopes and relax by a river or a lake.
However our Piceno region is a renowned gourmet destination, attracting visitors from all over  the world with its superb specialties, its culinary art, its many culinary festivals (the so called sagre) which, especially in summer, captivate the attention (and above all the taste buds) of thousands of tourists.
But which are the main delicacies of our Piceno region? What should you make sure of tasting if you decide to spend your next summer vacation here?

Below you can find a brief introduction to the most important dishes of the Piceno tradition: will we be able to make your mouth water?
The Piceno region, thanks to its mild climate and its land that is favorable to agriculture,  offers a vast variety of cheeses, cakes, cured meats and honey but it is famous for some products in particular.
Mushrooms are one of the most important  gifts of Nature here: we find more than 200 different species of wild mushrooms in our Piceno  mountains, though the most important one is the "boletus variety", more popularly called "porcino", which can be enjoyed cooked in many different ways: raw, sautéed, breaded, fried or grilled.
White and black truffles are both highly prized and are used to impart their subtle flavor to pasta or meat.
Cereals and Pulses such as farro (spelt, a grain similar to rice), lentils and beans  are produced in enormous quantities and used to prepare some special dishes such as the "ciavarro" (a mix of cereals and vegetables served with a spicy sauce)
The queen of the Piceno region, however, is the Oliva all'ascolana. To make this dish, a special variety of green olives is essential, which are only to be found here in our region. This olive is big, fleshy and sweet tasting and once it is pitted, it is  stuffed with a mixture made of chopped meat, parmesan cheese, egg and spices. It is breaded, deep-fried in very hot oil and eaten warm.
Our region is rich in olive trees and we are one of the greatest producers of olive oil which can be sampled on a slice of bread before you buy it in winter when it has just been produced.
I maccheroncini di Campofilone, named after the small town of Campofilone, is a fresh long pasta made with eggs (about ten eggs per Kilo of wheat flour), entirely hand cut in thin strands. This pasta cooks very rapidly and, thanks to its consistency, can be both eaten in soup or with tomato sauce.
If you should decide to spend your holiday here in our beautiful San Benedetto del Tronto, you absolutely have to taste the unique and original "brodetto alla sambenedettese", a special fish stew prepared with twelve different kinds of fish, vinegar, peppers and green tomatoes. Despite the simple ingredients, this dish is very difficult to prepare as the fish have to be added in a strict order. You should never stir this dish while the fish are cooking.
Among the cured meats, the speciality of our territory is the ciaiuscolo, a sort of spreadable salami, perfect for eating on toast.
A small town in the neighborhood of San Benedetto del Tronto, called Acquaviva Picena, is famous for its special cakes called "Pesche al cioccolato" (chocolate  peaches). Two medium sized round cookies are hand made, cooked and then soaked in a special red liquor called Alchermes, typically used for sweets and cakes. Once these cookies are softened by the liquor and have assumed its red color, they are joined together and decorated in the middle with chocolate cream or with nutella. The final peach-shaped cake is then rolled in sugar and served to guests.
The typical liqueur of our Piceno region is certainly the famous Anisetta Meletti produced for the first time by Sir Meletti Silvio in 1870 perfecting a recipe of his mother. This liquor is produced using green anise, an aromatic plant that is cultivated on the hills near Ascoli Piceno.
Vino cotto is another special drink of our Piceno region, obtained by boiling the grape must until it is reduced by half, fermenting it and then aging it small wooden barrels that are topped up with new wine as it evaporates. Vino cotto in the past used to be drunk to celebrate special events such as the marriage of a son and every farmer always used to preserve a small barrel of vino cotto in his cellar.
Have we aroused your curiosity and got your taste buds tingling in anticipation of the most famous delicacies of our region?
If so, then what more can you do but organize a vacation to Italy immediately, choosing our region as the destination of your relaxing summer holiday. We are sure you won't regret your decision, as our landscape will win over your soul as soon as you see it, while our restaurants and wine estates will enthrall  your taste buds.
And don't forget that if you spend your vacation here in San Benedetto del Tronto or in the region, you will be able to visit us and our new Gleni Boutique whenever you want, trying out the quality of our products with your own hands and asking us all the questions you want answered.
Summer has just begun!
What are you waiting for? Book your next summer vacation here in the Piceno region and discover for yourself the magical relaxation and  feeling of wellness that our region offers visitors, assuring you of an unforgettable holiday for you and your whole family.